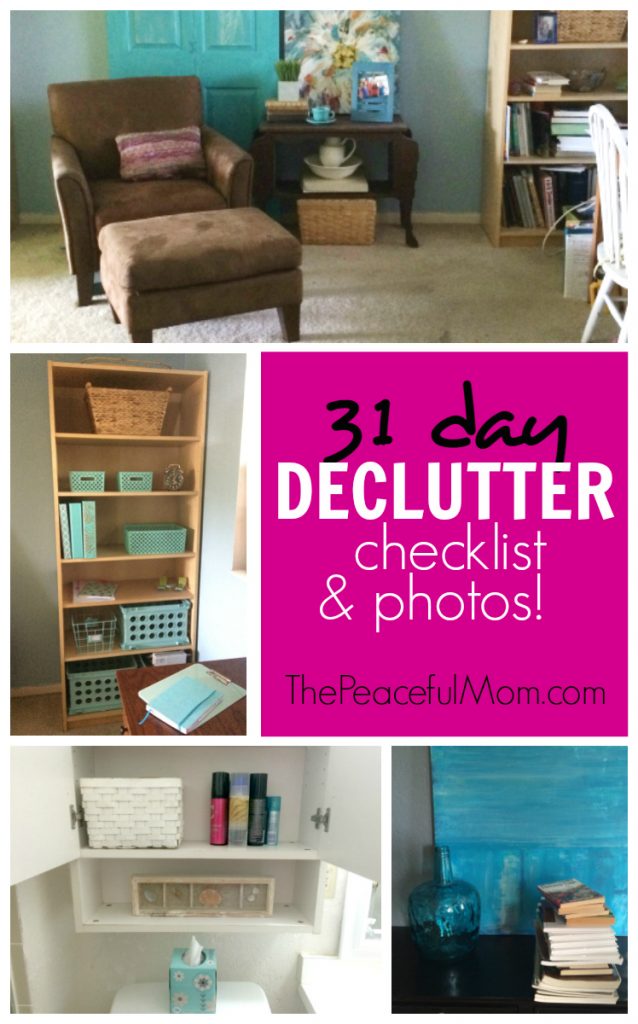 So we're done with our 31 Day Declutter. I made great progress — how about you?
Clearing out all that stuff inspired me to re-decorate my office space a little, so check out the before and after below.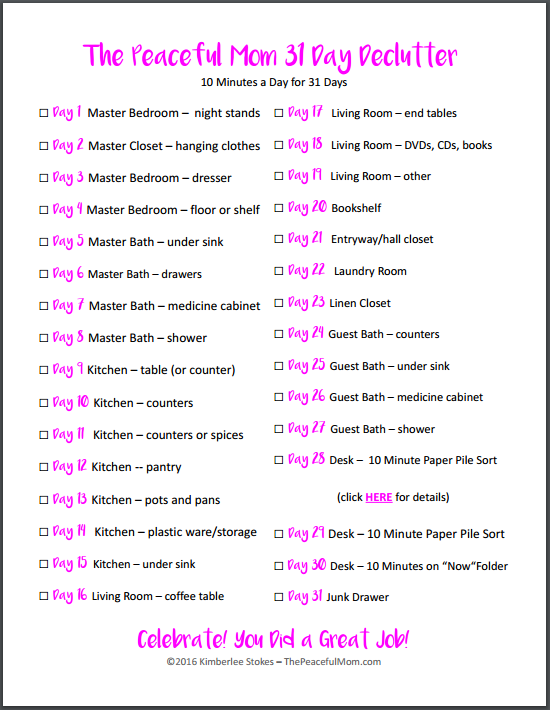 Join The Peaceful Mom Community & Get a Free 31 Day Decluttering Checklist!
My first task was to continue the office shelf declutter.
Here's a reminder of the disaster I was dealing with: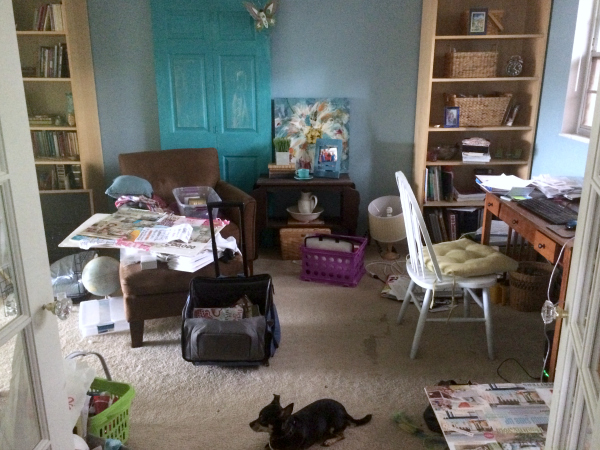 And here's a shot of my progress midway through the process: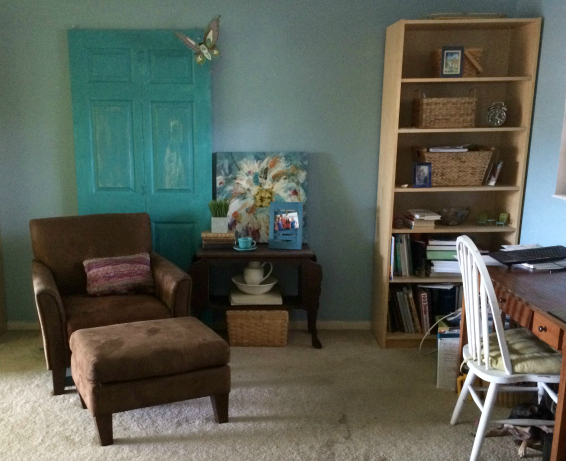 I decided that I needed to completely re-work the shelves so that I had the items I use most frequently close by. As I was getting rid of books and moving things around I decided to completely redecorate the shelf.
So after a few purchases from the back-to-school sale at Walmart, here's what it looks like now: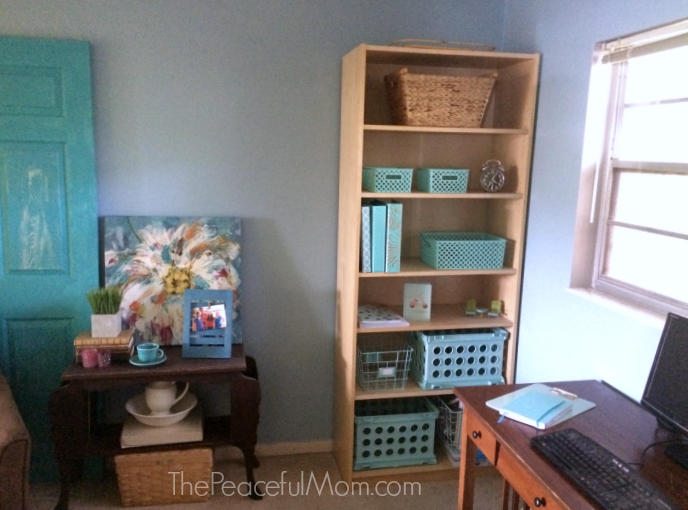 It's very motivating to work in the office now that it's prettier! I really like that the items on the shelf are all the same color, but I realized that I probably need to redecorate the table top beside it to make it simpler.
I still have more books and binders to go through, but I made good progress, which motivated me to move to other locations in the house to see what I could quickly declutter.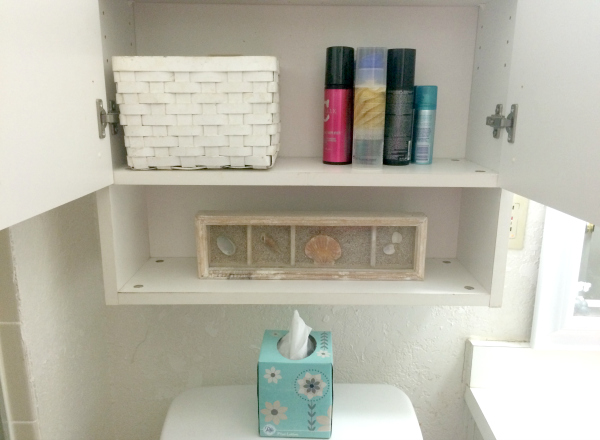 I went first to our master bath, which just might be the world's tiniest bathroom. The tile you see on the left is the wall of our shower, the toilet is about 6 inches away and the vanity and sink are five inches away to the right. We can literally touch the wall in front of us comfortably while using the toilet.
So, needless to say, there isn't much storage.
The bathroom cabinet is well organized, but my makeup basket (the white basket on the left) was a bit of a disaster so I cleaned and decluttered it.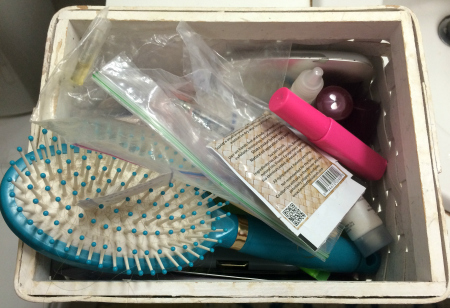 BEFORE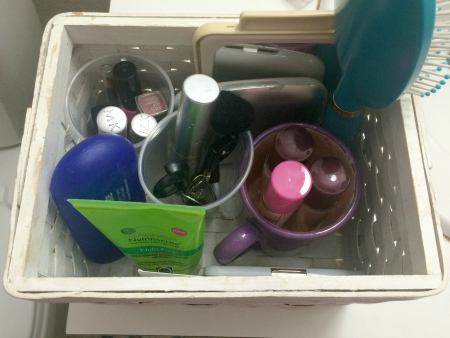 AFTER
After the bathroom I quickly went through the kitchen cabinets, linen closet and my clothes.
And here's the pile of stuff that we donated: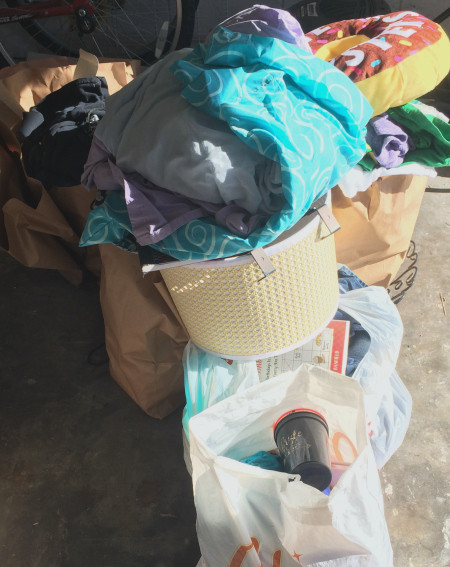 And it felt SOOOOO good!
I would love to hear how you're decluttering went, so please leave a comment. 🙂
Yay for decluttering!

Want a simpler life?
Join our simplifying, organizing, life-changing community!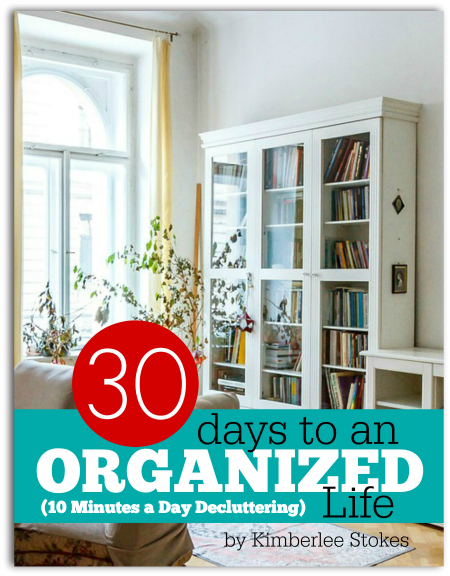 Click here to join the 30 Days to Organized Community!
Get weekly encouragement and real-life strategies to organize your life PLUS receive a FREE 10 Minutes a Day Decluttering Tool Kit!
You'll receive:
31 Day Decluttering Challenge Printable Checklist
10 Minutes a Day Declutter Calendar — focus on one small area each day of the month
50 Ten Minute Tasks – to organize your life one baby step at a time
10 Minute Task Calendar – blank calendar to fill in your own 10 Minute Tasks

 You May Also Enjoy: