Join us for the 31 Day Decluttering Challenge starting July 1st and grab your free printable 31 Day Declutter Checklist below!
I don't know how things are going in your corner of the world, but life has been a little crazy here lately with family visiting from out of town, a month-long bout with viruses and flu, as well as "tiny" problems like air conditioning issues when it's 97 degrees outside.
In the midst of all the crazy, let's just say that cleaning my house has not been a top priority …
The Problem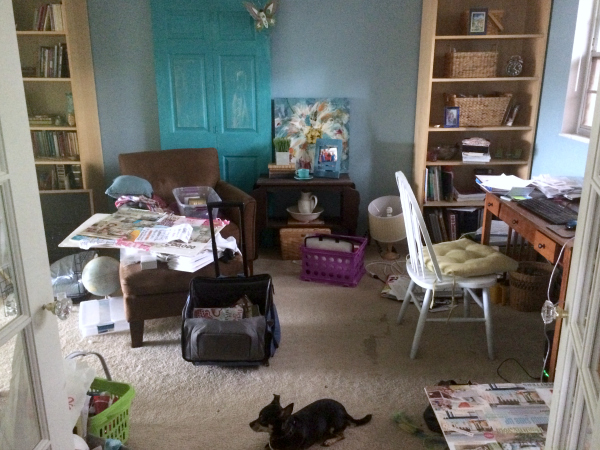 My office became the dumping ground for projects, art supplies, homeschool materials, papers and more — it's so bad we may be about to film our own episode of "Hoarders" — yikes! (Although my pup doesn't seem to mind.)
The Solution
In attempt to get things back in order, I'm hosting a 31 Day Decluttering Challenge.
I will be purging the piles and bringing some order to that chaos and I thought you might like to join me. It's always more motivating when you have someone cheering you on, right?
To get started, check out the guidelines and schedule time on your calendar starting July 1st.
The Guidelines
The guidelines are simple – 10 minutes a day in one small area of your home. Just follow these steps.
Prep
Print the 31 Day Declutter Checklist linked below and follow along room by room, or focus on only one room for the entire challenge.
I will personally be working on that mess of an office. It's not going to clean itself.
Declutter
1. Gather 3 large containers: boxes, plastic bags or laundry baskets. Label them "GIVE AWAY", "THROW AWAY" and "PUT AWAY".

2. Choose one area of your home.

3. Start with one small section of the room (1 drawer, 1 shelf, 1 cabinet) or one category (hanging clothes, books, etc.).

4. Spend just 10 minutes sorting* your items. I start with removing trash then grabbing the items I know I want to keep.

5. When your 10 minutes are up, disperse the items. Place the discard items in a bag or box then put them in your car to take to the donation center. Throw away any trash and take misplaced items to the rooms where they belong. Place your 3 containers in a closet to use tomorrow.
Share
I'll be posting pics of my progress and I would love to see yours. Share on Facebook, Instagram and Twitter using #31DayDeclutter.
You can post photos HERE on my Facebook page or leave a link to social media or a blog post in the comments below.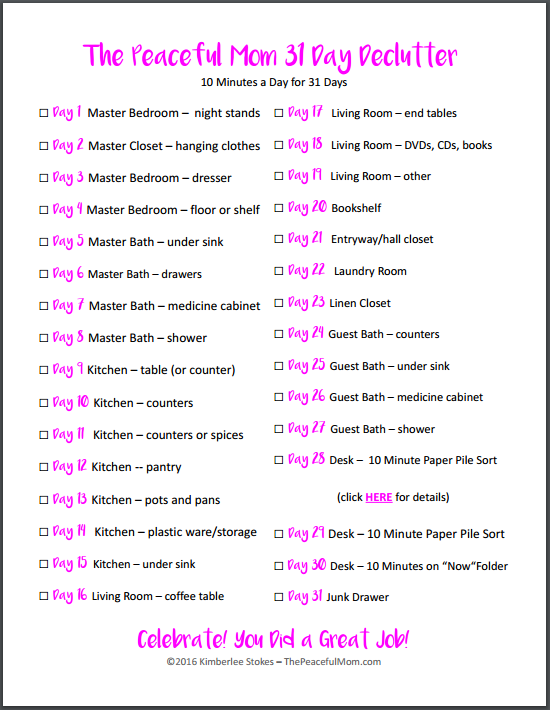 If you'd like to join me for the July 31 Day Decluttering Challenge, I have a FREE Printable 31 Day Declutter Checklist for you.
Simply join the 30 Days to Organized group HERE
and grab your free 31 Day Declutter Checklist!

If you're joining us, leave a comment. 🙂
Here's to Clear Spaces!

*Marie Kondo recommends decluttering by category in a specific order. You can read more about the Konmari Method here.
You can incorporate the Konmari* method of touching each item and paying attention to how you feel about it. If the item "sparks joy" in you — makes you feel happy– place it back in the space. If the item makes you feel sad, confused or drained place it in the appropriate container.
For items that don't "spark joy" but which are immediately useful return them to the space but make a note to replace them with something better soon.
 You May Also Enjoy: