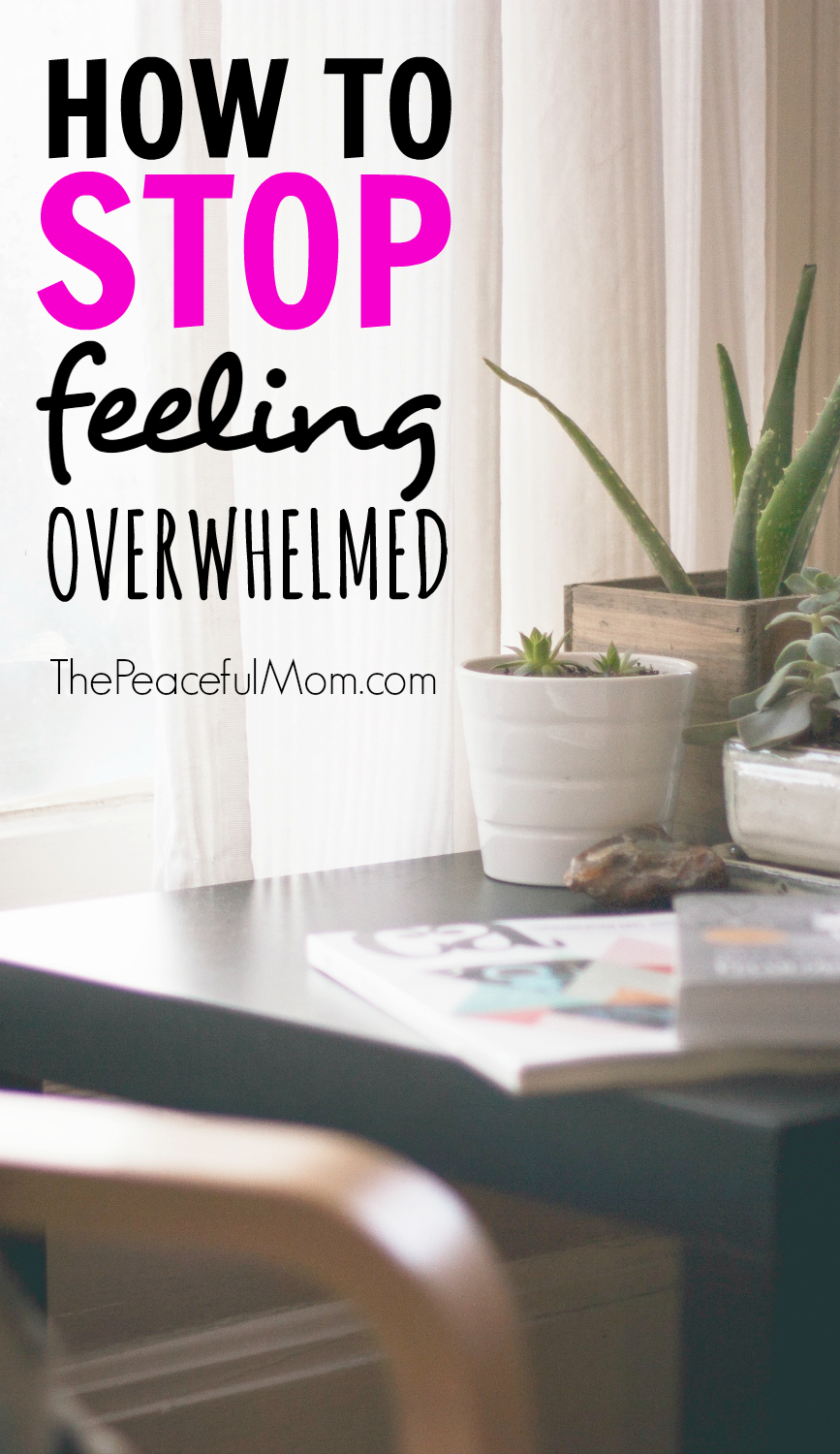 How to Stop Feeling Overwhelmed
Ever feel like your life is going along fine and then you get derailed? Within ten minutes you're in the middle of a crisis, overwhelmed and wondering what you're going to do about it.
I totally get it.
Just this past week I returned from a trip to visit my sister and before I could even unpack my suitcase I was dealing with a stomach virus. Life came to a halt while I did what I had to do to recover, and that included sleeping for most of two days after the worst of it had passed.
Having to take time off meant that deadlines and to-do lists had to wait, but it wasn't a major crisis because I have white space in my life. I had planned ahead instead of waiting until the last minute to work on projects. I had "emergency" food in the pantry and freezer, some extra money in the checking account to cover pizza delivery if we needed it, and time in my schedule to take a break because my calendar wasn't full of events and activities.
But that wasn't always the case.
For many years my husband and I lived on the edge of disaster with no emergency fund, no extra money in the checking account, no extra food in the pantry and no room in the schedule. And maybe you're living that way too.
The Key to Stop Feeling Overwhelmed
Just like every book you read has white space around the words on the page, your schedule, bank account and body need white space, "cushion" or overflow. Dr. Richard A. Swenson in his book Margin: Restoring Emotional, Physical, Financial, and Time Reserves to Overloaded Lives
calls this overflow "margin", and he defines margin as "the space that once existed between ourselves and our limits."
When you're constantly stretching the limits of your life rather than living within them, you become exhausted and set yourself up for difficulty in every area. If you're overwhelmed on a regular basis, you're probably living without white space or margin.
How to Conquer Schedule Overwhelm
The shortcut to stop feeling overwhelmed is eliminating some of the "noise" so you have margin — and the first place to start is your schedule.
Decide Your Priorities
There are limitless ways we can spend our time, and so many "good" activities we can be involved in, but to live our true priorities we have to eliminate some of the "good" stuff so we can focus on the "best". The key is knowing what the "best" is.
A couple of years ago I heard a speaker who encouraged moms to ask,"What can only I do?" The answer to that question frames the top priorities of our lives. For me the answers are:
enjoy the unique spiritual relationship I have with God
take care of myself physically, mentally, and emotionally
be my husband's soulmate
be my children's mom
encourage women with the gifts that I have
Ask yourself what can only be done by you and your true priorities will come into focus.
Action Step: Make a list of your top, most valuable priorities.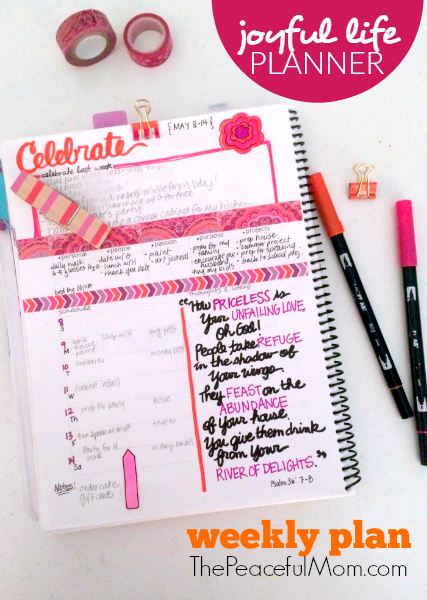 Manage Your Time
Knowing what is truly important is key, but living those priorities is an entirely different matter. It's so easy to allow the "urgent" tasks and the "good" activities to take over and crowd out the time we need to reach our most important goals.
Using a planner enables me to spend my time in ways that support my life vision and priorities. I use the Joyful Life Planner, but you should find the system that works best for you.
To begin taming your schedule, ask yourself what "good" things you are doing that are really taking away time from your true top priorities? Make a list and start the process of untangling yourself from those activities and obligations. Start by finding one event or activity to eliminate from your schedule this week.
Action Step: Find a planning system that works for you. Read 7 Simple Steps to Choose a Planner That Works for You.
Say "No"
You only have 24 hours in a day, and sleep is actually necessary, so you need to say "no" often if you're going to create white space in your schedule. Declining invitations and requests isn't easy, but it's essential to eliminate those activities and tasks that make you feel overwhelmed and prevent you from taking care of your top priorities.
As my husband and I have made creating space a priority in our lives, we have eliminated much of the non-essential so that we can focus on our top values of spiritual connection to God, self-care, emotional connection in our marriage and relationship with our children. Everything else has to fall behind these priorities and that means I say "no" to A LOT. (Just last night I decided to stay home rather than attending an event so that I could spend time with my family.)
Setting boundaries on how you spend your time may be the most difficult part of creating margin in your life, but those boundaries will enable you to conquer the overwhelm and will bring you peace, joy and rest.
Action Step: Begin to say "no" to obligations and invitations that make you feel overwhelmed. Read How to Say No (and Be Nice About It)
How to Prevent Overwhelm in Other Areas
Let me leave you with some super practical steps you can take this week to create margin in your life so you can stop feeling overwhelmed.
Physical Health
White space for our bodies looks getting enough sleep and taking time for rest and relaxation. Begin to go to bed earlier so you can get at least 7.5 hours of sleep a night. You can also schedule at least one half day each week to do nothing but relax, and set aside a daily time to rest your mind and pray.
Emotional Health
Are you in a constant state of drama, running from one crisis to the next? It's time to create some white space in your emotional life. Begin to distance yourself from people in your life who constantly cause conflict and stress. Take regular breaks from electronic devices. Stop watching the news.
Finances
Living above your means by spending everything you make is a recipe for financial disaster. To increase the margin in your budget start saving a little from every paycheck. Make creating a $1000 emergency fund a top priority. Stop using your credit cards immediately.
Time
In addition to the scheduling tips above, you can create time margin in your life by leaving early when going to an appointment. You can also schedule downtime and regular dates with your spouse on your calendar. Begin to say no to over-commitment.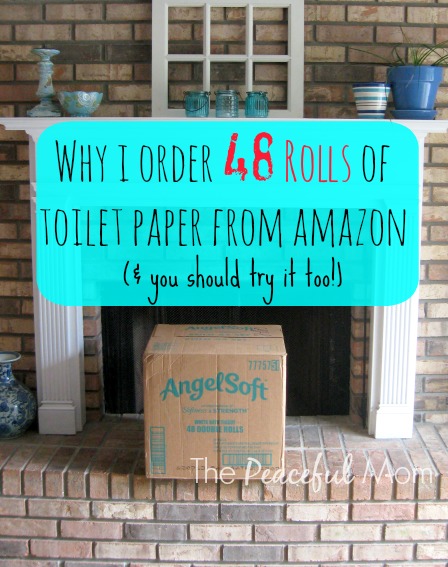 Basic Necessities
Avoid those emergency runs to the store for toilet paper by making sure you have extras of the basic necessities on hand at all times. (I order toilet paper and other household goods from Amazon. See the Best Amazon Deals On Home Products HERE.) You can also stock your freezer and pantry with "emergency" meals, keep a supply of water bottles in the closet and buy an extra can of hairspray or bottle of shampoo the next time you shop.
Creating white space in your life will require some work, but having margin means that emergencies don't become a full-blown crisis of epic proportions and you are a sane, peaceful, joyful person. I know that whenever I start to feel a little crazy, I need to start creating that white space again. The process may not always be easy, but it's so worth it!
Read How to Stop Feeling Overwhelmed part 2 HERE.
We Can Do This!

Want a simpler life?
Join our simplifying, organizing, life-changing community!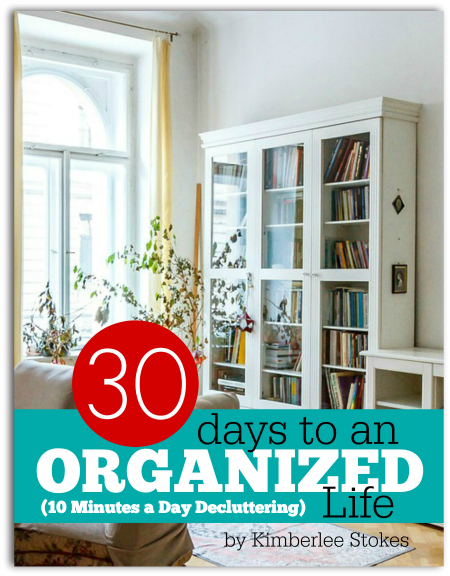 Click here to join the 30 Days to Organized Community!
Get weekly encouragement and real-life strategies to organize your life PLUS receive a FREE 10 Minutes a Day Decluttering Tool Kit!
You'll receive:
10 Minutes a Day Declutter Calendar — focus on one small area each day of the month
50 Ten Minute Tasks – to organize your life one baby step at a time
10 Minute Task Calendar – blank calendar to fill in your own 10 Minute Tasks