How to Create a Monthly Vision Board
Are you tired of setting goals, only to realize a year later that you never accomplished them? I have a solution for you. Let me show you how to create a monthly vision board.
One of my goals here at The Peaceful Mom is to help you live a purposeful, joyful life and one of the ways I do that for myself is by creating a monthly vision board. Today I'm sharing my vision board for the upcoming month and the steps to create your own.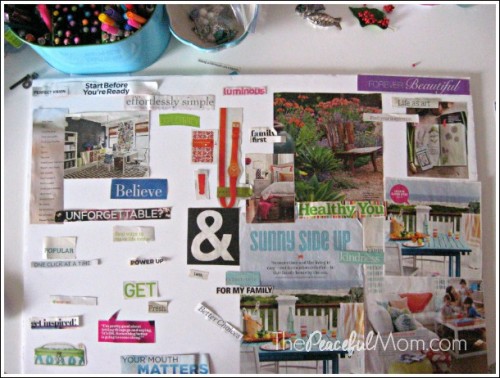 WHY CREATE A MONTHLY VISION BOARD
You have probably heard about creating a vision board for your life, and maybe you even made one for the new year. The reason vision boards are so popular is that they actually enable you to reach your goals by helping you in three ways.

Make Your Goals Visible
All vision boards have the advantage of enabling you to visualize where you want to go. Seeing yourself accomplishing those goals actually helps you to achieve them.
Make Your Goals Doable
Big goals and dreams can motivate us, but to actually accomplish those goals we need to break them down in to bite-size pieces. Creating a monthly vision board helps us to envision what can actually be done in a month and means that we will actually make progress.
Increase Your Focus
A monthly vision board has the added benefit of causing you to focus on a short amount of time so you can more readily envision what you want to accomplish. A month is short enough to seem reachable, but long enough to give you a little bit of breathing room in how you move toward your goals.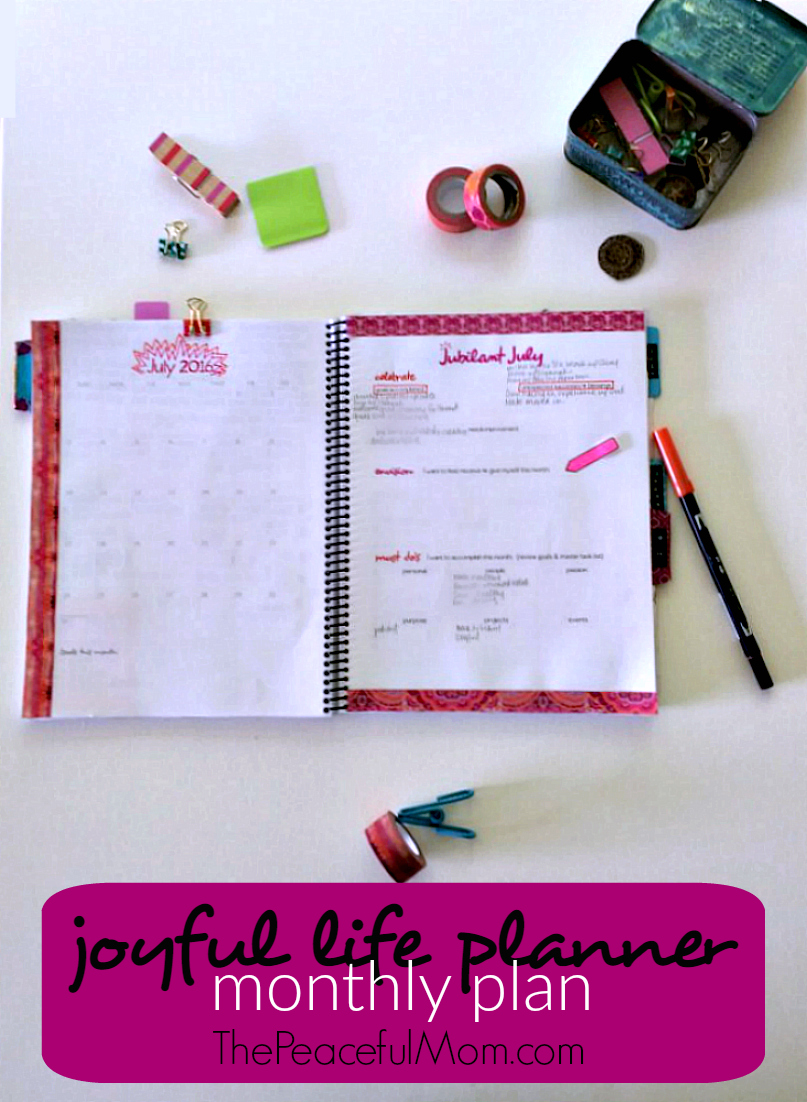 How to Create a Monthly Vision Board
I print the Monthly Vision Board from the Joyful Life Planner. To create your own monthly vision board, include these three aspects:
Celebrate Your Progress
My first step in creating my monthly vision board is to review the previous month and celebrate the progress I made, the goals that I accomplished, as well as the happy moments and blessings that I experienced.
I feel so motivated and happy when I focus first on all of the positive aspects of the previous month.
Envision Your Future
My next step is to visualize my goals and envision what I want in the upcoming month. I ask myself two questions:
"How do I want my life to look this month?"

AND

"What progress do I want to make by the end of this month?"
I then write words and phrases describing where I want to be in the next four weeks. Creating this vision gives me focus and direction, which increases the chances that I will actually accomplish my goals.
Create Your Action Steps
Once I create my vision for the month, it's time to create action steps to reach my goals. I break down the big goals into specific tasks that I can do daily and/or weekly which moves me toward my big life vision.
I check my goals for this year (read more HERE) then write my action steps for the upcoming month.
It's important to limit your goals to two or three for each category, or even two or three big goals for the month. A smaller number of goals helps you to focus your efforts which increases your productivity. It also helps to prevent overwhelm.
Accomplishing one small goal is better than being overwhelmed and doing nothing.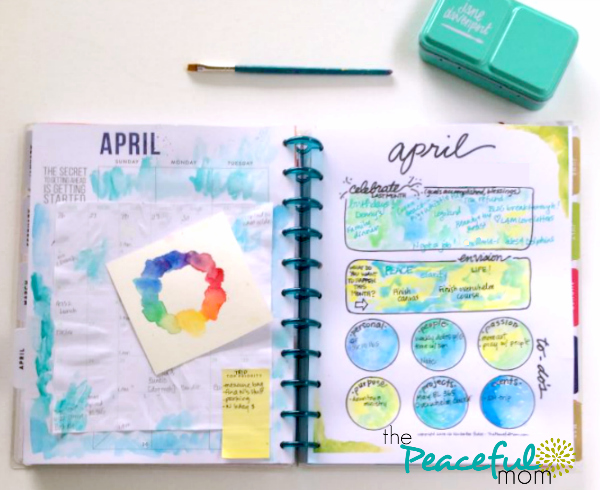 My Goals for April
I don't usually add photos to my monthly vision boards, but simply write words and phrases. Here's a peek at the details of my Vision Board  for April.
Goals Accomplished/Happy Happenings in March
Enjoyed a family breakfast and dinner to celebrate family birthdays.
Saw the Beauty and the Beast movie with two of my daughters.
Enjoyed several really fun dates with my husband.
Kept our grocery budget under $500 for the month ($475.31).
Finished and filed our taxes.
Exercised every day in March.
Created several new freebies for Beautiful Life 365 subscribers.
Goals for April
PERSONAL
Walk every day for at least 20 minutes.
Work out video at least 2x a week.
Drink 6-8 glasses of water every day.
Eat protein for breakfast/eat gluten free.
PEOPLE
Continue marriage class with hubby.
Weekly date with hubby.
Hangout time with each of my daughters.
At least one coffee date with a friend.
PASSION
Continue journaling and creating art. (See my latest entries on my Instagram HERE.)
PURPOSE
Volunteer with a downtown mission.
Pray for people regularly.
PROJECTS
Finish my new course.
Save $500 this month.
Making monthly planning a priority in my life has dramatically increased my productivity, focus and happiness. Thanks to a little bit of planning, I'm enjoying my life more than ever.
I encourage you to give it a try as well!
Share your April goals with me in the comments.
Happy Planning!

You May Also Enjoy: