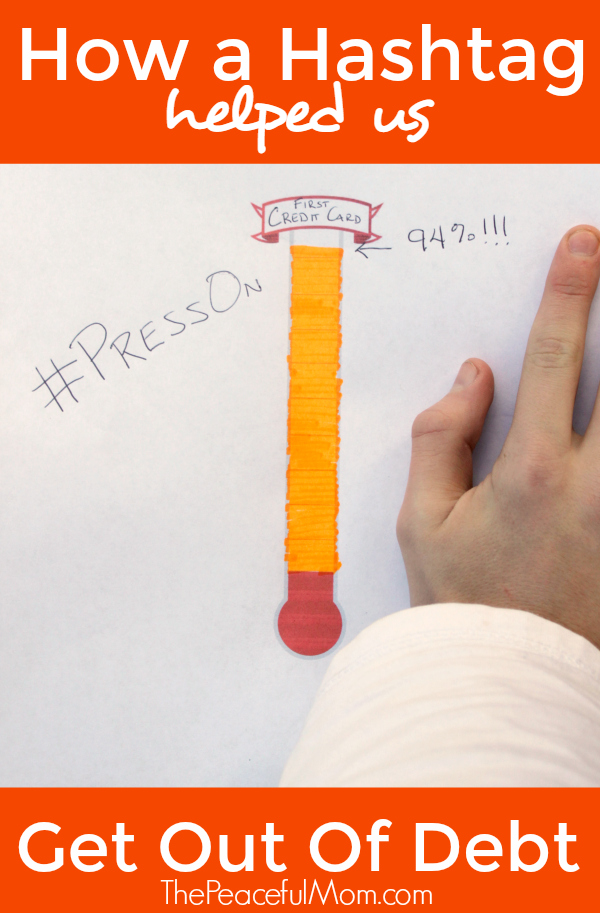 How a Hashtag Helped Us Get Out Of Debt (pt. 2) is a Guest Post by Jaime
(Read part 1 HERE)
Over a  year ago, my Hubby and I made a startling realization. If we didn't work our tails off to get out of debt, we'd never get to do any of the the things we dreamed of doing.
We'd been spinning in circles for years, trying to get house projects finished and dreaming of going on fun dates. Meanwhile, we were just keeping up with minimum payments on our credit cards.
Something had to give. So we launched our #yearofno and made big changes to our spending habits.
At the start of this new year, we hadn't quite reached our BHAG (Big Hairy Audacious Goal) of paying off the biggest credit card. But we were close! And even better, we had a whole new attitude when it came to spending money.
Our Mottos
The #yearofno motto gave us a great start, but it couldn't last forever. We had to let go of it and create a new vision to get us through another year of debt payments.
Our new motto needed to continue our view on spending, encourage us to finish what we'd started, and give us a little empowerment along the way. After trying on a few different ideas, we settled on our new hashtag #PressOn.
In With the New
Where the #yearofno helped us carefully consider every purchase we made, our #PressOn motto is giving us confidence to keep going. It's a reminder that we're doing battle with this debt, and that we have to fight hard if we hope to win.
It can be scary to pay down debt. Sending our "extra money" to the credit card companies makes me worry that we won't have enough in our checking account to cover unexpected things that pop up.
But the truth is, if there's money (beyond a small cushion) lying in the checking account, it will be spent. Unexpected things always pop up. That doesn't mean they always need attention.
What do I mean by that? Well, a flat tire obviously needs attention. The book fair that your kid forgot to tell you about, doesn't. Need one more ingredient for that yummy Pinterest recipe? Choose a simpler meal.
Emergency Fund
We're keeping money in our emergency fund and our sinking funds for expenses that can't be ignored or pushed off another year (when we expect to finally be free from credit card debt!). Those funds are in a separate account that I don't have easy access to.
(If you'd like help building an emergency fund, check out my 30 ideas for saving and earning enough money to get you started!)
Sure, I can get to this money when I need it, even in an emergency. But it requires me to take a few extra steps. That means more time to think about whether this experience really is an emergency.
#PressOn
One final thing I'd like to say about our new motto. Paying down credit card debt can feel like a battle. While credit card companies have plenty of tactics to encourage people to get in debt, our card balances are often a result of our own behavior.
That said, if you want to compare paying off this debt to fighting a boxing match against the credit card company…go with it! Every payment you send in is like throwing the next punch. When the balance gets to $0, you've won!
Mottos are making a huge difference in our fight to become debt free.
Have you ever used a motto or phrase to encourage yourself to reach your goals? Leave a comment below.
______________________
Jamie is a mother of 5, clawing her way out of credit card debt. She dreams of bottomless coffee and donuts that magically appear on her desk where she blogs at Medium Sized Family. Join her for encouragement in escaping your money struggles.
You May Also Enjoy: