Have you joined us for the 31 Day Decluttering Challenge? We're working just 10 minutes a day in one small area of our homes, so by the end of the challenge we will have made significant progress.
And speaking of the challenge, I have a confession to make.
So you know those times in parenting when you want to be a good example, but you end up failing big time?
That's kind of how I feel about the challenge this week.
I was very busy with two family birthdays and an emergency in our extended family so by Saturday I realized that I hadn't decluttered anything. In fact, my office was a complete disaster.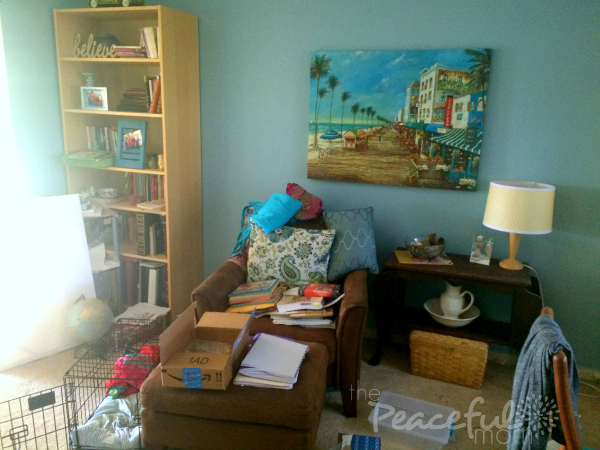 In the left corner you can see part of a small corner shelf that was filled with art projects and supplies that I needed desperately to organize. The large white rectangle is a canvas that I planned to start painting and haven't yet.
The chair in the center was filled with homeschool books that I need to sell, and the back of the chair is covered with some fabric I bought to cover some pillows. My vision for projects far exceeds my ability to carry them out, which is the main reason for my clutter situation.
The ottoman was serving as temporary storage for a box that I need to recycle and some folders I need to file.
Even the dog's bed (see this review of dog bed pads) was a rumpled mess — haha!
Looking at this chaos day after day was really draining, but because I felt overwhelmed by it, I never took action.
Finally on Saturday, I was doing laundry and it occurred to me,
"Hey, there's this cool thing that this blogger called The Peaceful Mom does where she breaks the decluttering down into 10 minute sessions. Maybe you should try that."
Duh!
So when I set the timer to take the clothes out of the dryer (I hang my laundry to dry to save money), I spent that ten minutes working on the left corner of the room.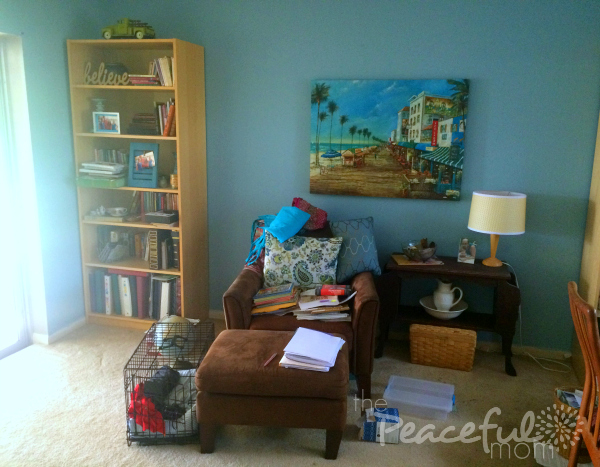 Spending just 10 minutes, I was able to:
put away all of the projects and supplies where they belong;
move the corner shelf to my daughter's room where she will use it to store books;
take the box on the ottoman to the recycle bin;
put a dog blanket that was on the floor into the kennel.
The room still needs work, but the corner is completely cleared now except for a shoe box of art supplies I need to put away and the globe that I want to use when I rearrange the tall bookshelf on the left. It feels sooooo nice to look at that little cleared up space!
The moral of the story is: just do something!
If the 10 minutes a day idea isn't working for you, then work for just 10 minutes on ONE day.
I promise you will feel better!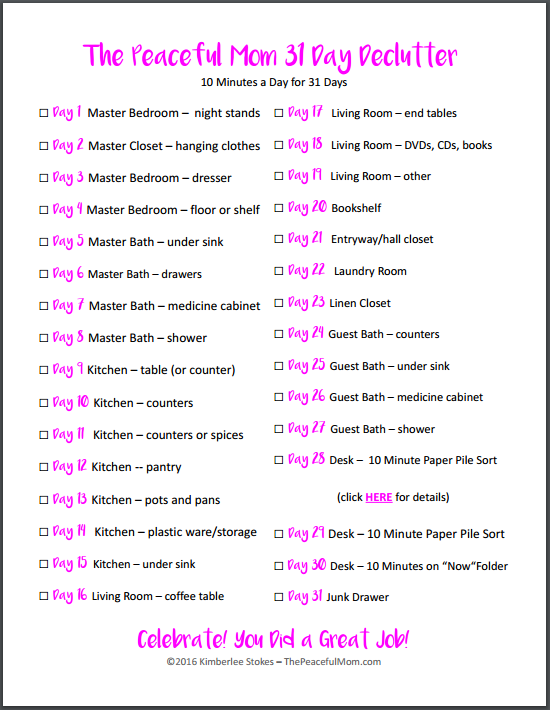 If you'd like to join us and download this 31 Day Declutter Checklist,
simply join the 30 Days to an Organized Life Community HERE.
Once you confirm your registration by clicking the link in the confirmation email, you will receive a welcome email with the link to the checklist.
If you'd like a little motivation you can check out Mary's Facebook post HERE about what she found while decluttering, then leave a comment, photo or link HERE on Facebook with your progress, or on THIS POST on the blog.
I would love to hear if you're joining us, so leave a comment. ?
(eMail readers will need to click through the title of this post then scroll to the bottom of the post to leave a comment.)
We Can Do This!

P.S. – If you want to invite your friends to join you, share this post on Facebook.
You May Also Enjoy: