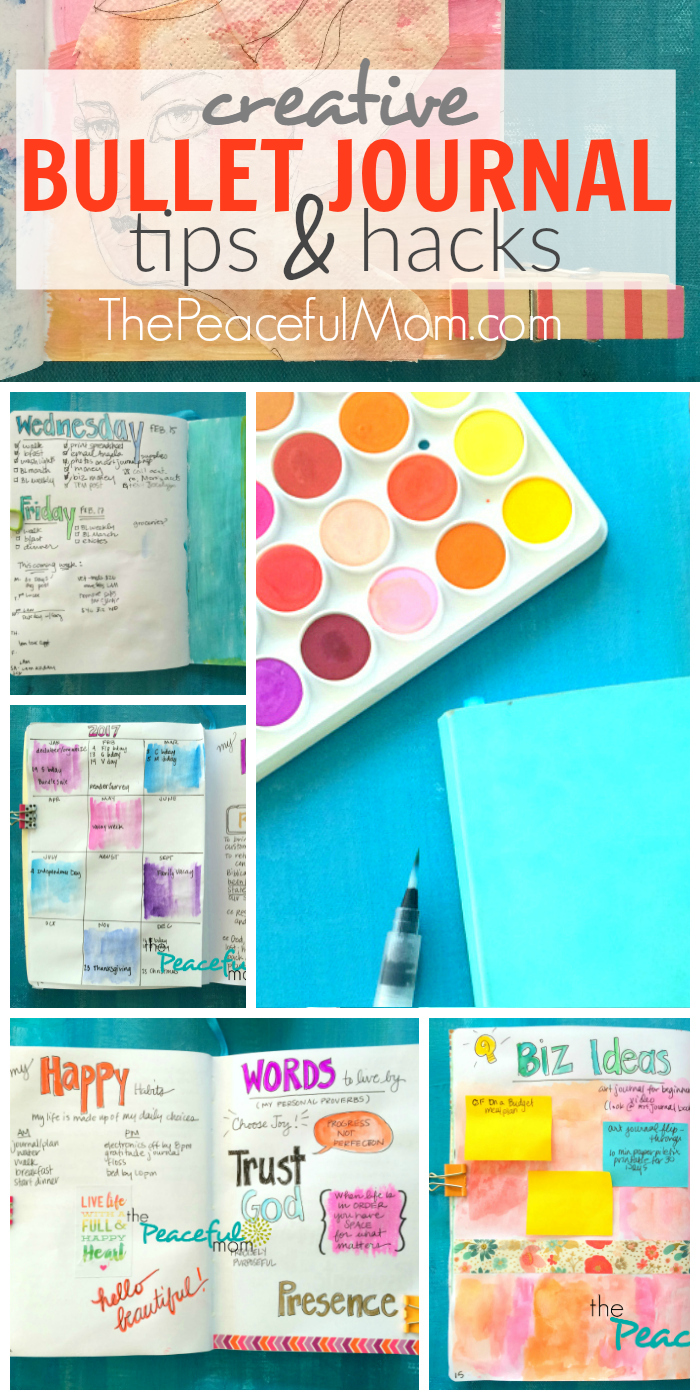 Unless you've been hiding under a rock for the past year, you've more than likely heard about Bullet Journaling. In case you want to try it out, today I'm sharing How to Organize with a Bullet Journal, along with some bullet journal tips and hacks.
A bullet journal is a simple, analytical way to plan and organize your life. The bullet journaling technique simplifies your entries so you can organize more efficiently — which also means you're more likely to continue using the journal because it will actually work for you rather than becoming just another task on the to-do list. (You can check the link at the end of this post for the exact details of the original bullet journal method.)
Being the mostly right brained person that I am, I of course do bullet journaling a little more creatively. I've been journaling this way long before "bullet journal" was a thing, and after using my Joyful Life Planner for the past few years, I've returned to this method of planning, organizing and journaling in one book.
How to Start Bullet Journaling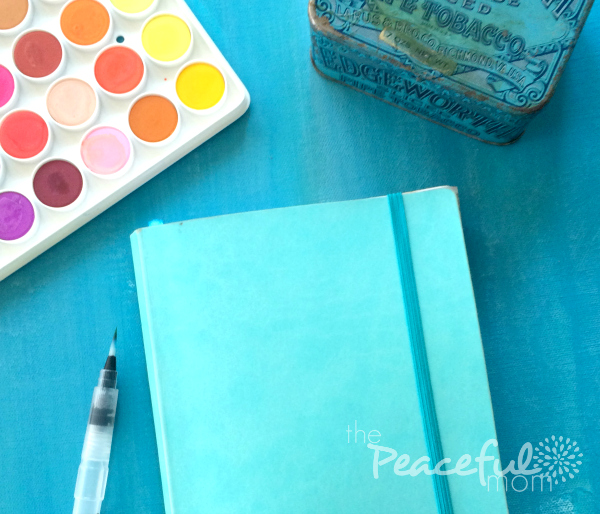 Gather Supplies
The supplies needed for bullet journaling are very basic: a notebook and a pen. But of course, it's more motivational to use some fun supplies like markers, paint, washi tape, stamps and stickers.
Click HERE for a list of the best bullet journal supplies and my faves to use in my own journaling including the awesome notebooks I use!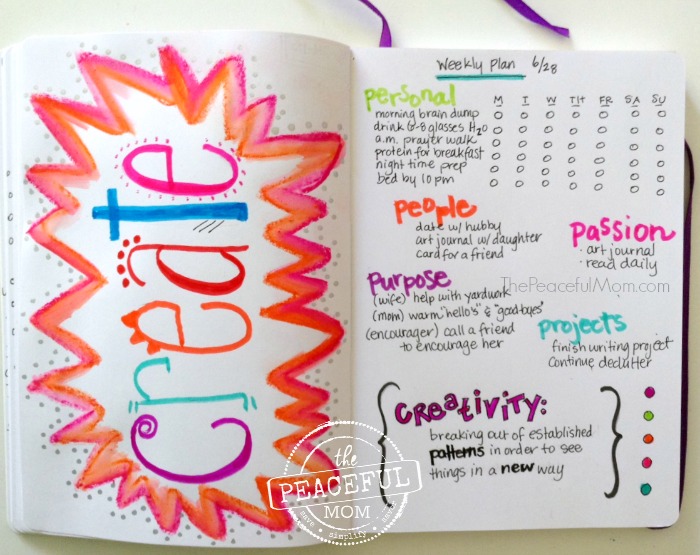 Decide Why You Want to Journal
Before you begin, it's important to think about your reasons for using this type of journal. My personal reasons are to simplify my planning and journaling into one book, and to express my creativity in a regular, useful way. Other reasons to bullet journal could include:
planning in a more fluid way
creating a place to write down all of your to-do lists
making journaling a habit
memory keeping
habit tracking
If you're not sure exactly why you want to journal, that's okay. Simply use it as a "brain dump" to write reminders, songs you like, websites you want to check out, to-do lists, random ideas, paint swatches for your current home project and journaling about your day.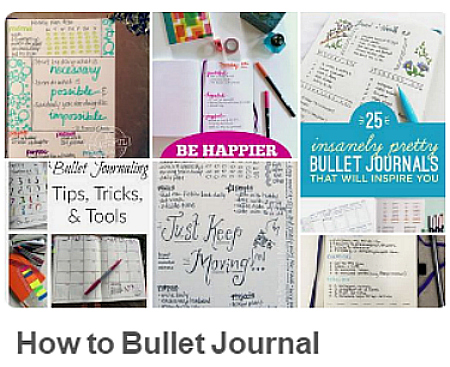 Find Inspiration
Not sure where to start?
Staring at a blank page can be intimidating so try checking out how other people use their bullet journals. You can see photos of my bullet journals and art journals HERE.
You can also follow my How to Bullet Journal Pinterest Board, and follow me on Instagram HERE (@KikiJournals). Search on Google, Instagram and Pinterest for "bullet journal" or the hashtag #bujo.

Keep It Simple
Looking at others' journals can be inspiring, but it can also be intimidating. You may feel tempted to try to recreate every cute page you see, but your enthusiasm will quickly wane and leave you feeling overwhelmed.
If you're not normally a journal junkie, start with just a few simple types of entries and see which you find helpful and enjoyable. Develop the habit of journaling first, then add more types of entries and page styles as you go along.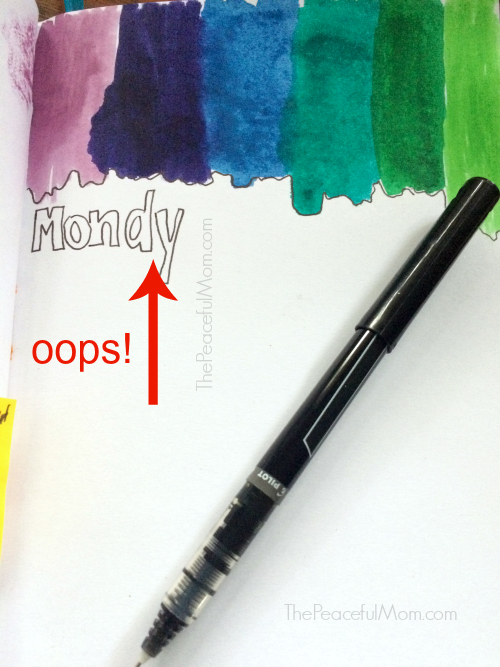 Don't Worry About Mistakes or "Ugly" Pages
It's easy to allow your perfectionism to prevent you from actually journaling, and if you've seen photos of lots of beautiful, creative journals you may set yourself up for some disappointment once you get started. Just be aware before you start that your journal won't be perfect. You will definitely make mistakes and even create pages you don't like.
One solution is to start in a cheap composition book so that the intimidation factor is limited. And remember, if you mess up, you can always cover the mistake with a sticker or cover the entire page with a piece of paper. So don't worry!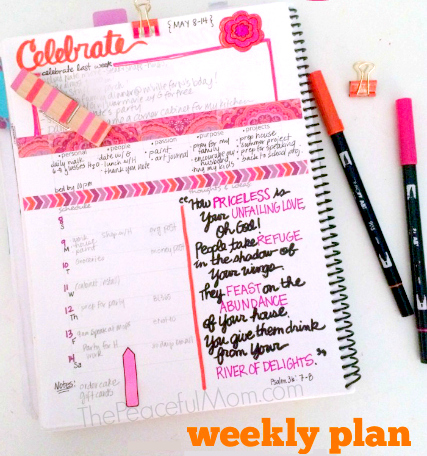 Make Journaling Routine
Your bullet journal will become just another piece of clutter on your desk if you don't use it, so creating a journaling routine is key.
You can schedule a time first thing in the morning with a notification on your smart phone, or create the habit of writing in your journal before you go to bed. It's also helpful to set aside time on the weekend to plan out your upcoming week.

Make It Work for You
The wonderful thing about a bullet journal is that it's completely unique to you. My journals are a combination of planning, brain dumping, journaling, memory keeping and creativity. And they have changed over time.
The key to making a bullet journal work for you is, well, making it work for you. Don't worry about "should's" or copying what someone else does. Do your own thing!
If you're not a super artsy person, make your journal more of a place for lists and notes. If you're not confident in your handwriting and decorating skills, use tools like stickers, stencils and printable charts. If you have a week without much going on, skip your weekly spread.
Sample Bullet Journal Pages
As you begin bullet journaling, you may want to include these types of pages in your journal:
Index
The key to being able to find what you need in your journal is numbering the pages and creating an index in the front. You can also include a key with symbols that you will be using throughout the book.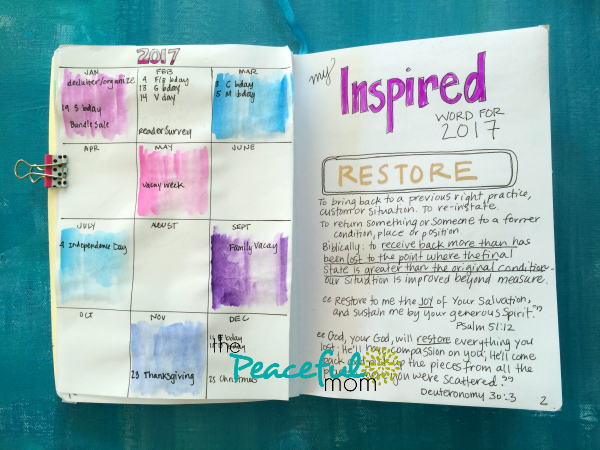 Calendar Pages
Including calendar pages is essential for longer term planning. For yearly planning and keeping track of birthdays I like to use a one year planner like the one pictured above. You can also simply list the months, or for monthly planning, write the numbers 1-30 (31) down the side of the page.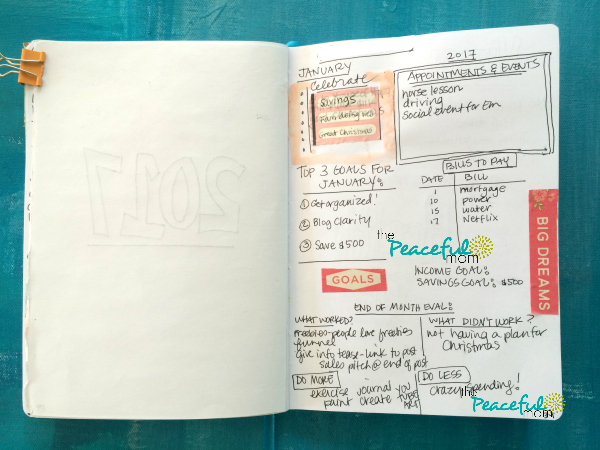 Planning Pages
Bullet Journals are great for planning ahead. Your planning pages can include project logs, weekly and monthly overviews, goal lists and more. I personally use a monthly overview to set my goals for the month so I know where to focus my time and energy. At the end of the month I review how I did and write a short end of month evaluation. (These monthly planning and evaluation pages are included in the Joyful Life Planner.)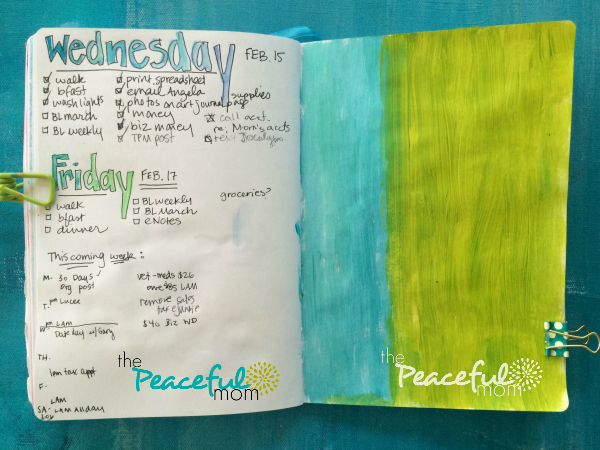 Daily Pages
I think my favorite use of my journal is for daily pages. These can include brain dumps, to-do lists highlighting your top 3 for the day, journaling, and even memory keeping.
Depending on the day I may journal about what I'm feeling and thinking, add a little bit of artwork, list blessings for which I'm grateful, and then create my to-do list for the day. One thing that I LOVE about planning in a journal as opposed to a planner is that I can make it work for me. In the photo above, I was able to skip daily planning for Thursday because I was out most of the day with my daughter and didn't need a detailed to-do list.

Collections and Lists
One of the best uses of your bullet journal is for creating lists. You can make lists of items you want to purchase, family outings you want to take, date ideas, grocery lists, favorite meals, books you want to read, lists of movies you want to see, music playlists — anything you want to remind yourself of or gather in one place so that you can refer to it later.
(Note: The "Happy Habits" and "Words to Live By" pages are from the Joyful Life Planner.)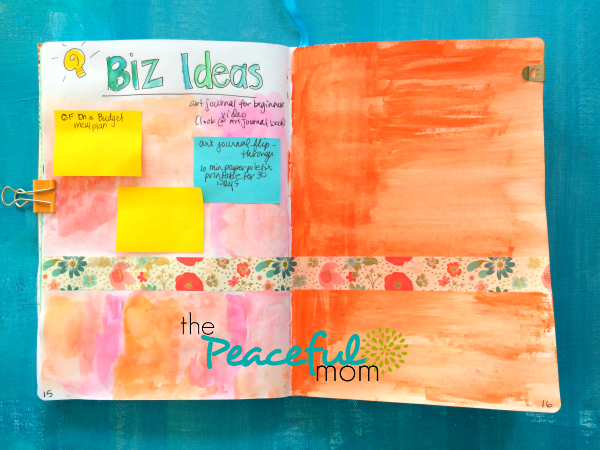 Idea Pages
Another way I love to use my journal is as a repository of ideas. I create pages for categories like business ideas and home improvement projects, then add sticky notes so that I can change and remove them without using another page in my journal. Because the project pages are the last pages in the journal, I can easily find them. I keep blank sticky notes on the page so I can jot additional ideas whenever they occur.
Hopefully these tips and ideas will help you as you begin your bullet journaling journey. The important thing to remember is that your journal should be useful and fun, not a drag.
I would love to hear if you use a bullet journal and what your favorite types of entries are. See photos and videos of my bullet journals HERE.
Happy Journaling!

You May Also Enjoy: