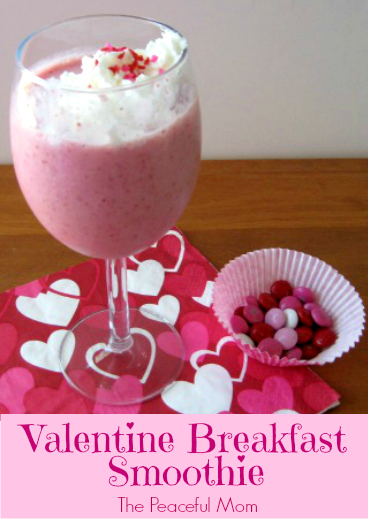 Valentine Breakfast Smoothie Recipe
Valentine's Day is absolutely my favorite holiday, and I love greeting my family with a yummy Valentine Breakfast Smoothie at the start of the day. It's like a little hug on the inside! (Don't forget to grab your FREE Printable Valentine Coupons HERE!)
Plus this smoothie is super easy to make with simple, healthy ingredients.
You can serve the Valentine Breakfast Smoothie with heart-shaped waffles for even more fun.
Valentine Breakfast Smoothie
A "lovely" recipe from The Peaceful Mom!
Ingredients
1 frozen banana
1 cup vanilla yogurt
1 cup milk or cream
2 cups frozen strawberries
whipped cream
Valentine sprinkles
(We think the banana adds just enough sweetener, but you may want to add a little sugar.)
Instructions
Cut frozen banana into 1 inch chunks.
Combine yogurt and banana in blender until smooth.
Add milk or cream and frozen strawberries.
Blend until well combined adding milk if necessary to maintain a vortex in the center of your blender.
Pour into a glass, top with whipped cream and sprinkles.
Serve immediately.
https://thepeacefulmom.com/2017/02/09/valentine-breakfast-smoothie/
Happy Heart Day!

You May Also Enjoy: