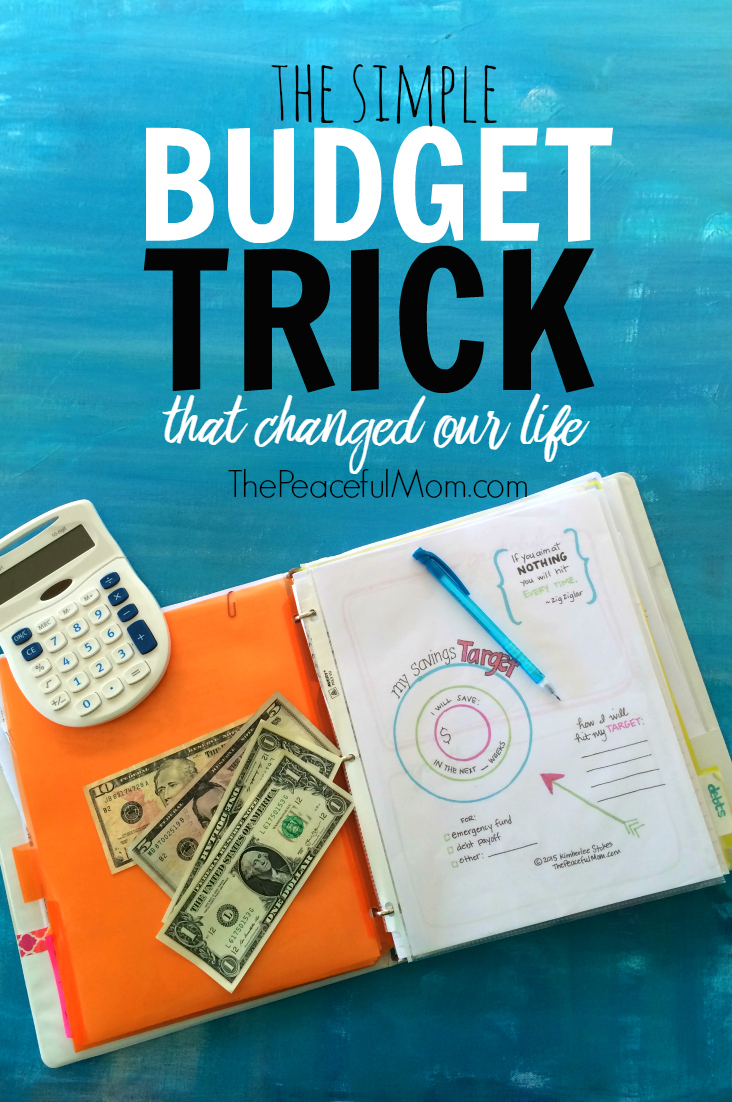 The Simple Budget Trick That Changed Our Life is a GUEST POST by Christina.
It was the Fall of 2013. I was a stay-at-home mom with 3 little girls, 2 dogs, and a husband…
and a mortgage, a student loan, and a massive amount of credit card debt.
My husband's salary had finally grown to cover our living expenses, but we were still drowning in debt with no paddle.
Too many years had gone by with this constant weight of debt hanging around our necks. We felt hopeless, helpless, and out-of-control. It was time for a change.
We needed a new way of looking at our money.
I took three steps that brought long-lasting change to our family finances.
Praying
Without a complete reliance on the Provider, all our efforts can be in vain. God's greatest desire is for us to worship him and rely on him. He may be using money to teach us his principles. Praying to God about our money situation helped me to correct some bad attitudes and views I had regarding money…and its affect on our marriage. Which brings me to the second point.
Talking to My Husband
For a long time in our marriage, I was the one to pay the bills and balance the checkbook. I had seen my mother managing the family finances and so it seemed the obvious thing to do. Plus, since my young husband was the "breadwinner" and I was the "housewife" it made me feel helpful and like an active contributor to our finances.
Only problem was…I hated it. I wasn't any good at it either. Details, numbers, and repetitive tasks are a big stress point for ENFP's* like me (see link below). Don't get me wrong, I can do some amazing calculations to figure out how long it will take to pay off debt or how much we could save over 5 years or what have you. I'm a future-thinker. Focusing on repetitive, detailed tasks is life-draining.
Also, seeing the "hopelessness" of our financial situation caused me an enormous amount of stress. When I turned to my husband with that stress, he felt like he was failing as a provider. Feelings of insecurity often manifest as anger, and there was no shortage of snappish remarks whenever our financial situation came up.
So, I talked to my husband about him taking over the budget. I knew it would mean a sacrifice of time for him, but I believed it would allow him to lead our family to making wise financial decisions, and I could relax and follow his decisions. We agreed there would be open communication and plenty of dialogue about our money in the future.
The next step was figuring out a method that worked for both of us.
Finding a Solution to Our Budgeting Woes
We had read Dave Ramsey–excellent advice, but we always struggled to put it into action. What do we do about the unexpected expenses that take more than our regular paycheck? I'm sure Dave has answered that, but whatever he said just didn't click in my brain. I couldn't get a handle on it.
Enter: Pinterest.
You remember the fall of 2013, right? That was about the time Pinterest was taking off and our world exploded with ideas and inspiration! I must do that craft! I must try that recipe! Oh, so that's how you tie a scarf!
And then one day, I saw this: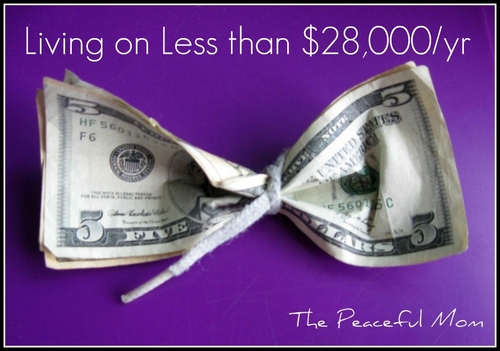 Wait, what? $28,000? Per Year?? Does she live in one of those deep poverty areas where living expenses are even lower than my home town? I clicked through and discovered that not only did she NOT live in some back-woods shantytown, she had a family of 6 including teenagers! Ok, if she can do this, there's hope for us after all.
Perhaps that was the biggest gift: hope!
The beauty of this over-sharing, over-stimulated, 0ver-connected world we live in is that we can share our stories and discover hope! Kimberlee's story gave me the hope I needed. We can do this.
As I pored over her site, I came across this post: Living on Less than $28,000 a Year: Managing the Money.
It was so beautifully detailed! Here was the practical solution I needed! I knew it would be a game-changer for us. But…I had asked my husband to take over, and I certainly didn't want to usurp his leadership when he had just taken the reins.
That night, I approached him casually. "I came across this blog post today about a new way of keeping track of the budget. I thought you might like it." He read it and immediately was on board. We set a date for later that week to print out our own Freedom Account planner and get started planning!
It felt like all the pieces were finally falling in to place! We had hope, and we had a plan!
It's no overstatement to say that blog post changed my life.
Since that fall, using Kimberlee's advice (and with a few windfalls), we have paid off all the credit card debt, all the student loan, and managed to save for a rainy day. Even better than that, we can keep track of our expenses and plan for the future. This summer, my husband was able to change careers and endure a few months of no income. We are looking ahead to his new career–as a financial planner!–with continued hope and a rock-solid plan to cover our expenses and stay on budget.
Finally, we know what our family's spending really looks like, where we can cut and exactly how much to save.
If you've been there, struggling to understand your money, I will recommend this method again and again!
Prayer, open discussion, hope, and plan will lead you to FREEDOM!
*How Each Myers Brigss Personality Reacts to Stress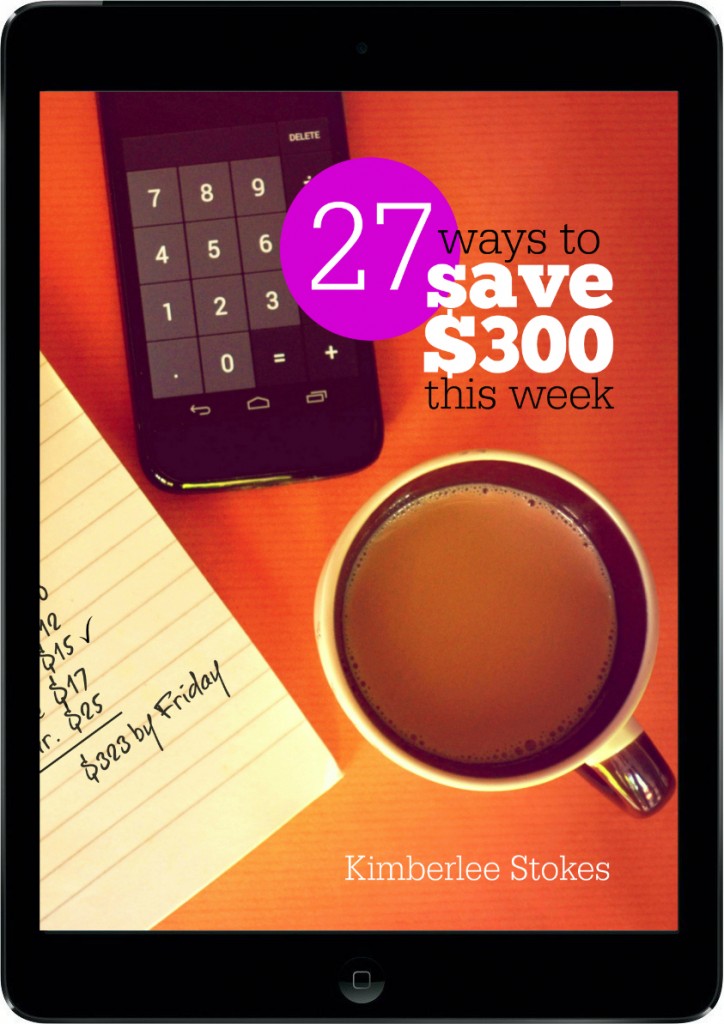 Want to change your money and your life?
Join The Peaceful Mom community for weekly encouragement, money saving and organizing tips PLUS the 27 Ways to Save $300 This Week ebook.
Click HERE to join now.
---
Christina Maloney is a blogger, creative, and DIY enthusiast who helps young mothers—homemakers and hustlers—get organized, earn money from home, and celebrate everyday so they can chase their dreams and claim their joy.  She loves coffee, chocolate chip cookies, and Amazon Prime.  Join the Joy Gathering group on Facebook for support, advice, and networking!  Find Christina on Instagram at: @ChristinaJoyGathering
  You May Also Enjoy: