How to organize school paperwork and newsletters is a GUEST POST by Rachel Russell.
Every afternoon, as the kids come in the door, they bear a variety of paperwork: school newsletters, calendars, fundraisers, permission slips, homework handouts, and menus.
The result? The refrigerator often ends up looking like it lost a paper-mâché fight. Between the school paperwork, newsletters, and the household notes, it quickly becomes a disorganized eyesore.
We have tried many solutions, ranging from in-boxes to bulletin boards to plastic storage bins. The problem with each of these solutions is that the paperwork still remains haphazardly stacked or pinned and requires a lot of time to sort and purge down the road.
It isn't effective.
What about a technique to keep your paperwork organized and allow your refrigerator to reclaim it's own identity?
How about an easy, effective, and affordable solution?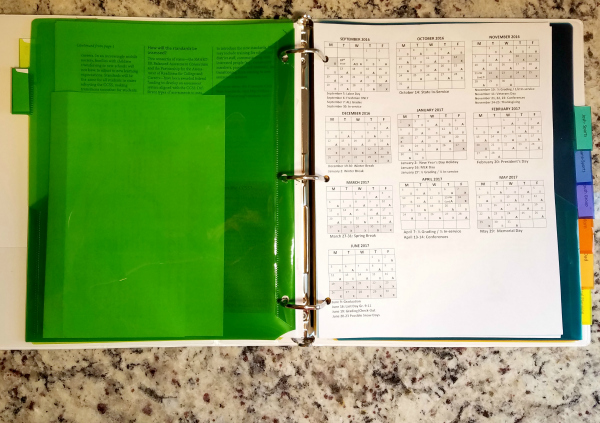 The best solution I have found is to utilize a standard 3-ring binder.
How to Create Your Binder
You will need a 1 1/2", 3-ring binder, and depending on the number of children in your household, you may need a larger binder. Make sure it has interior pockets on the front and back covers, and a clear pouch on the front and spine.
You will also need packets of divider sheets and a sheet of white card stock. Choose plastic sheets with a diagonal sleeve like Avery Two-Pocket Insertable Plastic Dividers.
Collect all the existing paperwork you have on the refrigerator, kitchen counter, table, etc., and recycle anything past its expiration date. With the remaining documents, sort them by subject and family member.
For each child, create a tab name label using the label sheets that came with your dividers. Create additional tab labels for other common programs and activities. Scouting programs, sports, church, volunteer organizations, etc., can each be included as separate, additional tabs.
Use the card stock to print a cover for your family binder.
How To Organize Papers Within Your Binder
If items require immediate action, address them and dispose to the proper outlet. For example, sign any permission slips and put them in your child's backpack.
Any items needing action within a the next few days go into the front cover interior pouch.
The rest of the items within each tab need to be organized with the long-term items at the back (such as the grading rubric for the school year, school emergency closure information, school schedules and bus routes).
If you have any short-term documents, such as current projects or fundraisers, place those at the front of the corresponding section.
Do this for each child and/or family member.
Use the divider pouches for any small paperwork items, ones that require special attention, or cannot be hole-punched. Examples are current fundraisers or picture day order forms.
How to Keep Your Binder Organized
The materials are easy to keep updated because of the easy page-turn nature of the binder. This beats shuffling through stacks.
Once a week, review the binder for any closing deadlines. Move items to the front of the binder section, as-needed, when deadlines are approaching.
Once a month, review the binder and dispose of any obsolete items.
As you file new monthly items, such as menus, calendars, or newsletters, remove the expired ones.
Continue to file the most time-pressing items at the front of each applicable section.
At the end of the school year, purge all school-year specific documents to prepare the binder for summer activities and the coming school year.
Other Tips
Involve the family.
Orient the rest of the family on the binder organization. Children ages seven and up can participate in filing items in the binder. This will also help them develop an understanding of organizational systems.
Keep supplies nearby.
Keep a three-hole punch and any other supplies you may need near the binder to expedite filing into the binder.
Minimize papers.
Many school documents are now available online. To minimize paperwork, create a favorites file on your computer to bookmark the various website addresses to access the most current copies of newsletters, menus, and calendars. Recycle your hardcopies and let the teacher know you no longer need those sent home.
The end result
You now have a manageable, organized binder that puts everything at your fingertips. No more cluttered refrigerator or kitchen counter. No more missing documents.
It's a systematic method for the paperwork organization that's portable, easily referenced, and readily updated.
________________________
About the author: Rachel Russell blogs at www.soulsparkpublication.com, where she writes about midlife, perimenopause, and hormone balance. Organization and life balance are key pieces to beating overwhelm in our 30s, 40s, and beyond. She is always looking for ways to simplify and streamline. She is the creator of the Ultimate Wellness Journal for Women and is currently working on several books.
You May Also Enjoy: