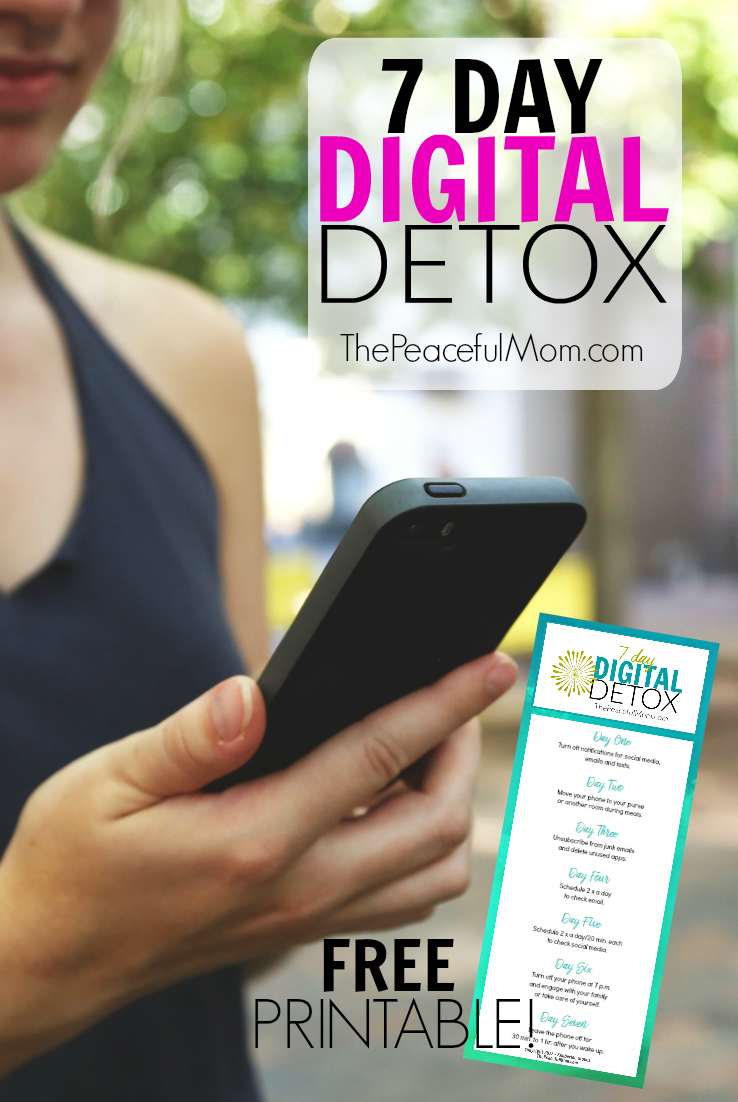 7 Day Digital Detox Printable (How to Stay Off Your Phone)
Well, we're taking some time to "get it together" and this week we're focusing on helping you use your phone less, cure overwhelm and get engaged in real life. (Grab the free 7 Day Digital Detox printable below.)
I'm not what you would call an early adopter. I didn't have a smart phone until a few years ago, but when I when I finally got one, I went all in. Within a very short period of time I found myself:
-waking up to check my phone first thing in the morning every day.
-looking at my phone every few minutes to see if I had missed a text.
-opening my email app multiple times throughout the day.
-using every "spare" minute I had to scroll through my Facebook and Instagram feeds.
-spending hours every night searching Pinterest and You Tube when I went to bed and becoming sleep deprived
And all of that online activity left me mentally drained and filled with anxiety, but that then fed into my addiction because I tried to distract myself from those feelings and I had lost my motivation to do anything in real life.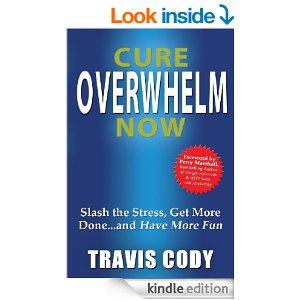 I started setting limits on technology after I read a book called The Cure for Overwhelm which detailed one man's quest to break his addiction to his phone.
He shared statistics revealing that addiction to smart phone and internet use has the same affect on your brain as a heroin addiction. (Read "Why I Start My Day Without Technology" for more details).
I immediately set boundaries on my laptop and phone use, and I saw a vast improvement in the peace and calm I felt in my life.
Maybe you wouldn't say that you're addicted to the internet, but if you're feeling distracted, scattered and overwhelmed, it may be your phone.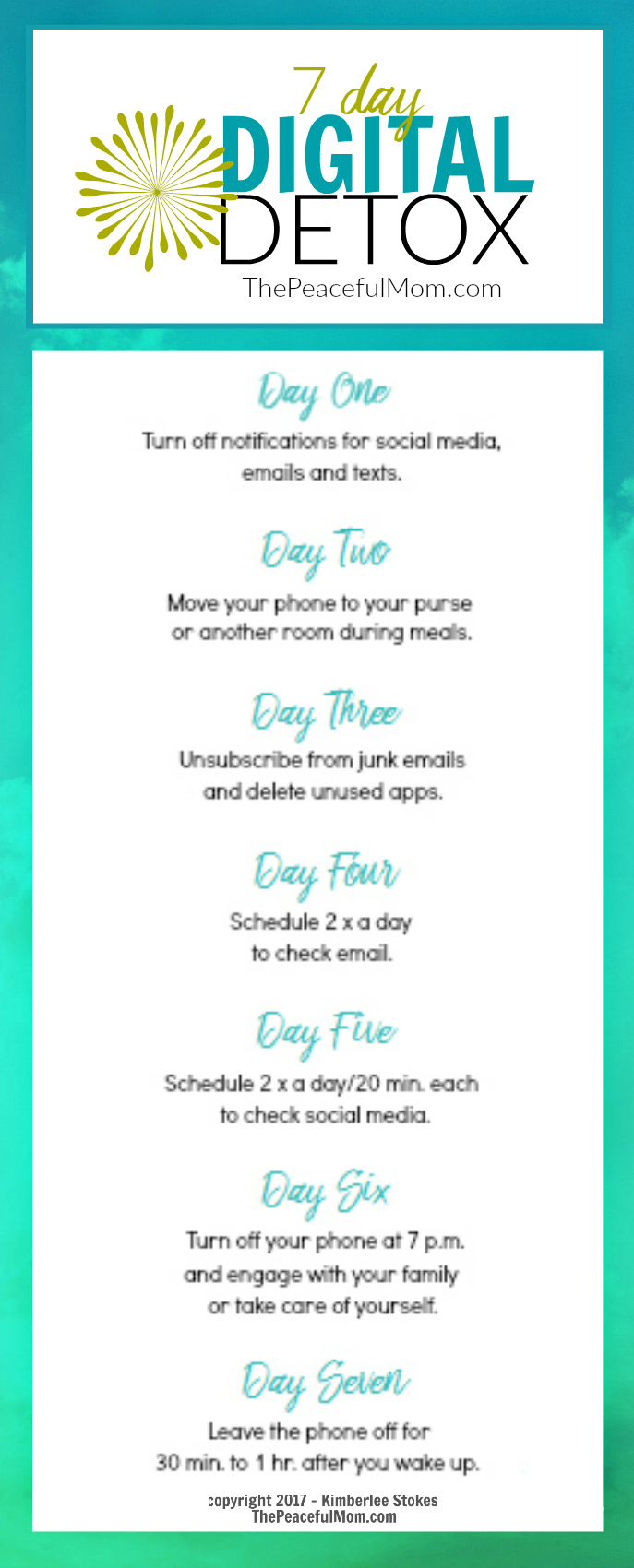 I invite you to join me for a 7 Day Digital Detox!
[Join ThePeacefulMom.com HERE for your free printable!]
Turn Off Notifications
While smart phones have made our lives easier in some ways, they pose one gigantic problem: distraction. There are literally dozens of push notifications you can set on your phone from social media updates to email and texts — which means your phone is constantly buzzing, beeping and dinging throughout the day.
All of those tiny noises may seem insignificant, but each one of those notifications is a distraction and a study conducted by the University of California — Irvine study revealed that each distraction costs you a minimum of twenty minutes to return to the mental focus you had before the interruption.
To bring some sanity, focus and calm to your life, turn off all notifications (including vibrate) and check your phone at designated intervals, or use the Do Not Disturb setting and only allow texts and calls from specific individuals. Take control of your phone rather than letting your phone control you. I promise you that no one is going to notify you of a personal emergency through your email or social media feed. And, after all, do you really need to see your friend's cute doggy photo immediately? Probably not.
Move Your Phone During Mealtime
One of the easiest ways to form a habit is "attaching" that action to a task you already do regularly. If you're looking at your phone every time you eat, you're ingraining that habit in your psyche and contributing to your smart phone addiction.
And checking your phone during meals not only distracts you from those around you, it can also cause digestive problems. Research into Electro-Magnetic Fields suggests that exposure to cell phones can lead to digestive problems and other health issues.
Make a commitment today to put your phone in another room while you eat. Spend the time talking to your family and enjoying your food.
Unsubscribe From Emails
I know it's tempting to sign up for lots of email lists to get the free goodies, but if the email doesn't offer real benefit in your life (tips you can use, personal connection, entertainment), or if you find that the emails are just piling up in your inbox, it's time to unsubscribe.
I previously only deleted unwanted mail as it came into my inbox, but I recently started opening every email and clicking the unsubscribe button if I don't want to read it regularly. If you have an iPhone you can use the Unroll Me app to quickly unsubscribe from multiple lists.
While you're in "delete" mode, delete any unused apps on your phone.
Close Your Email App
Speaking of emails, it's tempting to keep your email inbox open or set notifications so you know immediately when you receive new mail. The problem is that your email becomes a huge distraction and you end up leaving mail in your inbox because you were "just checking for a minute" and don't have time to take action on it.
Schedule two specific times a day to check your email when you can fully focus on taking care of actionable items and deleting emails.
Set Social Media Limits
In addition to setting limits on email usage, it's a good idea to set limits on the amount of time you spend on social media. I know it's fun to keep up with friends by scrolling your social media feeds, but checking out what everyone else is doing can prevent you from living your own life, and it's even been linked to mental health issues.
A study conducted by the University of Pittsburg found that heavy social media had a detrimental emotional effect on users and can lead to depression.
There are enough opportunities in life to feel stressed or upset. Don't let social media become one of them. Choose two times during the day to scroll social media feeds such as 20 minutes after breakfast and 20 minutes in the afternoon then leave the social media apps closed during the remainder of the day.
Turn Your Phone Off At Night
It's super easy to get into the habit of checking Pinterest or other sites at night when you're trying to unwind, but using your phone in the evening actually stimulates your brain rather than helping you to calm down, and it can prevent you from getting a good night's rest. Exposure to blue light coming from televisions, phones and tablets not only decreases your ability to enter deep sleep, it has also been linked to higher rates of cancer and may be a cause of obesity.
Turn off your phone at 7 p.m. and spend the time engaging with your family and taking care of yourself. A good book and a hot bath will feed your soul much more than scrolling your Instagram feed.
Charge your phone outside your room while you sleep so you aren't tempted to check it if you wake up. If you're thinking this won't work for you because you wake up using your phone alarm, buy an inexpensive alarm clock like the one I mention at the end of my Healthy Morning Routine Post.
Leave the Phone Off In the Morning
The way you start your morning determines the rest of your day, so why not leave your phone off for the first 30 minutes to an hour after you wake up.
Take time to enjoy some self-care activities like working out or journaling before you bombard your mind with all of the online negativity and information overload. Read Why I Start My Day Without Technology linked below.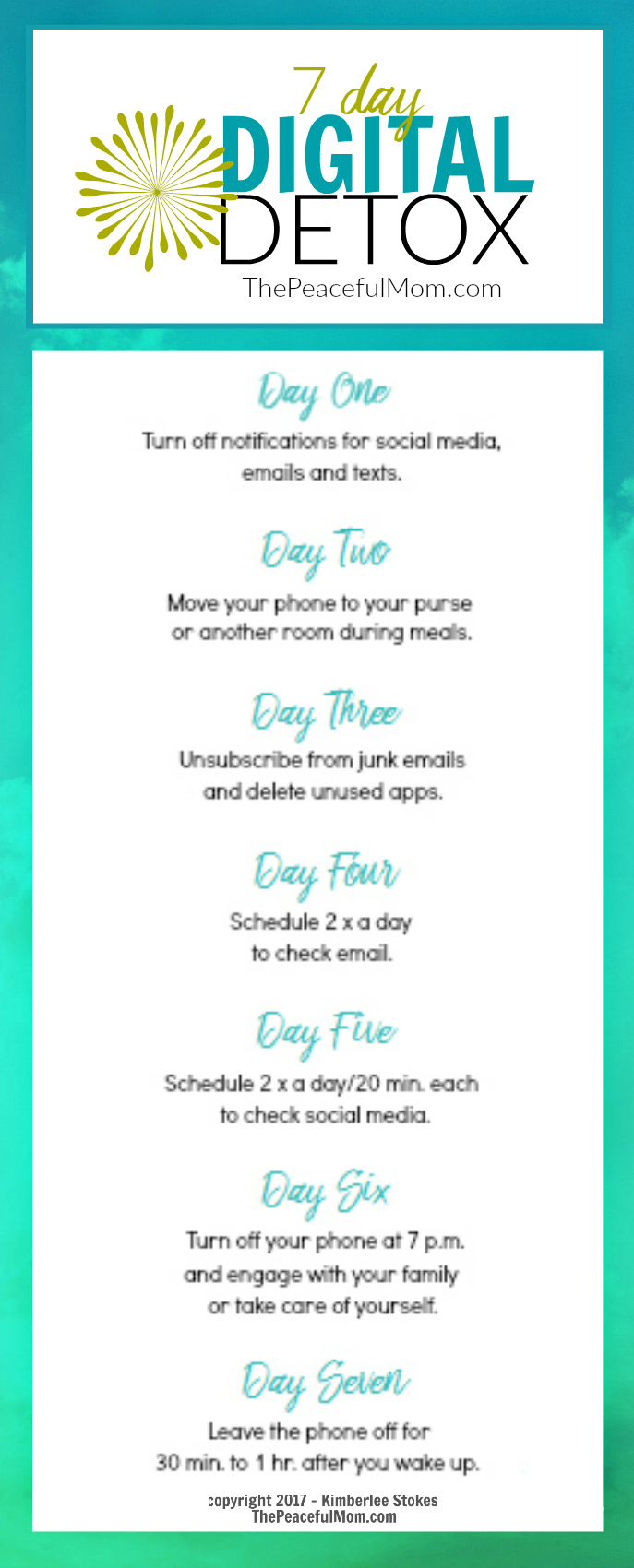 Join The Peaceful Mom Community HERE to print your 7 Day Digital Detox Checklist!
(If you're already a subscriber, you can find the link in your welcome email.)
Going through the 7 Day Digital Detox once will probably not be enough, and if you're like most people, you'll simply read this information and never take action on it.
May I encourage you to take at least one step right now by bookmarking, pinning or saving this post to Facebook or Pinterest then setting a reminder notification one month from now to check in with yourself.
Pin or Bookmark This Post & Schedule a Check-Up.
And if you know anyone who might be helped by this list, you can share it using the share buttons at the top of the post.
Leave a comment and let me know if you'll be joining me for the digital detox.
We can do this!

You May Also Enjoy: