Use this quick 4 step process and free printable to breakthrough your overwhelm and get organized!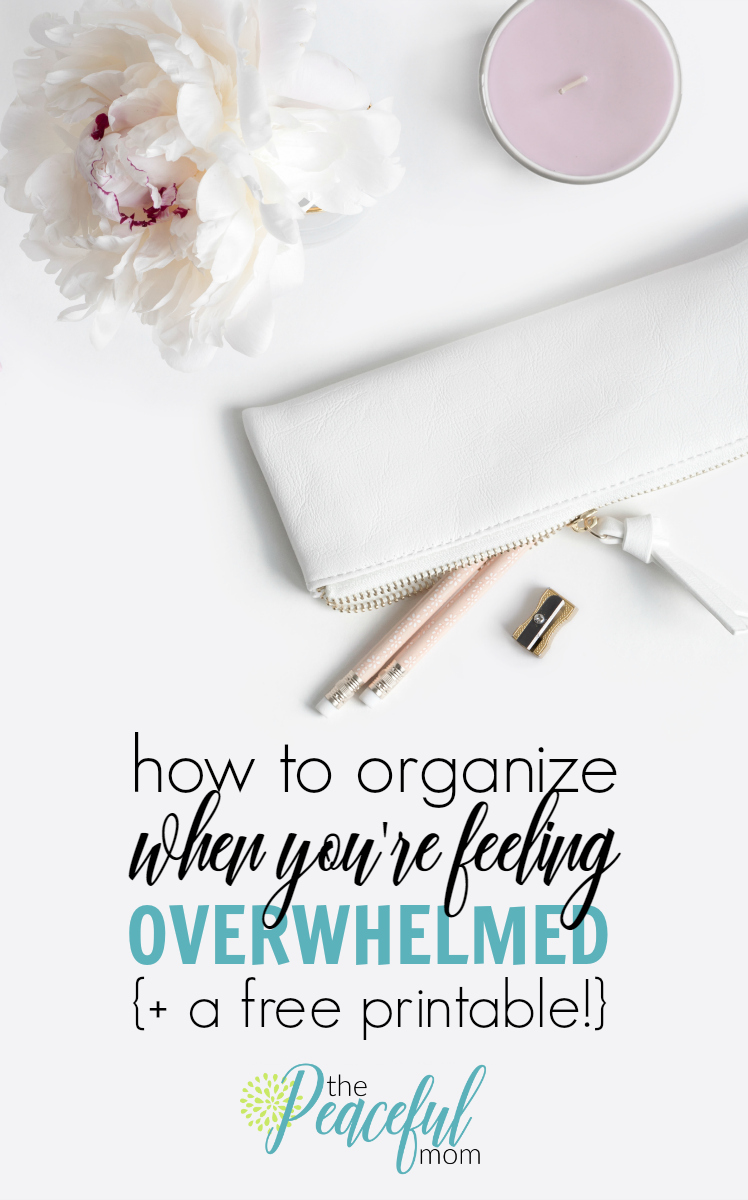 Hey Friend!
I've heard from so many of my readers that the number one challenge they're facing right now is feeling overwhelmed.
I wanted to share a quick process that helps me breakthrough the overwhelm when life feels out of control, and a FREE printable to help you do the process too.
Make a "Brain Dump"
You know that feeling of life spinning out of control? It's caused by all of the thoughts swirling around in your head like the crazy-long to-do list and all of the accompanying emotions. When my mind is swirling like that it makes me shut down — which then causes more overwhelm.
My first step when I begin to feel this way is to stop and make a huge list of everything that's bothering me and all the things that have to be done. I write quickly in list form (or in short phrases all over the page), not worrying about spelling or organization. This is simply a way to get everything out of my head and on paper so I can look at it all more logically.
Prioritize
Once I get everything on paper I immediately feel better, but I then want to determine what is really important and what can wait.
At this point, I divide a sheet of paper into four sections and label them as follows:
A) Urgent and Important – Tasks that go here are your first priority  — they have deadlines and consequences (like dinner for tonight, renewing your driver's license or buying the snack for the soccer team when it's your week).
B) Important, but Not Urgent – Tasks that need to get done, but don't need to be done right away.
C) Urgent, but Not Important – Tasks that seem urgent like email and social media, but really are not that important.
D) Not Urgent, and Not Important – Tasks like cleaning out the garage which can be postponed until later without serious consequences. Consider deleting these tasks from your list or adding to your "Someday" list.
(process from Steven Covey's book, First Things First)
The items in the last category are postponed indefinitely. Eliminating the extra in my life for a couple of weeks allows me to spend the time I need taking care of myself and my family so I can get my life back into balance. And sometimes cancelling a previously scheduled volunteer opportunity is all I need to cut through the overwhelmed feeling.
Take Action
Once I know what's most important, I break through the overwhelm by taking one babystep. If the most important item is getting dinner on the table, I focus on pulling something together that's quick and easy. If it's dealing with the bills that need to be paid, I sit down at my desk and pay at least one bill.
Maybe for you the immediate issue is the mountain of dirty laundry, so you just need to start a load of clothes in the washer. Taking just one small step will help you to gain the momentum you need to face the rest of your day without the overwhelm.
This short process enables me to quickly get back on track, and I hope it will help you too! I encourage you to not let overwhelm control your life.
I've got a sweet printable to help you organize those chaotic thoughts when you're overwhelmed.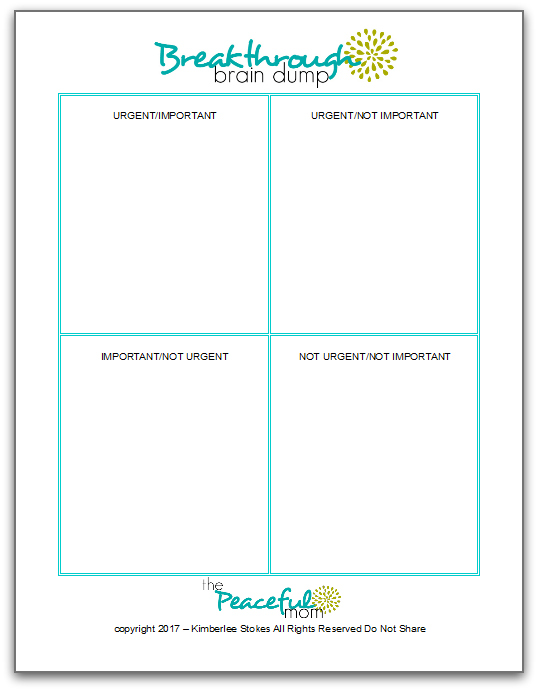 Click here to join the 30 Days to Organized Community and download the Breakthrough Brain Dump Printable for FREE!
I would love to hear how you break through the overwhelm. Leave a comment. 🙂
We Can Do This!

Want a simpler life?
Join our simplifying, organizing, life-changing community!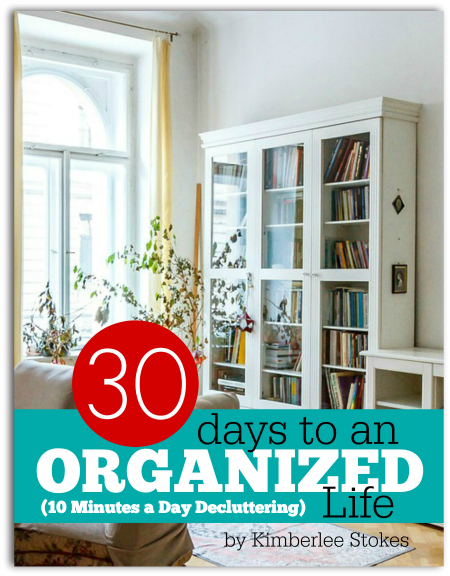 Click here to join the 30 Days to Organized Community!
Get weekly encouragement and real-life strategies to organize your life PLUS receive a FREE 10 Minutes a Day Decluttering Tool Kit!
You'll receive:
10 Minutes a Day Declutter Calendar — focus on one small area each day of the month
50 Ten Minute Tasks – to organize your life one baby step at a time
10 Minute Task Calendar – blank calendar to fill in your own 10 Minute Tasks

 You May Also Enjoy: