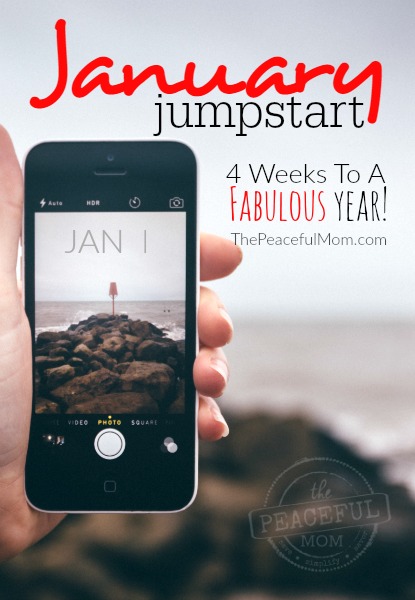 It's that time of year when the world feels fresh and we are all excited about new beginnings.
For the next four weeks you can join me for my January Jumpstart (otherwise known as the 2017 "Get It Together" Challenge) for tips, tools and strategies to get your life started off in the right direction. Each week I'll give you specific steps you can take to bring order, joy, peace and passion to your days.
This week we are focusing on gaining vision for the upcoming year. 
We all know that New Years Resolutions last about two weeks, but vision can motivate you for the long haul.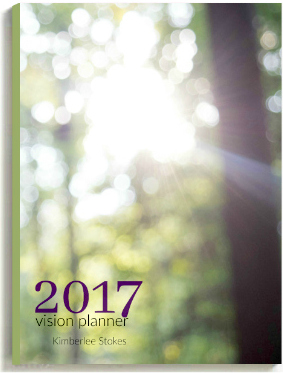 Hopefully you have had a chance to download the 2017 Vision Planner (free for subscribers — click here to join!).
Working through the planner will help you to envision how you want your life to look, but creating that vision is just the first step. The key to purposefully living the life we want is creating specific action steps, then implementing them daily and weekly.
Our big dreams can motivate us, but our daily actions and habits enable us to actually achieve our dreams.
I personally do this by creating action steps for each goal and then adding those tiny action steps to my weekly plan.
Take a peek at my goals for this year to see exactly what I mean:
My 2017 Goals
My Spirit
Goal: Maintain a close spiritual connection to God.
Actions:
My Physical Health
Goals: Feel more energetic. Lose fat
Actions:
walk at least 20 minutes daily
do exercise videos at least twice a week (I'm loving The Fitness Marshall — not kid-friendly)
eat protein for breakfast daily, eat gluten free
drink 6-8 glasses of water daily
lift weights at least once a week
go to bed by 10 pm
My Emotional/Mental Health
Goals: Live at a slower pace, engage in real life and enjoy more daily.
Actions:
journal daily
laugh daily (watch funny videos or read funny blogs/books)
do artwork at least twice a week
invest in relationships with people
spend time in nature at least once a week
My Marriage
Goal: Enjoy a vibrant, intimate relationship with my husband.
Actions:
daily chat time
speak kind words/express my gratitude daily
kiss my husband passionately at least once a day
weekly date night ($10 Date Night Ideas)
make or buy a special treat for him once a week
My Children
Goal: Maintain a close relationship with each of my children.
Actions:
pray daily for my children
put down my electronics when someone is speaking to me & look at them
take each child on an individual "date" at least monthly
daily chat time (take a walk or chat at bedtime)
weekly family fun
My Money
Goals: Continue building emergency fund; save for home repairs
Actions:
post our current specific goals on the fridge & review them daily (use this Savings Target Page)
have a weekly money meeting to create our spending plan (free budget worksheet)
buy only needs for the month of January & review overall budget monthly
research more ways to maximize income from my business
My Home
Goal: Enjoy a peaceful and comfortable home.
Actions:
daily 10 Minute Declutter starting with master bedroom
continue weekly cleaning schedule
save for new shower in master bath
My Business
Goal: Simplify every aspect of my business so I am only doing what I'm good at and enjoy.
Actions:
eliminate parts of my business that take time but I don't enjoy
create new materials for my membership site
create artwork more often and research ways to sell my art
research additional ways to make money
Each week I choose several action steps from each category and schedule them in my weekly plan to make sure that I actually accomplish them.
I would love to hear your goals for this year so leave a comment. 🙂
Let's Make 2017 Fabulous!

Click HERE to pin this post to your Organizing board.
You May Also Enjoy: