10 Things to Buy in November to Save Money is a Guest Post by Jaime Jeffers.
The alarm clock buzzes, and it's the only day of the year that I greet it with a smile. I jump out of bed and quickly get ready to go. I'll be meeting my Mom for some early Black Friday shopping.
For us, it's not just about getting great deals. It's our little tradition to spend some time together and kick off the Christmas season.
But you don't have to be a Black Friday shopper to grab the best deals of the month.
Let's look at 10 things you should buy in November while you can save big.
1. Halloween clearance. Grab some fun Halloween decor for next year. Candy can be used in baked goods. Sometimes you'll find candy with no Halloween images. Buy it now for the next school or birthday party. (Or eat it yourself like I do!)
2. Baking supplies. Everyone is loading up on flour, sugar, and other staples so they can make family favorites. You'll find those staples at their best sales this month. But don't get just enough to last you through the holidays. Stock up on enough to last you several months.
3. Coats and accessories. Yes, you can wait and find them on clearance at the end of the season. But I've found big sales that rival clearance prices this month. Even better, now there's plenty of selection on the rack. So you can find a coat that's a great fit.
Hats, scarves, and gloves will go on sale, too. They make nice stocking stuffers.
4. Shoes. I'm always amazed at the deep discounts on shoes in November. I expect them to go on sale at back to school time, but some of the November prices are even better. Save back some money and stock up. Even better sales can be had if you're willing to buy shoes online.
5. Gift cards. Some gift cards go on sale in November. Grocery stores offer more rewards points for buying gift cards. Grab cards for stores you shop regularly. Or give them as gifts. Learn more ways to earn gift cards.
6. Turkey. No surprise, turkeys go on a big sale this month. It's some of the cheapest meat you'll be able to buy all year. Grab a couple of extras if you have the freezer space. Keep in mind that you're paying for skin and bones no matter how big a bird you get. So the bigger the turkey, the cheaper the meat.
Speaking of turkey, here's my recipe for a moist, delicious bird.
7. Subscriptions. Magazine subscriptions are a nice, clutter free gift. So are subscription boxes for people with a specific hobby. Look for deep discounts on magazines and great bonuses with subscription boxes this month.
8. Movies and music. Gift giving opportunities aside, think ahead to your own plans. If you have a long road trip in mind for the coming year, get a couple of movies now and save them for later. You'll have new shows to keep everyone occupied while you travel.
9. Clothes. There are discounts on clothes everywhere in November. Get what you need for growing kids.
This is a good time to buy more expensive name brand clothing if you want to splurge on a loved one. Name brand clothing sometimes holds up better, especially if you hope to pass it down.  It almost always resells better.

10. Toys, electronics, and other gifts. Yes, you'll see some nice sales in November. Some toys will be at their best price. Others won't be a best buy until two weeks before Christmas.
Be picky! The TVs you see at a deep discount are often poor quality. You'll see better deals in January and February. Electronics might be a better deal in April when you'll find older model items on clearance.
Watch for the deals on these 10 things, and save money well beyond November. Pocket some savings, even if you prefer to spend your Black Friday sleeping in.
What do you like to shop for in November? Leave a comment.
Want more money saving ideas and inspiration?

Join the Happy Money Club and get the 5 Day Money Makeover eCourse FREE!
Plus 27 Ways to Save $300 This Week and my Best Times to Buy EVERYTHING Chart.
Click here for more DEALS & FREEBIES to help you save money!
__________________________
Jamie Jeffers blogs at Medium Sized Family. There she gives practical tips for saving money and simplifying life. Follow her family as they dig out of debt in their #yearofno, and be sure to grab the free Identify and Destroy Your Budget Busters course!
 You May Also Enjoy: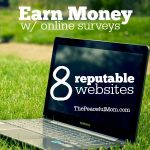 My Fave Online Sites to Make Money!