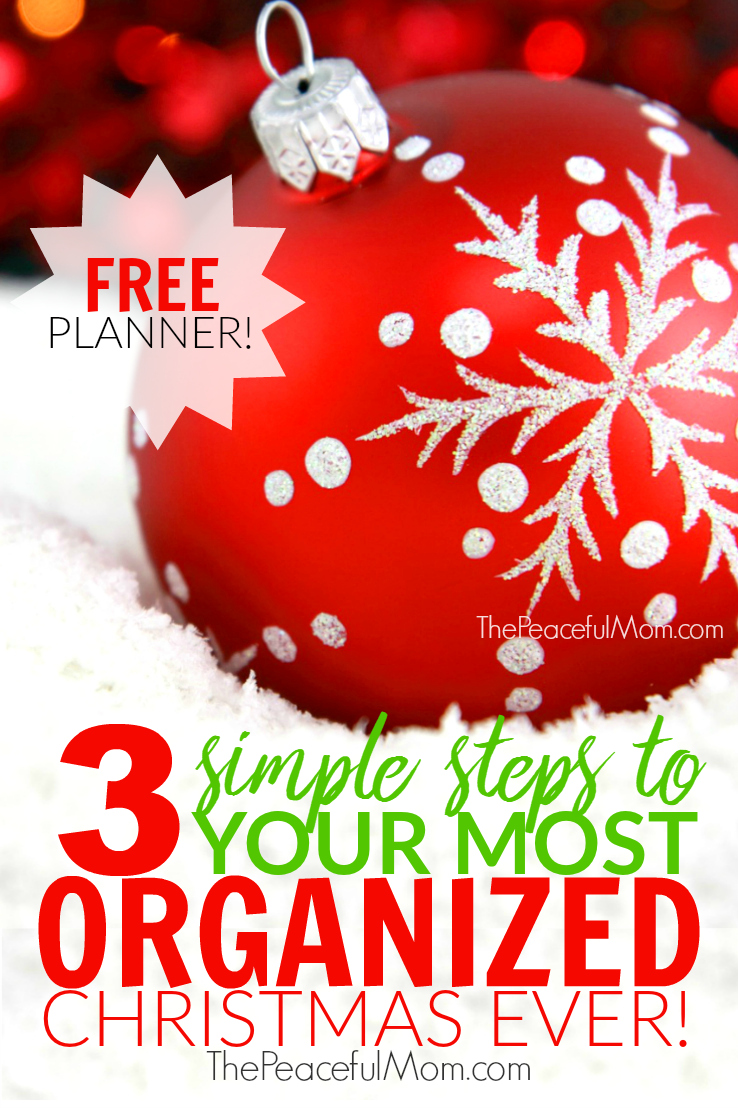 How to Get Organized for Christmas
Ah, the holiday season: twinkling lights, colorful packages, singing, laughter and snowflakes…
and crowds
and chaos
and clutter
and complaining.
This can be the most wonderful time of the year — or the most stressful.
When I surveyed readers of ThePeacefulMom.com and asked them to share their biggest holiday stresses, I heard LOTS of issues:
"Visiting family. Its exhausting!"
"Not having enough money."
"Dealing with others' expectations and trying to please everyone."
"Coping with family members who get stressed and take it out on me."
"All the food everywhere! My son has food allergies."
"Gifts, I never know what to give everyone."
"Juggling too many engagements and activities."
"Traveling during the Winter."
"The holidays. Period!"
Everyone seems to have a stress point and when those visions of sugar plum fairies don't seem to materialize, it can be frustrating.
But there IS a way to enjoy a truly happy holiday season.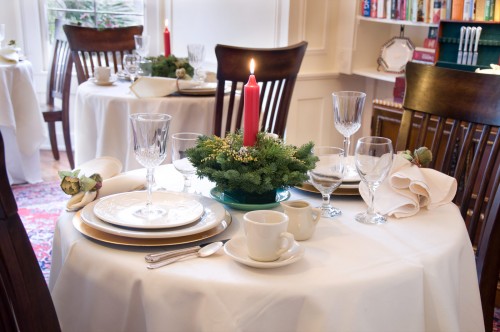 Back Away from the Screen
The table is beautifully set with shining china and gorgeous, aromatic food. A fire glows in the fireplace as music plays softly in the background and happy family members gather together talking and laughing.
Is this your vision of the perfect holiday season?
It was mine too, until the kids accidentally set some paper napkins on fire, burned the tablecloth and turned over a couple of glasses in the excitement. Just so you know, flaming paper tends to fly which makes it difficult to put out the tiny fires.
Once we captured all of our burning paper missiles, and the kids stopped arguing over who would be the first to open presents, I decided that I had to change the way that I thought about the holidays. My ideas of perfection were causing me stress and preventing me from enjoying my family – kitchen fires and all.
If you're like me, you have an idealized view of the holidays as well. Television, magazines, websites and social media (hello Pinterest!) all promote images of quaint family gatherings without any conflict or strife. Even though we know deep down that we can't do everything perfectly (or just do everything!), we compare ourselves to these images of "perfection" then feel guilty and depressed that our own lives don't "measure up".
Let me encourage you to let go of unrealistic expectations and do what feels right for YOUR family. Give yourself permission to have a crazy, imperfect Thanksgiving, Hanukkah, Christmas, New Year, National Let's Eat Doughnuts Day or (fill in the blank) celebration? Decide now to simplify your expectations about this upcoming holiday season — and then you won't feel so bad when you have to call the fire department during Christmas dinner.
Dream a Little
Simplifying your expectations and being more realistic doesn't mean that you have to have a Tiny Tim Christmas, it simply means that you need to decide what you really want this holiday season. How do you want your life to look for the next two months? Is quiet family time more important to you, or participating in as many activities as possible?
I know that for our family, it's super easy to let our calendar be filled with activity — from parties to performances, gift exchanges to holiday shopping — but then we never seem to find time for the things our family truly enjoys.
Maybe what you really want is quiet family time eating special meals together and reading holiday books. Maybe you want to drive at night to look at light displays then stop for hot cocoa and waffles. Maybe you want to spend time visiting hurting and lonely people to show your kids how to be compassionate.
Or maybe you want to sit sobbing uncontrollably as you watch "It's a Wonderful Life" together (or maybe that's just me).
Whatever you want your holiday season to look like, decide now before your life spins out of control with holiday craziness.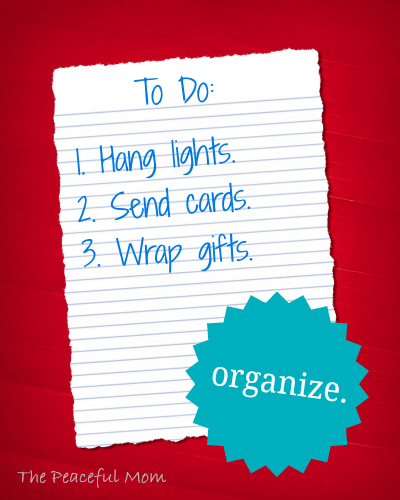 Create a Plan
Once you know what you really want, in order to maintain your sanity (and your budget!), you need to have a plan to make that vision actually happen. Otherwise all of the holiday sales, invitations and activities will quickly overwhelm you and leave you feeling exhausted rather than joyful.
Sure it's great to help set up your church's annual craft bazaar, sew the costumes for the Christmas pageant, and host 30 people for dinner at your house, but you may need to eliminate some of these items to make room for the activities and traditions that your family truly enjoys, and little things like maintaining your sanity and …um, sleep.
Too many obligations on the calendar mean little sleep, no exercise and a fast food diet which all adds up to making mommy a very grumpy girl, and like they say, "If Mama ain't happy, ain't nobody happy!"  Over the years I've learned that I have to take care of the basic needs of myself and my family FIRST, then I can give to others from a place of health and joy, rather than guilt and exhaustion.
Decide now what REALLY has to be done during the next two months. Eliminate non-essential activities and obligations from your schedule. Reschedule appointments. Delay non-urgent items. Learn that "no" isn't a four letter word (even if people respond that way when you tell them you won't be in charge of the classroom Christmas party).
If you'd like help getting organized for the holidays
Join my 30 Days to an Organized Life Community for weekly holiday organizing tips PLUS …

Download my FREE Happy Holidays Planner to help you create the perfect holiday for your family with:
Holiday Snapshot – to help you think about your stress points and define your vision for the holidays
Christmas Activity Planner and Calendar – the tool you need to calm your calendar
Holiday Spending Planner – list everything you need and decide how much to spend
Holiday Meal Planners and Grocery Lists – make a list so you don't forget anything
Thanksgiving Meal Timeline – plan and execute the perfect meal with no sweat
Master Gift List – decide who gets what so you don't shop aimlessly
and MORE!
Click HERE to join now!
Here's to a Truly Happy Holiday!

You May Also Enjoy: