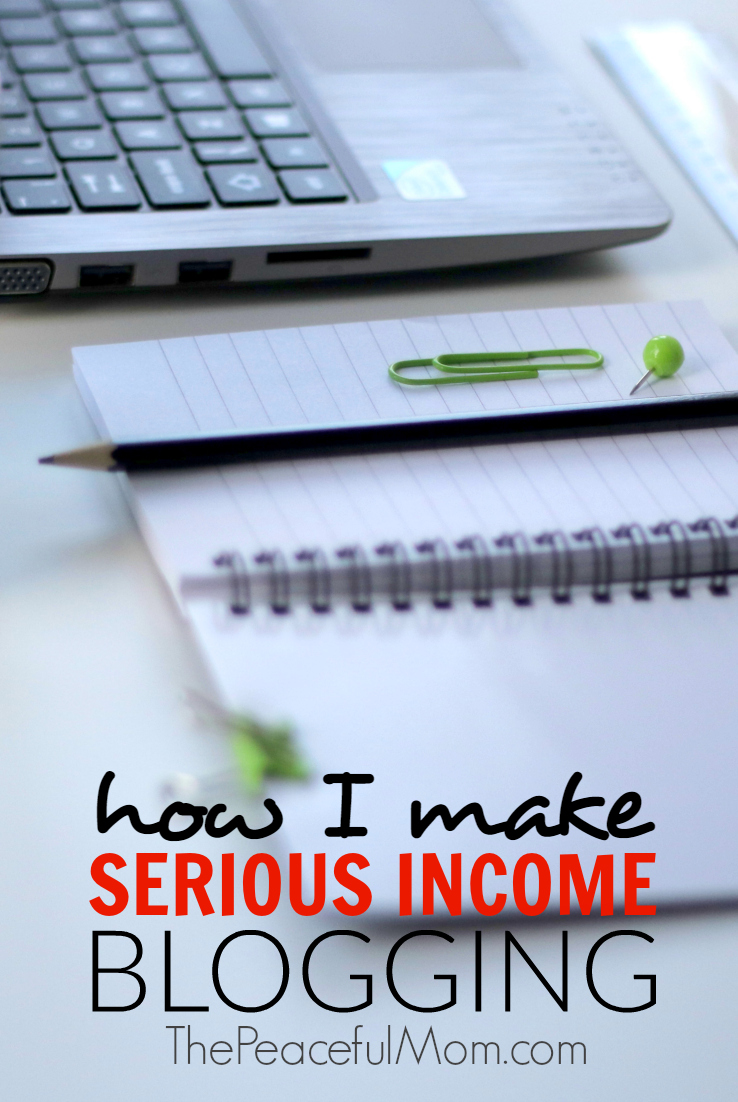 I don't talk a lot about my blogging journey here because I want to stick to the topics that you are interested in, but I've had more and more readers ask me questions about blogging and how I make money blogging. Because my blog provides a major portion of our income, I know some of you may want to know more about it to see if it's a good fit to bring in income for your family.
I started The Peaceful Mom in 2009 and since then the internet and blogging have changed A LOT! I could bore you with all of the details, but let me just share the nitty-gritty of how I actually make an income from my blog now.
How I Make Money Blogging
Affiliate Sales
Bloggers become "affiliates" when they sell another person's or company's products. You sign up with a company and then promote their products with specific links. If someone purchases the product after following your link, you receive a percentage of the sales or a commission.
This is one of the easiest ways to make money from your blog and can work even if you have a smaller following, but you want to make sure that you promote high-quality products from reputable companies. I only link to products and companies that I know, trust and have used myself.
My top affiliate programs:
Amazon (scroll to the bottom of the page and click "Become an Affiliate")
Advertising
Once you have an established audience (although it doesn't have to be a BIG audience), you can begin to sell advertising space on your blog. You simply insert the ad code into your site and then earn income when readers click through the ads to read more about the product or service. I started selling advertising in 2011 and it's been a consistent source of income for me.
The most common ad network is Google AdSense, but there are many other companies available to work with as well.
My favorite advertising companies:
Open X
Media Net
Sponsored Posts
From time to time I write a post about a product that I have used which I think is a good value for my readers. Companies pay me a "sponsored post rate" based on my current blog traffic and reach. I have limited these kinds of posts in the past year, but may offer them again in the near future.
Products
I also make a significant percentage of my income from selling my own products like ebooks, my Joyful Life Planner and my new organizing membership site Beautiful Life 365. Creating your own products is a more stable source of income than some other methods, and you can sell your products with a very small audience if your readers love what you write and feel connected to you.
Overall, blogging has been one of those incredible "pinch me, I must be dreaming" parts of my life. I can hardly believe that I get to do something that I love so much, help and encourage so many people AND earn money from home for our family.
If you'd like to start blogging, click HERE to read How to Start a Blog to Make Money (or not). In the post I give you step-by-step instructions to get your blog up and running.
If you have questions, let me know!
Here's to Smarter, Happier Blogging!

P.S. – Let me know what other topics you would like me to write about by leaving a comment below or clicking the CONTACT tab in the top navigation bar to send me an email!
 You May Also Enjoy: