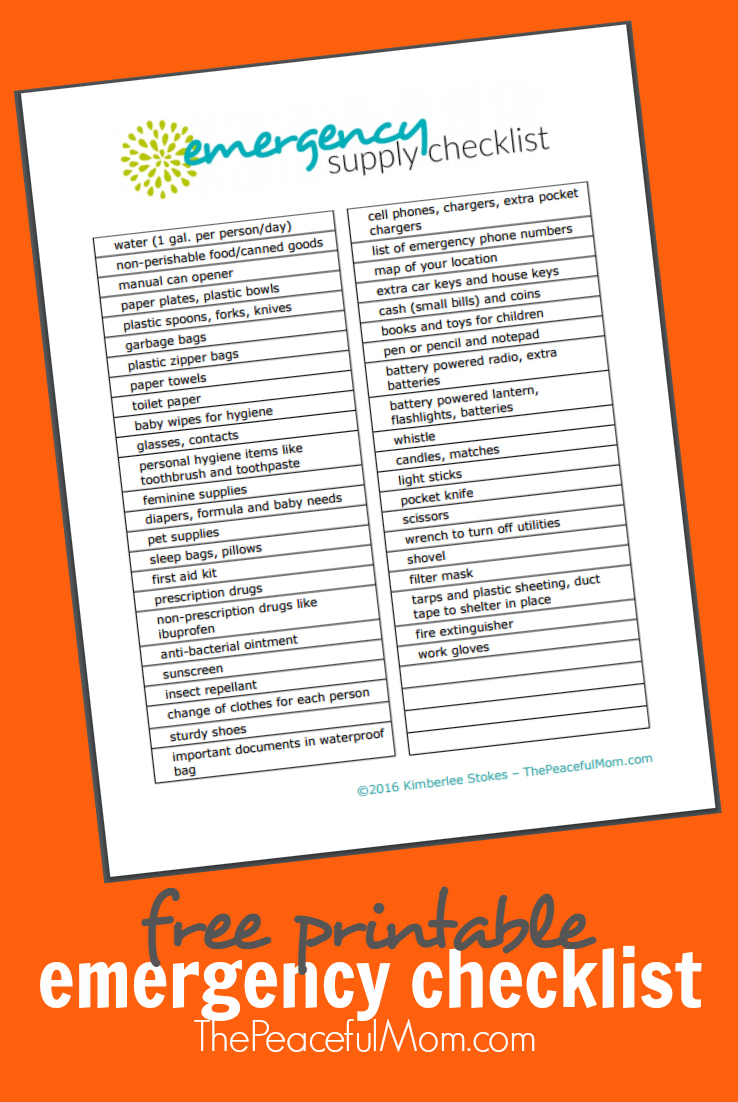 Well, as you might have seen on the news, Hurricane Matthew roared through Central Florida last week. We've lived in Florida for five years now and we have never been through a major hurricane. I thought I was prepared.
I wasn't.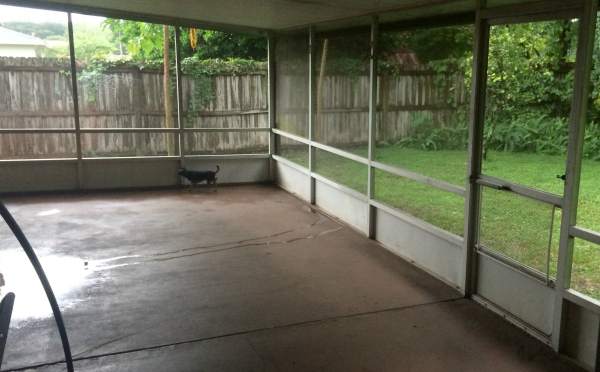 Oh, we cleared the furniture off our porch and removed the potential projectiles from our yard. And I was able to buy food, water, flashlights and batteries in the event of a power outage.
But it would have been a much simpler and more peaceful experience if I had:
saved a bigger emergency fund
purchased canned goods and water beforehand
organized ALL of my important papers ahead of time, not just some of them
Facing the imminent destruction of all that you know and love will definitely help you get your priorities straight. The Hurricane thankfully moved away from our coast a bit just before landfall enabling us to experience minimal damage (only a screen torn loose on our porch and a small tree uprooted), but I realized that I need to take warnings seriously and have an emergency plan in place BEFORE the emergency.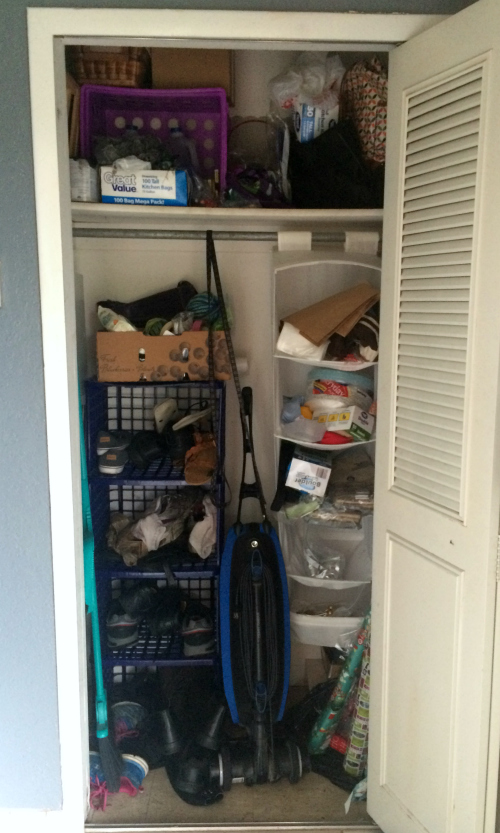 After the storm passed I decided to turn our front entryway closet into our emergency supply closet. It obviously needed a bit of an overhaul anyway.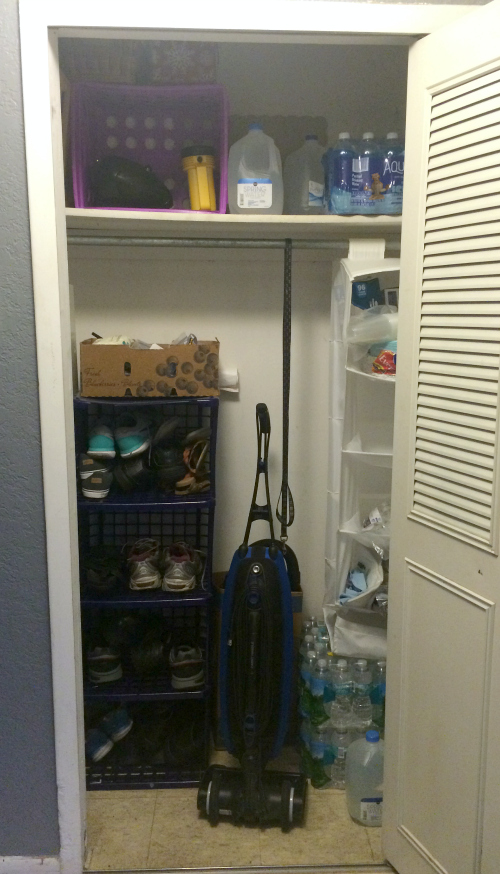 I cleaned out everything and reorganized the space with water, paper goods, flashlights and batteries in one easy-to-access location.
My next task is to create emergency backpacks for each member of the family in case we have to evacuate quickly.
No matter where you live, there is always the potential for an emergency situation to arise and it's infinitely better to prepare ahead of time rather than having to scramble at the last minute. Not only will you be more stressed, you may not be able to get the supplies you need.
We saw a post this past week from a man who bought ALL of the available water in one small town in Florida and was charging $23 for a small case of water. Yes, he's a jerk, but there may be a jerk in your area too, or simply a lack of supply due to the overwhelming demand.
Better to make a plan now. So here's a step-by-step process for preparing.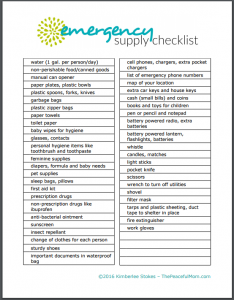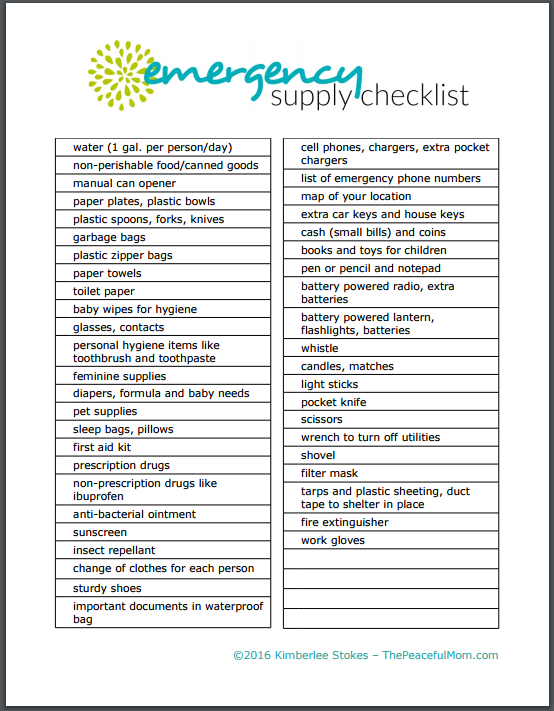 Make a List
Determine what kind of emergencies you are likely to face in your area and create a list of items you might need. In addition to basics like food and water, we purchased pocket chargers for our phones, LED head lamps (in the event of long-term power outage and the need to work in the dark to repair something, etc.), baby wipes and perhaps the most essential emergency supply: chocolate.
Download this Free Printable Emergency Supply List to help you get started.
Gather Items Into One Location
You need to have emergency supplies on hand, but if you can't find them quickly, they won't be much help. You can keep items in a closet like we are now, or in plastic totes in an accessible area of your garage.
You may also consider creating Go Bags, or emergency backpacks for each member of the family. Life As Mom has a great post HERE with the details of creating Go Bags for children at different ages.
Rotate Your Supplies
Canned goods and bottled water don't stay fresh forever, so it's important to check your supplies at least once a year to rotate out the about-to-expire goods and replace them with fresher items.
Develop a Preparedness Mindset
As you're going about everyday life, look for clearance and sale items you can add to your emergency stash. Camping goods go on sale in the Fall, as well as back packs at the end of the back-to-school season. Canned goods are often cheaper around the holidays and you can stock up on candles at Christmas. You can also find many emergency supplies at the dollar store.
You never know when an emergency situation may arise in your own life. It's far better to start preparing now. Trust me. I know.
We can do this!