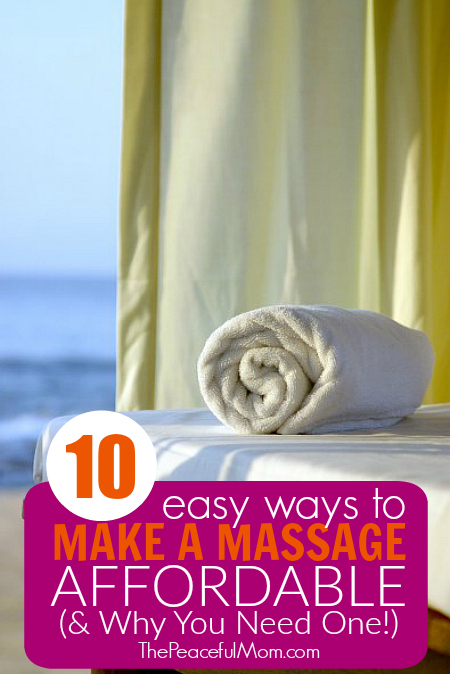 10 Ways To Afford A Massage On A Budget (& Why You Need One!) is a Guest Post by Betsy May
Are you living on a budget and don't think you can afford a massage? Do you spend all of your time taking care of everyone else but rarely do anything for yourself? Maybe you even feel guilty about spending money on yourself, or think that you don't deserve this luxury.
Actually, making time for a massage is not really a luxury, it's self preservation. While it's only one hour, you'll be amazed at how such a short amount of time can fill your well and replenish your mama soul.  The benefits of massage can include helping with issues such as insomnia, anxiety, digestive problems, fibromyalgia, and headaches. But perhaps more importantly, it gives you an opportunity to pause, catch your breath, and just be. This is something that as moms we desperately crave.
I know how busy moms are, that's why my ideas to save money for a massage are quick and simple. They may take a little bit of time to set up, but for the most part they require very little effort after that.
Here are ten easy ways you can afford a massage while living on a budget:
Look for deals on Groupon.
Here you'll find massages for 50% off. Also, Groupon offers a referral program. Since you earn $10 for each friend that purchases a deal through your link, you could potentially earn a completely free massage!
Schedule a massage at a cosmetology or bodywork school.
In exchange for getting a massage from a student, you can score a one hour session for as little as $20! I've done this many times and have had great results.
Take unwanted items to a consignment shop.
I have an awesome consignment shop in my area that specializes in children's clothing and books. I can easily walk away with at least $30 each time I visit. And, best of all, it's like they're paying me to declutter my house!
Consider bartering.
Do you know a massage therapist? Take a moment to think about what skills you have to share. Why not offer to swap fresh produce, canned goods, or babysitting or mending services in exchange for a free massage?
Pack your lunch.
If you work outside the home, be diligent about packing your lunch. This will save you a considerable amount of money, plus it's healthier for you and your waistline.
Carpool.
I did this for several years and saved a TON of money, not to mention wear and tear on my car. Also, when it's the other person's turn to drive, it's a treat to kick back and relax while someone else takes you to work!
Use Ebates and Shop At Home.
Both EBates and Shop At Home pay you a percentage of cash back every time you shop online using their referral links. I save myself time and gas money by purchasing gifts online using links through their sites. This allows me to earn extra money while buying things I need anyway!
Re-evaluate your bills.
Do you really need a land line anymore? What about all of those channels on your cable package? Rather than an expensive cell phone plan, I use a prepaid phone and only pay $25 a month. It comes with unlimited minutes and texting, takes good photos, and I can get on the internet.
Pay bills with a credit card and earn cash back.
I would only recommend this one if you are highly disciplined and will pay off the balance every month!
Save out of every paycheck.
If none of these ideas appeal to you, there's always the old standby of putting away a certain amount of money each paycheck. In addition, you could start a spare change jar to help you save up more quickly.
Making the decision to to get a massage is not only good for your health, it is the perfect cure for mama burnout. When you practice the art of self care you'll find yourself feeling more energized and joyful. And, it goes without saying that a more rested and relaxed mom makes for a happier family! I challenge you to try at least one of these ideas and pencil in a massage on your calendar today.
________________
Betsy is a full time working mother of a six year old daughter. She has spent the last 20 years studying the healing arts. Betsy is a Certified Holistic Health Practitioner and Yoga Teacher. Her blog, Your Nurturing Nook, is a place to rest and relax while being supported by a net of self care tools, traditions, rituals and natural living.