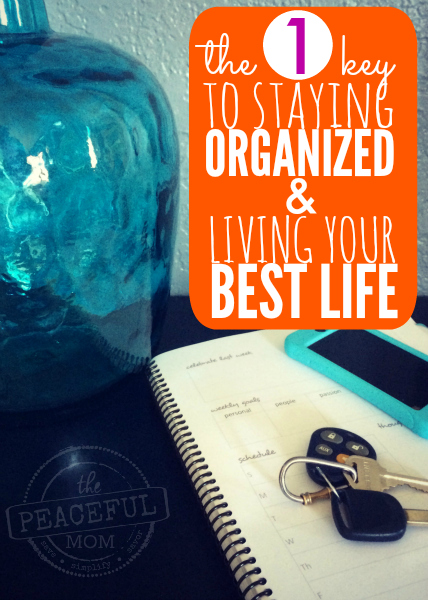 If you've been hanging around The Peaceful Mom very long then you know that the ONE key way that I stay organized is to create a weekly plan. It's my Saturday morning ritual and means that I have a much calmer week focused on my top priorities.
I use my Joyful Life Planner, but whatever planner you choose you'll want to include these important elements.
Meal Plan
Your people have to eat, and you need a plan so you don't go crazy trying to feed them. Make sure that your planner has a spot for listing your meals for the week.
To-Do List
As a mom, there is always LOTS to do — and keeping track of all those tasks is essential to leading a sane life. Your planner should include places to list your important tasks and a way to prioritize them.
Goal  Setting
Your life is busy, but you want to make sure that you are moving through your life intentionally so goal-setting is a must. Choose a planner that helps you to create goals that are important to you and a system to implement them.
Schedule
Creating goals and to-do lists isn't enough. You need a way to schedule those important activities and tasks so they actually get done.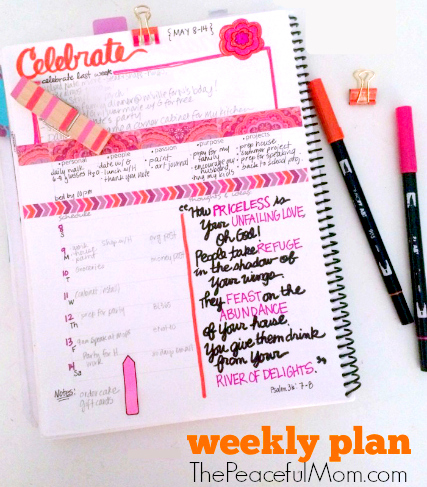 The Joyful Life Planner helps me to stay on track and it can help you as well to:
connect more to your spirituality and creativity
and become more YOU than you've ever been!

Click HERE to see what it's all about and grab a special discount code.
We can do this!

 You May Also Enjoy: