6 Simple Ways to Get Your Kids to Clean is a Guest Post by Jennifer Taylor
I'm Jennifer from Mom Tricks and I'm here to tell you about one of life's greatest mysteries: a completely clean house that goes from zero to disarray in practically the blink of an eye.
How does this happen?
You scan the room for clues, and then it hits you like a pellet stream of Nerf balls: the kids!
But the mess is not completely their fault (O.K., well maybe it is). Having kids means having more of all kinds of stuff: more laundry to deal with, more dishes to clean, more junk to store, and more items to wonder where the heck they belong.
So what do you do?
Enlist them. Get your kids to be part of the solution. Getting your kids to help clean up around the house helps them learn valuable skills while showing respect to your home environment.
And it's easy – just reach them in a language they understand: Play.
Before I get into that let me offer this disclaimer: You may be asking, shouldn't they do it because they have to? Shouldn't they learn not everything has to be fun?
Believe me, there will be plenty of opportunities for that in life. When you teach a skill to anyone at any age you need to have a hook – something they can latch to and connect to what they're learning. Play is a perfect hook for kids. So here are some ideas. Feel free to adapt to your family's personality.
Set the Stage
Play Music
You know what if feels like to move to your favorite beats. Inspire your kids to have both a positive attitude about cleaning and the energy to do it while listening to music they love. Neuroscience has shown that music influences our mood, mindset, and behavior. So put on some tunes and get the party started!
Limit Tasks
I remember being sent to clean my room as a kid. It was like walking into the aftermath of a war zone. The biggest challenge besides knowing where to start was the gloom of wondering how long (in days) this might take. So take that aspect completely away. Set a timer for a 25 minute big sweep (described below) or for 10 minute targeted areas.
Reward
No, I don't mean give them more stuff. Reward everyone's effort with something related to the cleaning tasks. Have you just put away all the toys littering the floor in the family room? Then pull out a board game to play on the coffee table. Is the kitchen now spotless and gleaming? Then search recipes online together to plan a yummy meal that your kids can help prepare.
Connect the space you've cleaned with time you can spend together. This will help emphasize the purpose of the cleaning, because let's face it – most kids could care less about the debris. But when they experience the fact that cleanliness supports positive interactions with you, they will likely internalize the positive aspects of cleanliness.
The Nitty Gritty (or how to actually do it)
Make Your Home Organization-Friendly
Baskets are great tools for maintaining order. Designate one for stuffed animals, and have a shelf of baskets for cars, doll clothes, books, etc. Also, make putting clothes away easy for kids. They can keep organized by putting matching clothing items in colorful crates.
To implement staying organized, play a nightly musical chairs type game. Choose the time that's best for your family, like before dinner, after bath time, or before stories. Play music while everyone puts things where they belong. If the music stops and someone is holding an item (or tossed it and missed the target!) then they sit out a turn (or have them do something like jumping jacks for the short duration of the next wave of music). This keeps energy up, the fun element front and center, and facilitates getting the job done!
Give them Specific Tasks & Teach Them
If you want your child to sweep, then show them how to do it. As adults we define a task as the combination of things that make up that task. This is called "automaticity." For us, sweeping means, well sweeping. It's likely you don't recall when and how you put together all the steps, such as how to hold the broom, the pressure to apply, where to collect the debris, and the nuanced art of using the dustpan.
The best bet in teaching your child is to model and do it with them the first few times. And yes, children can clean toilets (one of their favorite things to do!). And why not? That toilet brush is pretty much the coolest thing ever.
For my kids I used non-toxic natural cleaners, got them kid sized gloves, and taught them the last step in bathroom cleaning is to wash their own hands. To add the play element, have them imagine your home is a spaceship, ocean liner, or castle. Give it a name!
Make believe is great for suspension of disbelief, like the disbelief you'll experience when your kids are cleaning your home.
Get In The Zone
At my house we do two types of cleaning: The big sweep and targeted areas.
The big sweep is the "Ohmigod someone's coming over" kind of cleaning. It takes 25 minutes max and it entails checking three places: the bathrooms, kitchen, and floors. With everyone helping, the bathrooms get wiped down, dirty dishes get washed or put in the dishwasher, and floors are monitored for errant items. Assign each person and area and Go! Set the timer and try to beat the clock. If you do, enjoy a reward! You earned it!
Motivating your kids to clean takes a little bit of work, but it's well worth it!
________________________________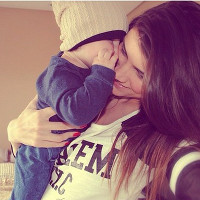 Jennifer Taylor is the creator and editor of MomTricks, the pregnancy and parenting guide. As the mom of two wonderful kids, she shares her experience and knowledge with her fellow mamas to make their journeys easier. Follow her on Pinterest, Twitter and Facebook.