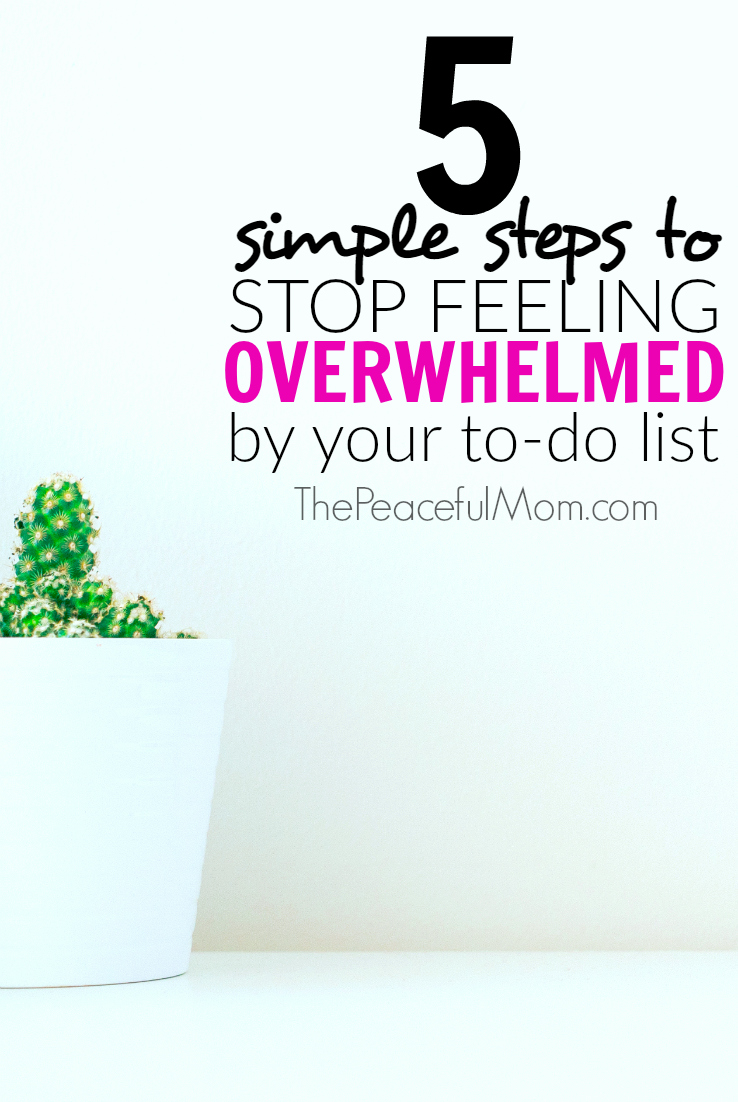 Is it just me or is life becoming more overwhelming by the minute?
The stack of papers on your desk, your table, your counter — or all three.
The emails in your inbox.
The never-ending to do list.
The commitments on your schedule.
The notifications on your phone.
Then there are all the things you have to do …
driving the kids to activities
and what about sleep?
There's just TOO much!
You feel like you're always behind, always struggling to catch up. You're over-committed, over-worked, drowning in it all and exhausted.
You know you can't possibly do it all, but it ALL seems important. How do you figure out what to do and what to let go of without feeling guilt and regret? How do you fit in family time, spiritual connection and friends, never mind personal time.
If you're feeling overwhelmed today, let me share my simple 5 step plan for curing overwhelm.
5 Simple Steps to Tame Your To-Do List
Breathe
With a mile-long to-do list, your first instinct might be to try and do as much as possible as quickly as possible, but this is actually counter-productive. You need to take a few minutes to step back and look at your situation from a different perspective. Just breathe.
Take a few deep breaths, go outside for just a minute and calm yourself down. Once the adrenaline has stopped coursing through your body, you can think much more clearly.
Brain Dump
When your mind is filled with thoughts of what needs to be done you can feel anxious and confused. You can cut through all of that confusion with a simple journaling exercise.
Take a few minutes to write down everything that is on your mind. Don't worry about spelling, grammar, or even making sense. You can write individual words, make lists or write out your feelings. Once you get everything out of your brain and on paper, you will probably feel an immediate sense of relief, and you will be better able to form a plan.
Focus
Once you have everything out of your brain, choose one task that will make the biggest difference in your life right now.
A few ideas to get you started:
Clear a counter covered with papers and other stuff.
Clean up the pile of clutter in your living room.
Decide what to cook for dinner tonight.
Ask a friend to watch the kids at her house so you can take a nap.
Say no to a few upcoming obligations.
Prioritize
Once you're feeling better take a few minutes to create a quick list of what's most important in your life. Look at those items on your brain dump and circle the tasks that have to do with your most important list. Choose the top three items that must be done today and write them down.
The other stuff can wait for now.
I like to make a list of future to-do's in the free Evernote app (read How to Use Evernote HERE), so I can refer to it later.
Relax
Sometimes the best way to deal with a too long to-do list is to forget the list and go do something fun. Take the kids out to the park, enjoy an ice cream cone or watch a funny video on You Tube.
When you give your brain a break, you'll be able to return to the list with more energy, motivation and creative ideas.
Overcoming overwhelm can be a simple process when you know what steps to take. I keep a copy of this list in my Joyful Life Planner so I can refer to it and remind myself what I need to do when my brain starts to shut down from stress and too many tasks on the to-do list.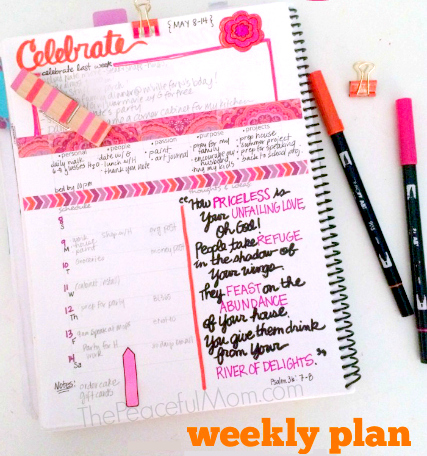 And speaking of the planner, you can grab a discount on the Joyful Life Planner Bundle right now.

Click HERE to see what's included.
We can do this!

You May Also Enjoy: