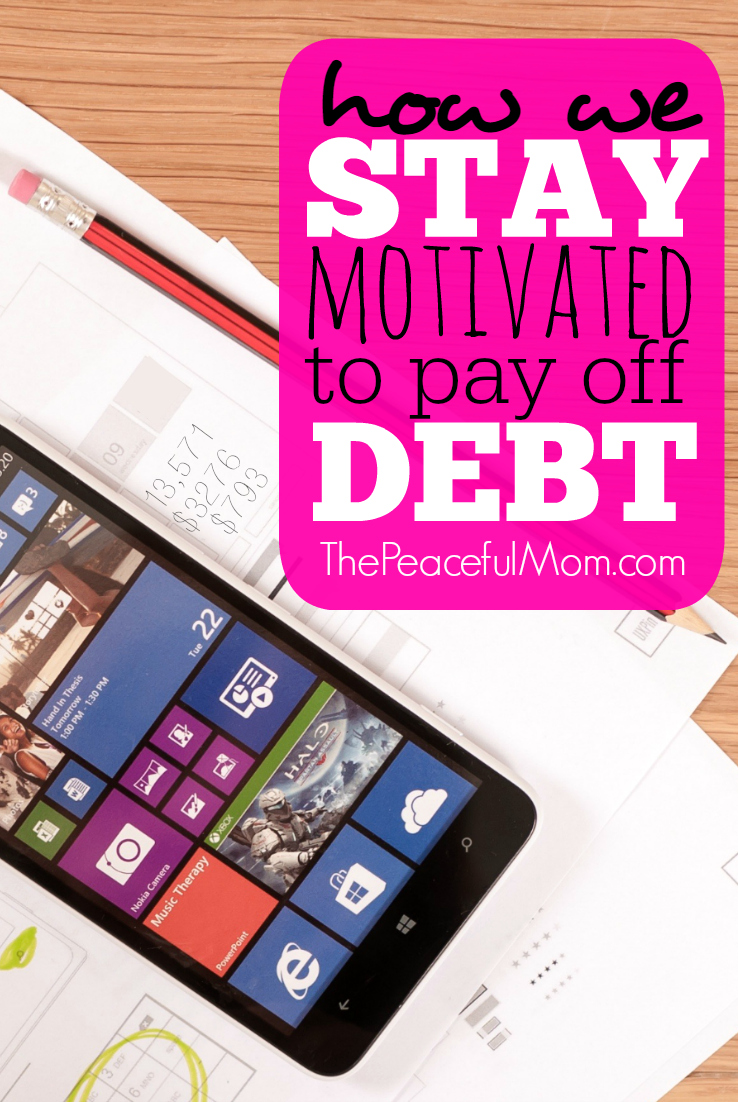 How We Stay Motivated to Pay Off Debt is a Guest Post by Jamie Jeffers.
Making the decision to get out of debt is great, but is it enough? Rarely can a person say, "I declare today the start of my debt free journey!" and have any real success.
What you need is emotion. Something to drive you the entire length of your debt free journey. Dave Ramsey calls this gazelle intensity. But that intensity doesn't just happen. You have to feed it and grow it.
So how do you use your passion to drive you through the debt payoff journey? Let's explore a few things you can try.
Know What You're Up Against
Do you know exactly how much you owe in debt right now? Many of us put our head in the sand because we'd much rather not know the exact number. It's too scary!
Find a way to get past that fear, because our goal here is to turn fear into anger or passion. Remember, even Jesus flipped tables in the temple. Anger has its place in our lives!
So get your exact debt number put together. You need to know how much you owe each creditor, but be sure to get a total number, too.
No, this isn't a number to be proud of, but feeling shame about it isn't going to get you anywhere. Instead, start dreaming. What could you do with that kind of money? It's probably enough to help you reach a goal or make some sort of change.
Keep this number in mind. I know exactly how much money we owed our creditor when we began our debt repayment this year. Much like the 5k ribbon for a runner, that number is my finish line.
Find Your End Date
Now that you have your number, find a good credit card calculator (I recommend Bankrate or CNN Money). That calculator can tell you when you'll be debt free, including paying interest.
If the date for being totally debt free is discouraging, break up your debt. If you owe more than one creditor, choose one that has an end date you can live with. If you need a quick win to keep going, choose a small debt. If you need a challenge, choose a bigger one.
If you owe all your debt to one creditor, there's no reason that you can't celebrate paying it off in chunks. Don't move money around or do anything official. Just determine what portion of the debt is worthy of celebration. Is there a good halfway point you could enjoy hitting?
Once you have your official calculated end date in hand, make it a challenge. If you enjoy beating the end time on your GPS (don't take that as an endorsement for speeding!), then you might like to race the date. How much sooner than the calculated date could you have your debt paid off? Can you tighten your wallet (learn how to eliminate your budget busters) or increase your income?
You can also adjust it forward a month or two to give yourself a stretch goal.
My hubby and I owe debt to several creditors. We chose the biggest one and decided to give ourselves a year to get it paid off. It seemed like a natural end point, and it gave us a focus.
You can do a lot of things if you remember that it's just for X amount of time.
Want It
It sounds simplistic, but if you don't want to be debt free, you're likely doomed before you begin. Traveling down the road to debt freedom is hard. Things break, amazing opportunities pop up, and spending habits are hard to change.
Whenever you're faced with a temptation, you have to remember why you want to be debt free. What's so great about the debt free life?
I often find myself saying, "We'll do that when we are out of debt." Part of me feels disappointed, yet I also get a tingle of excitement. Can you imagine being able to just do things, free from debt and guilt? What a great feeling!
It can be hard to stay on track if your end date is far away. That's why I put together 14 Ways to Stay Motivated When Paying Down Debt. Be sure to check it out for more inspiration.
Finding and keeping the intensity to make it through a debt payoff journey is hard. Stick with it, and the rewards and life changes will make it all worth it.
__________________________
Jamie Jeffers blogs at Medium Sized Family. There she gives practical tips for saving money and simplifying life. Follow her family as they dig out of debt in their #yearofno, and be sure to grab the free Identify and Destroy Your Budget Busters course!