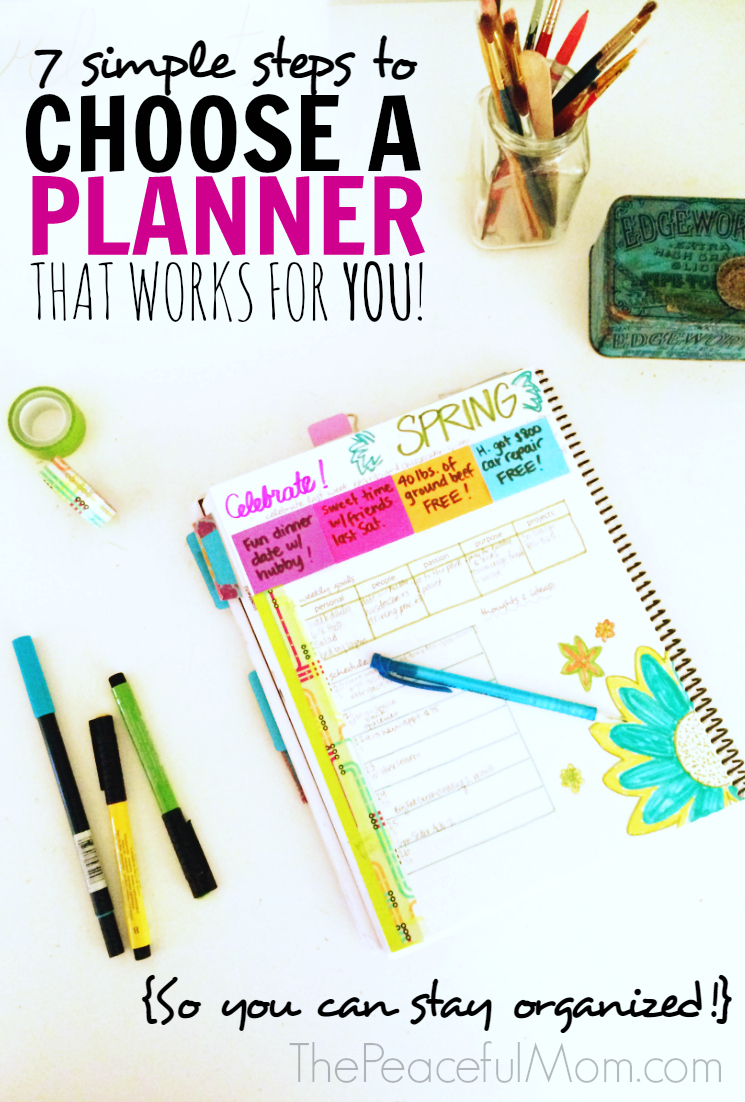 How to Choose a Planner That Works for You
As moms there are about 1 million things to keep up with and in order to stay sane we need to develop some kind of organizing system. The options seem endless, from digital apps to paper planners. The key is finding a system that works for your personality and lifestyle, and it can be especially challenging with so many options available.
I personally use a combination of a paper planner and digital scheduling. Paper planning isn't for everyone, but there's no doubt that hand-writing your goals and to-do lists increases your productivity. According to a Huffington Post article on the benefits of journaling*:
"Writing goals signals to your brain 'this is important.' Your reticular activating system (RAS) then flags relevant opportunities and tools to achieve that goal. More detailed goals provide a psychological blueprint, and increases the likelihood of achieving them."
I've been through many planners through the years — from a basic calendar to a binder system to a small personal day planner. All of them worked if I used them, but as I have become more intentional with the way I live, I found that I want an even more personalized planning system to help me achieve my goals and organize my days.
If you're currently considering a new planner, I want to share how to choose a planner that works for you.
Decide Your Purpose
Your first step in choosing a planner is to think about why you need it. Will you use it to keep track of appointments, to remind yourself of morning and evening routines, to set goals and track your progress? Do you want a planner that tracks your fitness, gives you space for a daily to-do-list?
I want my planner to:
help me grasp the big picture of what I want to accomplish;
enable me to translate that big picture into action steps;
provide a weekly view so that I can see where to plug in my weekly goals;
break each day into hourly segments so that I can easily time block my most important activities, as well as my appointments;
help me to focus on my top priorities each day;
offer blank spaces for flexibility to add notes and other organizational tools like habit trackers;
guided exercises and prompts to enable me to decide my top priorities and to live them out, plus reminders of important tasks.
Knowing what you want your planner to accomplish is key to choosing the right one for you.
QUESTION: What do I need my planner to accomplish for me?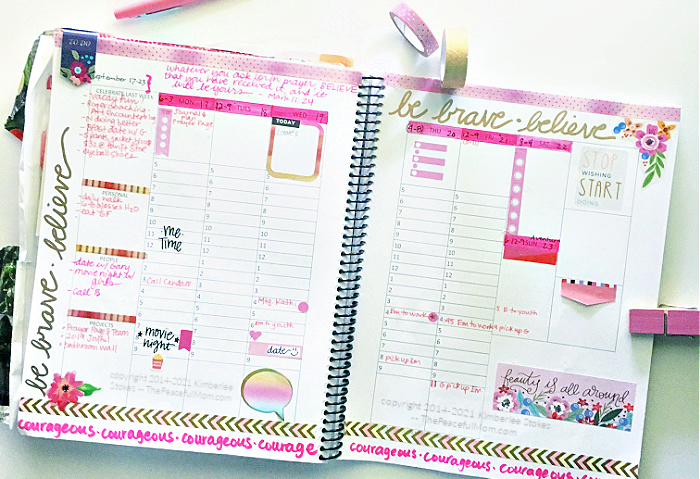 Choose Your Layout
Once you know the purpose of your planner, you can decide your preferred layout. Do you want individual daily pages with lots of hour-by-hour detail, or do your prefer a weekly view with each week spanning two pages side by side?
I personally prefer a weekly view because I want to see the week as a whole so I know what's coming up and where I have space in the schedule to block out project time, errands, etc. I don't strictly schedule my day hour-by-hour because something usually happens to throw everything off, but I do like to block out specific times for certain kinds of activities. A weekly plan, basic routines and a to-do list plugged into time blocks work much better for me. I also don't like flipping through multiple pages with a daily planner.
QUESTION: Do I want daily or weekly pages? Do I need hourly scheduling or space for adding routines and to-do lists?
Select the Size
In addition to the layout of your planner, you'll need to decide the best size. Do you want to carry your planner in your purse so you can always have it with you, or will you use it only at your desk? If you're choosing a smaller size planner, make sure that the pages have enough room for you to write everything you need to plan and organize.
I prefer the 8.5 x 11 size because I use it on my desk and I want space to write ideas, plan projects and write to-do lists. I don't need to carry it with me because I schedule appointments in my smart phone calendar app and use Evernote to keep track of notes and to-do lists.
QUESTION: Do I want a desk planner or a purse-size planner?
Consider Design
Since you'll be using the planner for an extended period of time, you want to like how it looks. Are you a person who likes to decorate and personalize your planner? Then you'll want to choose a more basic design with space to decorate. Do you want your planner to look pretty without any effort on your part? You'll want to choose a pre-designed planner with pretty colors.
Choose a design that makes you happy every time you look at it and you will be much more likely to use it.
QUESTION: Do I want a pre-decorated planner or one that is easy for me to decorate?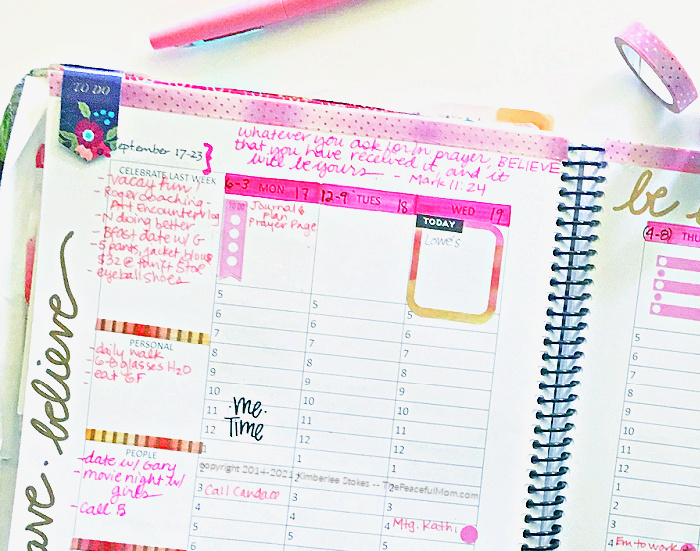 Select a Binding Style
The binding of your planner determines how you can use it. Do you want a permanent binding or a removable one (like a binder or discbound style) so that you can customize your planner by adding or removing pages.
I personally prefer a coil binding so that my planner stays together and lays flat when open. I like to keep it open to the page I'm working on and avoid the distraction of other pages. Planners that only lie open with both pages showing don't work for me.
QUESTION: Do I want a customizable planner or a coil bound planner?
Choose Additional Features
In addition to basic scheduling and planning pages, think about the other features you want in your planner. Do you want help with goal setting and project planning? Do you want to keep track of weekly and monthly goals? Do you want inspirational quotes included?
I love monthly review and planning pages, as well as inspirational quotes to keep me motivated. As a business owner and blogger I also find project planning pages extremely helpful.
QUESTION: What additional features do I want in my planner?
Decide Your Budget
The final consideration for your planner choice is the financial investment it requires. If you're new to planning, you may want to choose a customizable binder option so that you can figure out what works best for you. These options are generally more affordable and you can download and print them instantly rather than waiting for a planner to be shipped to you.
You do want to remember, however, that investing in good quality may mean the difference in whether or not you use your planner.
QUESTION: How much do I feel comfortable spending on my planner?
As you become more aware of your individual needs you'll easily be able to recognize if a planner is going to work for you or not. My current planning system is the Joyful Life Planner that I created myself. It's worked wonders for me so for the past 11 years I've made it available to my readers so they can be more organized as well.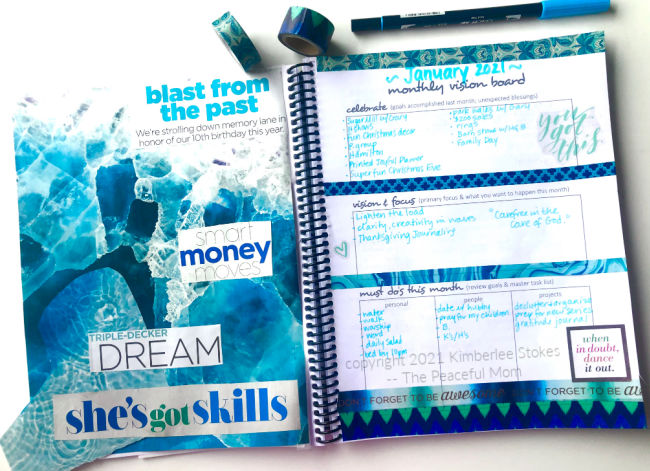 Here's why the Joyful Life Planner is different than other planners available on the market:
The Joyful Life Planner is simple with the perfect balance of structure and freedom in it's creative weekly plan format focusing on 5 Key areas.
The Joyful Life Planner helps you to live purposefully with a system to help you decide your top priorities and then live them out.
The Joyful Life Planner enables you to achieve your goals with it's monthly review and vision pages, as well as weekly goal tracking.
The Joyful Life Planner increases your happiness and gratitude with the weekly "CELEBRATE" section to record the happy happenings in your life.
The Joyful Life Planner is personal with an exclusive CLARIFY section to focus on what you truly want.
The Joyful Life Planner is customizable so you can choose the pages and binding system you prefer.
The Joyful Life Planner is inexpensive. The average price for the planners is $40 with some as high as $58. The Joyful Life Planner is very affordable at around $20 plus the cost of printing or you can grab the pre-printed version.
See How to Use the Joyful Life Planner HERE.
No planner will magically solve all of your organizational problems, but finding a planner that works with your goals and your season of life is essential to living a joyful and purposeful life.
If the Joyful Life Planner looks like something you would like to try, simply click HERE to read more about it.
We're in this together,

*Benefits of Journaling – Huffington Post