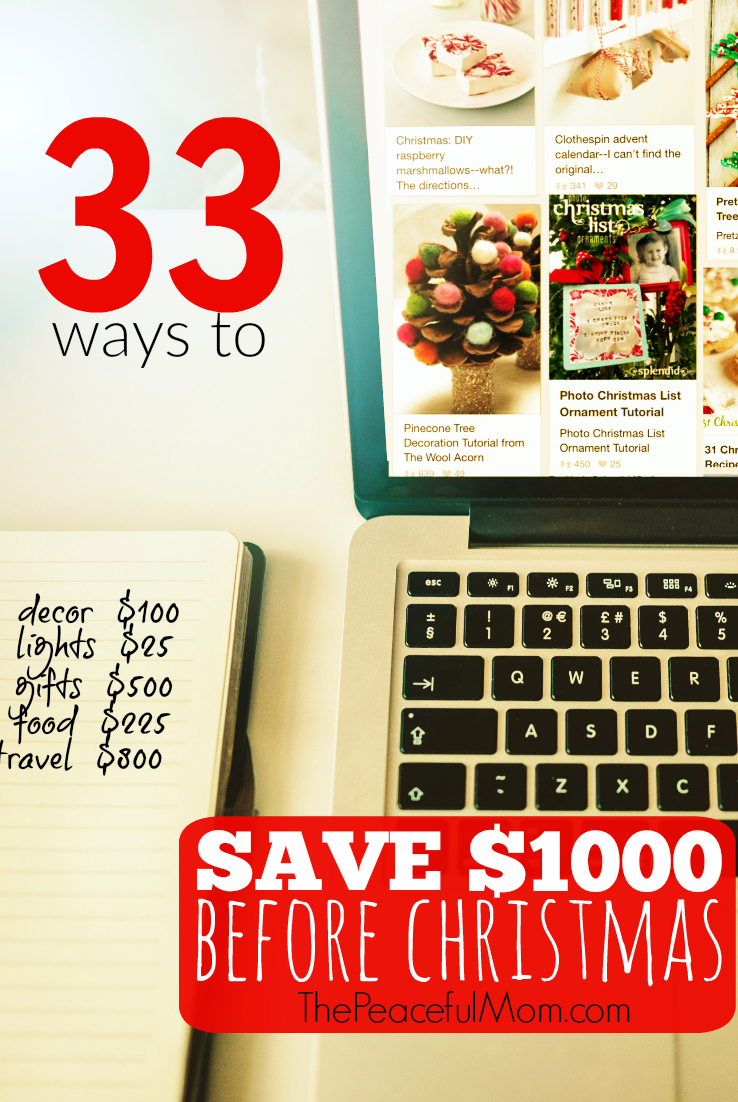 Believe it or not, Christmas is just around the corner and I want you to have a truly happy holiday without going broke or adding to your credit card debt. For the next few weeks I'll be sharing practical tips to help you save $1000 by Christmas.
Today we're going to set ourselves up for saving success with five basic steps.
Plan Your Spending
Rather than living in denial or pretending like we won't spend money during the holiday season, let's take some time now to think about what we want to happen at Christmas and how much it will cost. Determine how much you want to spend (decorations, meals, gifts, travel, etc.) so you can set a realistic savings goal.
Action Step: Print this Free Holiday Spending Planner.
Decide Your Target
Once you know your estimated budget, it's time to determine the amount of money you need to save so that you can enjoy Christmas without the credit cards. You will be much more likely to save the money if you choose a specific amount to save rather than relying on the vague idea that you will "save more money".
Action Step: Choose the amount you want to save.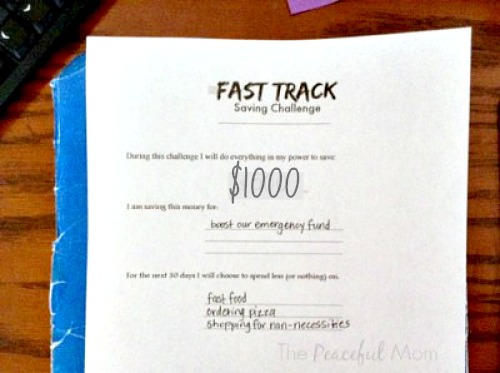 Write Down Your Goal
Numerous behavioral science studies have shown that people who write down their goals exponentially increase their chances of achieving those goals. Once you (and your husband if you're married) have decided on a dollar amount to save, write that amount on a piece of paper and place it in a visible location to remind you of your goal and motivate you to watch your spending.
Action Step: Print the Fast Track Savings Worksheet here or the 1 Month Money Makeover Savings Target Sheet here to record your target amount.
Make a Commitment
Decide now to make saving $1000 (or the amount you choose) your focus for the next few months. Agree with your spouse or another person that you will be accountable for the way you are spending money.
Action Step: Decide that you are fully focused on saving for the next few months.
Break Down Your Goal
Saving a large amount of money can seem daunting, but if you break your big goal into smaller steps you will be more likely to achieve your goal. Calculate the amount you need weekly by dividing your savings target amount by 16 (the number of weeks left before Christmas). If you're saving $1000, that's $62.50 per week — very doable!
Action Step: Calculate your weekly savings goal.
Designate a Savings Location
Once you decide your savings goal and break it down into a weekly amount, you can further increase your chances of saving by choosing a specific place to put the money. You can open a new savings account at the bank just for Christmas savings, or stick the money in an envelope in your sock drawer. Having a physical location for those bills gives you a psychological boost and a visual cue to motivate you to save.
Action Step: Set up an account or an envelope where you can save your money.
Next week I'll start sharing some specific steps you can take to start adding money to your envelope or account.
For now, share the amount you will save for Christmas in the comments.
See all the Make Money for Christmas posts:
Week 1: Set Your Savings Target
Week 2: Slash Your Grocery Budget
Week 3: Earn Free Amazon Gift Cards
Week 4: Work as a Virtual Call Center Agent
Week 5: How to Sell Your Stuff on Facebook
We can do this!