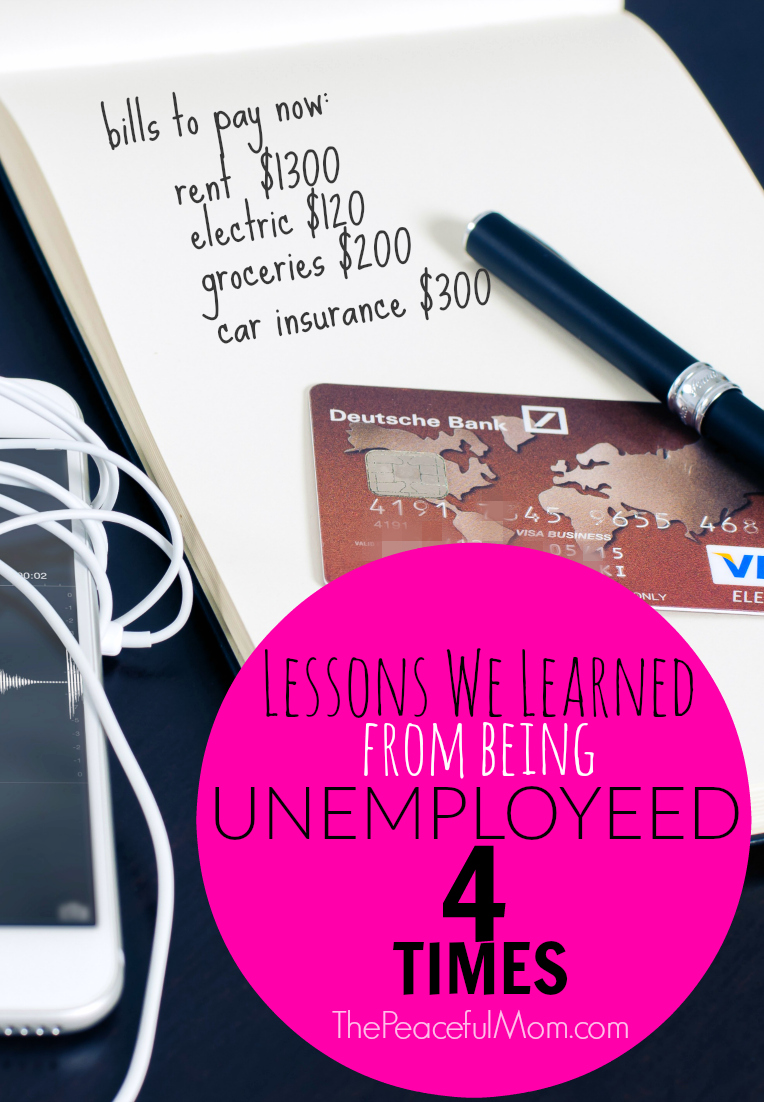 3 Lessons We Learned From Being Unemployed Four Times is a GUEST POST by Jaime Bacon.
My husband John and I have been through four job losses: two before we were married, one the year we got married, and one since having our daughter Allison.
This last time was the toughest due to the fact that we were already living on one income and we have a child, but we persevered and even thrived during these 3 and a half months. Here are three lessons we've learned from being unemployed four times.
We Can Live On Much Less
The first thing I did when John lost his job this last time was resolve to lower the grocery budget. That's the easiest expense to cut, and so I cut our budget in half– from $60 a week to $30, for our family of 3.
It sounds extreme, but by the grace of God I had filled our freezer for the past two months prior to this, so it wasn't such a huge blow. We also stopped all unnecessary expenses, like eating out and random purchases. We have zero debt besides the house, so thankfully paying off debt was not an issue! After a couple months, John looked at our spending and said, "You know, if it weren't for the mortgage, we could survive for a very long time like this!"
When We Pray, God Provides
We'd been through this three times before and always came out better off than we were previously, so we knew God would take care of us. We had so many people in our church praying for us, and we prayed nightly. Little things kept happening: I received a couple of gift cards here and there from friends wanting to help out; I'd be out of something in the pantry and it would magically be on sale the next week… we saw God's hand in everything, and knew He'd provide whatever we needed.
We Can Become Healthier Living on Less
No kidding, we really did. John and I both have Fitbits, and while I could usually hit my 10k steps every day, John didn't because of his desk job. Once he was let go, he started walking to help him focus and to pass the time. That turned into running, which inspired me to start my training again too, and he can now run an entire 5K in one go.
Eating for $30 a week also made me really consider my purchases and plan carefully. Produce is cheap, and I bought almost everything at Aldi, especially when it was on sale. We ate more fresh foods then than we ever did eating for $60 a week.
If you're in the same situation we were, don't lose hope! Something amazing is coming your way, and I pray that you'll be blessed more than you ever have.
_______________________
Jaime is a stay-at-home mom who lives in Ohio with her husband and 2 year-old daughter. She enjoys video games, coffee, grocery shopping, and waking up way too early every morning. Her blog No Getting Off This Train is dedicated to helping others save money on groceries and sharing her motherhood adventures.