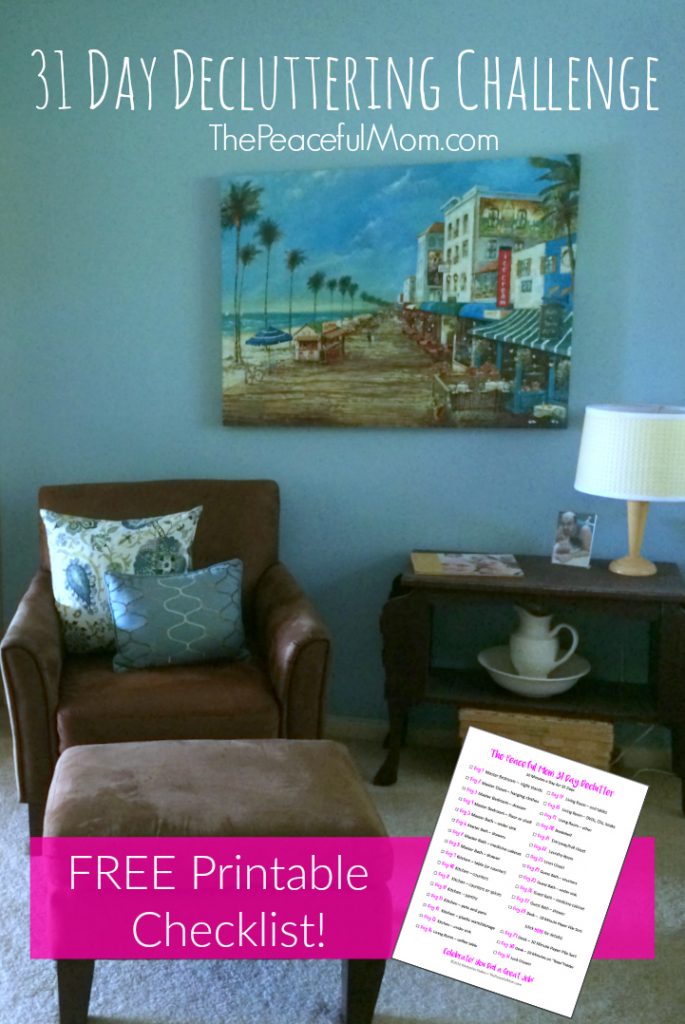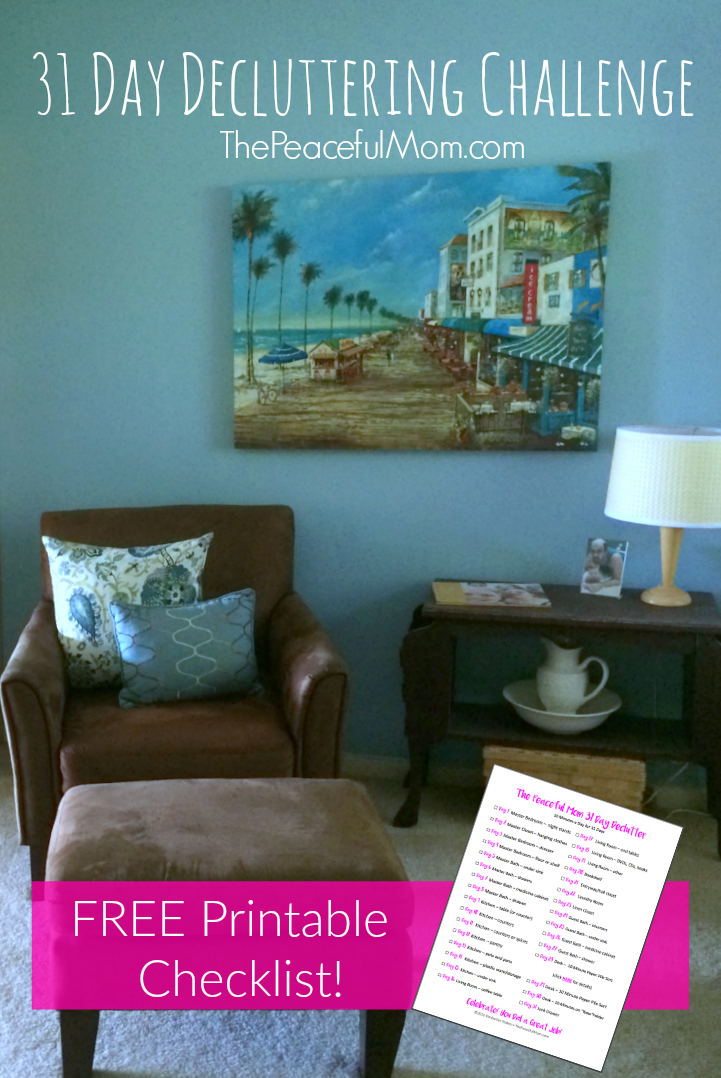 Grab your 31 Day Declutter Printable Checklist below!
In my last organizing post I shared three ways that decluttering can instantly improve your life. This past week I actually experienced that transformation  — and I'm showing my 31 Day Declutter photos to prove it!
Lately I have been feeling very drained mentally and physically, and I was having trouble feeling motivated to work. I realized that allowing my desk to remain cluttered was causing a lot of that problem, so I decided to completely clear it.
Unfortunately I was so intent on fixing the problem that I forgot to take a before shot but here's a peek at what my desk looks like now: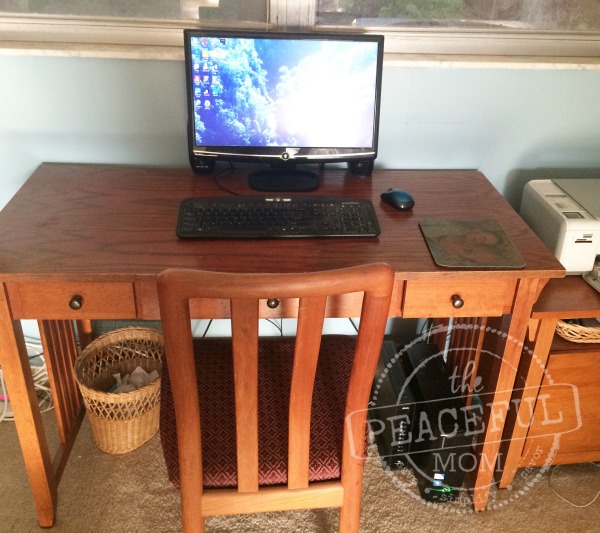 I can't even tell you how much joy and peace I felt immediately after clearing this space! It's not "pretty" but I have so much more clarity and focus now that I'm not distracted by files and piles of papers — and I plan to keep it this way.
One way that I'm maintaining that beautiful, blank space is by organizing my work projects into boxes and storing them on my bookshelf until I'm ready to work on them.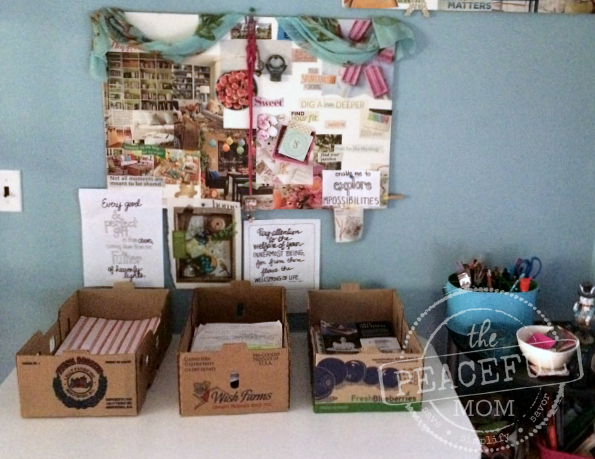 Of course I could go out and purchase bins or baskets but these blueberry boxes are the perfect size and sturdy enough to hold the materials I need for various projects — and they were free! I could cover them with paper to make them prettier, but being the practical person that I am, I don't want to spend the time when I could be doing something to produce income for our family. I don't even notice them when they're on the bookshelf in my office.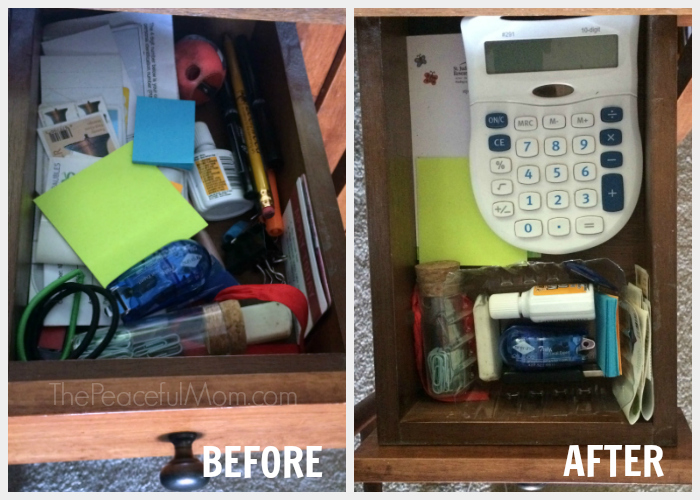 I also cleaned up and organized the desk drawer, again using recycled materials. I cut the top off of a plastic berry container to corral all the small items in the drawer. Because the container is clear it's not really noticeable, but the drawer looks much more organized now.
31 Day Declutter Printable Check List
It's not too late to jump in and join us for the 31 Day Decluttering Challenge! This week we're focusing on the laundry room, linen closet, and guest bath.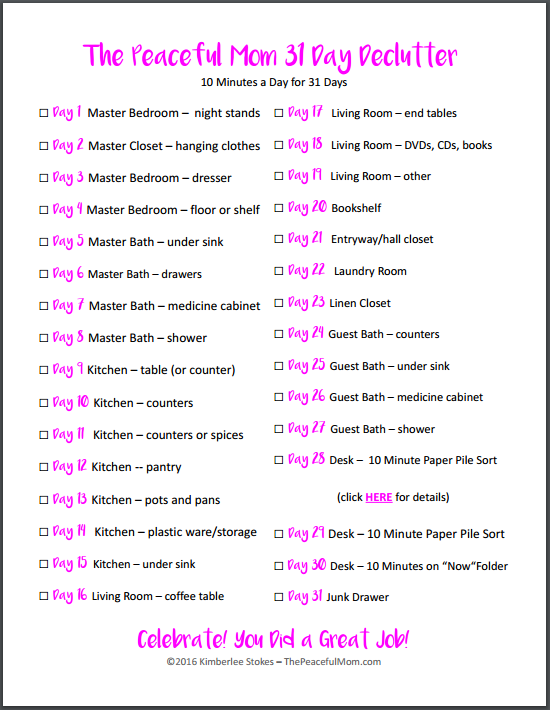 I have a FREE Printable 31 Day Declutter Printable Checklist for you if you'd like to join in.
Work just 10 minutes on the area of the day — it's that simple!
Simply join the 30 Days to Organized group HERE 
and grab your free 31 Day Declutter Checklist!
So how did you do this past week? Leave a comment or a link below. 🙂
You May Also Enjoy: