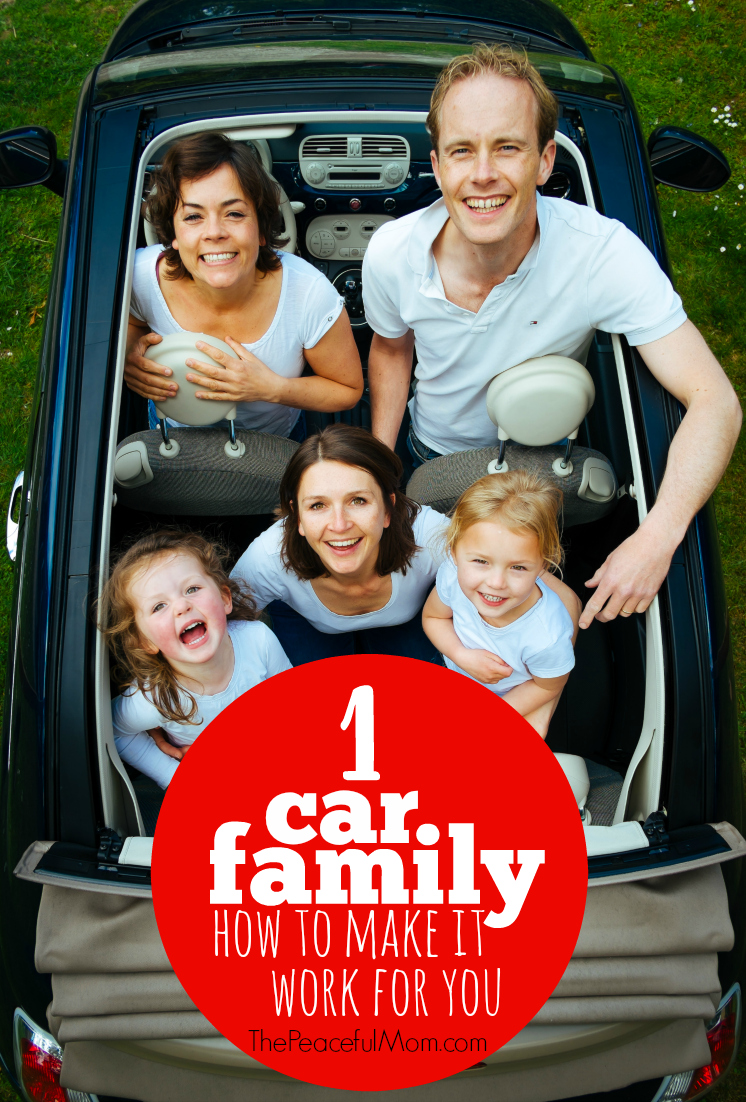 Why Our Clan of 6 Is A One Car Family is a GUEST POST by Julie Moore.
For more than a decade, my husband and I have owned just one car.  Even after moving to the congested San Francisco Bay Area and having four kids, we've continued to share a vehicle.
Benefits of Being a Single-Car Family
Although having one car hasn't always been easy – and the older the kids get, the harder it is – Jon and I decided early on that this was a great way for us to save money.  Without the added operation costs, insurance, and car payments, sticking to one vehicle has saved us thousands of dollars over the past decade.  This financial blessing has given me far greater peace of mind than a second car ever could!
How We Make It Work
Before we had kids, Jon either took the car to work or I drove him.  Then he worked nights for several years, meaning I had the car all day while he slept.  It was the easiest part of our car-sharing experience!
Now, Jon works from 6 a.m. until 2 p.m.  While I've loved having him home by mid-afternoon to help with the kids, it's almost impossible for me to have the car during the day.  I'd have to get the kids up before dawn to take him to work, and we'd have to leave our event by 1:30 in the afternoon in order to pick him up.  It's not practical to participate in day-time activities away from home.
So, we do evening outings as a family instead, and I'm happy to have friends over at the house during the day.  It means that we can't do every outing we'd like to, but it also opens up the opportunity for creativity.  We have friends who are willing to pick us up for certain events, and occasionally we borrow a car from my parents-in-law.
Drawbacks
For our family, we've decided that the benefits of saving money and the resulting peace of mind  are well worth the frustrations of not always having wheels when we want them.  But there are definite drawbacks to living as a single-car family.
It's not always convenient.  We've had to turn down wonderful field trips, outings, and get-togethers.  We can't be involved in day-time classes or sports. Not everyone understands or supports our decision.  It's not popular, and we've offended people by not being able to attend certain events.
When our car breaks down, it's difficult to deal with. Because we have local family and friends who are always willing to help, we've managed to get through two dead transmissions and several flat tires, but it's not easy.
Why You Might Want to Try It
Single-car living is not for everyone. For those who live away from urban areas, have no family nearby, or have extreme medical needs, having just one vehicle might not be possible or advisable.
But if finances are tight, if schedules permit, and if you're willing to be creative and don't mind saying no to some opportunities, being a single-car family might be your cost-cutting answer!
________________________
Julie Moore is wife to Jon and mom to their four spark plugs, the oldest of whom has Type 1 Diabetes. When not helping Jon with his business or homeschooling the kids, she blogs at The Hallway Initiative, encouraging Christian women to praise the Lord in the midst of hardship.