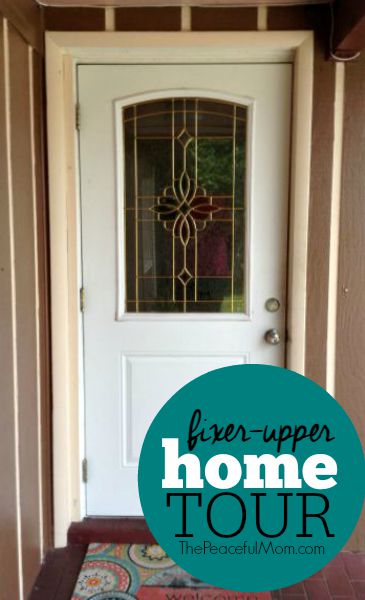 Frugal Fixer Upper Home Tour
Today marks one year since we purchased our new-to-us fixer upper home. After a foreclosure, bankruptcy and over ten years of renting we were finally able to buy a house — woohoo!
With a very limited budget, we knew we had to be smart with our renovation and do it little by little. Today I'm sharing some highlights of our process so far.
Once we had the keys in hand, I knew the first order of business was to paint every single wall. Paint is one of the cheapest and easiest ways to quickly transform a space.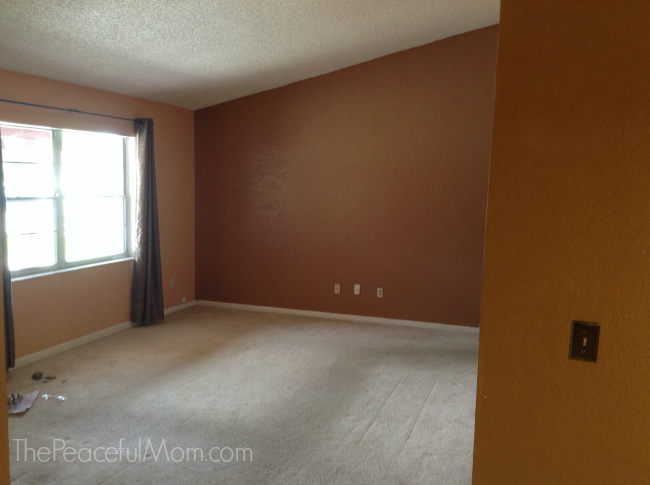 BEFORE: I absolutely hated the paint colors the previous owners had chosen. Not only was the orangey-brown in the living room unappealing, each wall was painted in a different shade — not my style at all.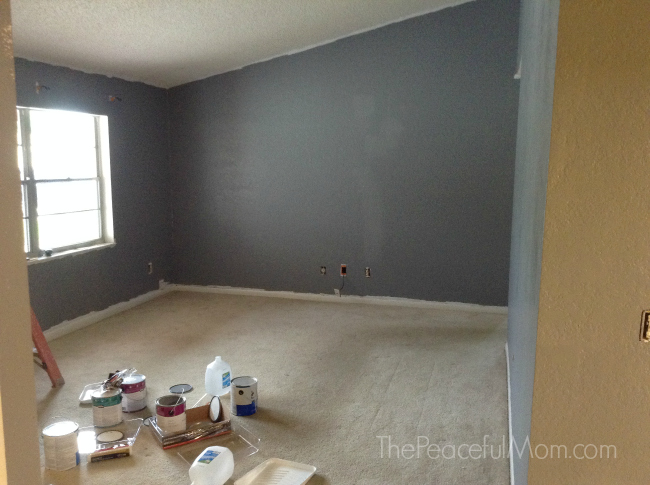 IN PROCESS: We chose Behr Ultra Premium Paint (egg shell finish) in Dark Pewter and accented with semi-gloss white trim. With the help of a friend and my 15 year old daughter we finished all of the painting in just a few days …
and then I realized that the paint color I had chosen made the popcorn ceilings look really dingy.
Now we had a tough decision to make: spend part of our very small renovation budget to have the ceilings scraped, repaired and re-painted before we moved in, or wait until later.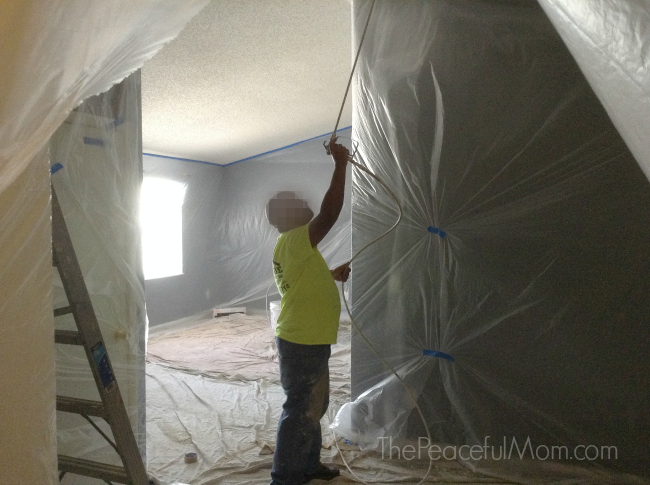 My mother wisely advised us to do the work BEFORE we moved in and I am so glad. Even though we had to cover all of the walls and floors in plastic so the messy work could be completed, it would have been MUCH worse if we had the furniture moved in. We paid $600 to have the work completed by professionals.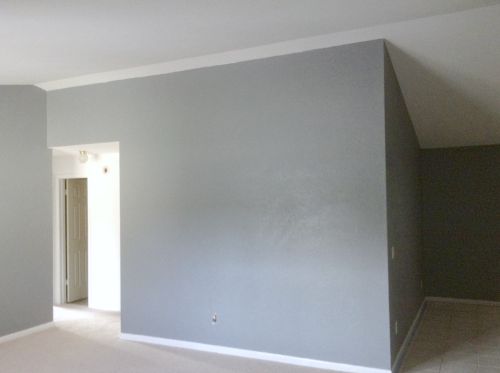 And the money was well spent. The ceilings look amazing now!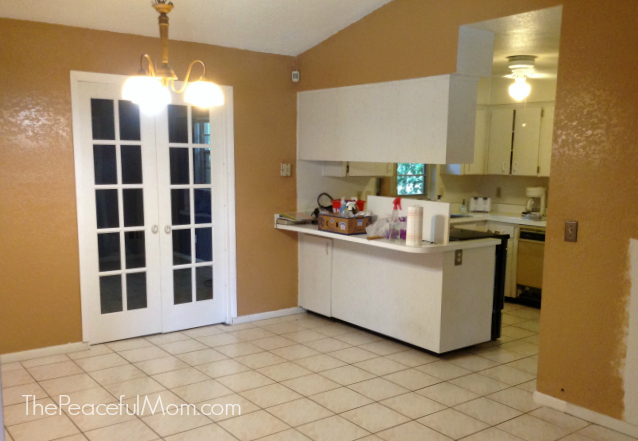 One of the biggest issues in our house is the tiny, closed off kitchen. The builders or previous owners had placed a piece of linoleum behind the stove to serve as a kind of back splash, but this ugly protrusion along with the upper cabinets basically formed a wall between the kitchen and the dining room and made the kitchen feel even tinier.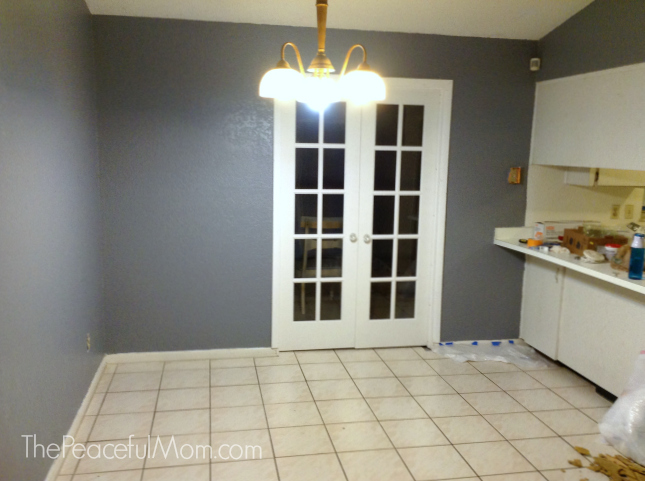 The darker paint on the dining room walls helped because the kitchen looked whiter and brighter in contrast.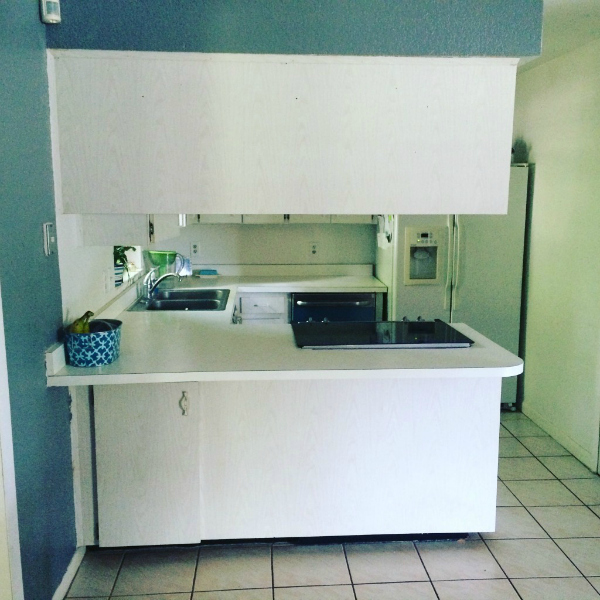 We removed the random piece of laminate from behind the stove, painted the kitchen a brighter white, purchased a new stove and dishwasher, and some friends gave us a new-to-us fridge when ours broke. The kitchen was really shaping up, but those upper cabinets still bothered me.
Finally in May we decided to host a party for our daughter's high school graduation and my tolerance for that closed off space was gone. My husband sweetly agreed, so we began the demolition.
We first turned off the electricity so we could remove the hood vent, but we didn't know what to do with the wires so we ignorantly taped them together with electrical tape. (Guess what happened when we turned the power back on? Yep, we blew the breaker so we didn't have power in oru kitchen for a few days until our electrician friend could come and fix it for us. )
After he removed the hood vent, we discovered that we didn't have the right tool to remove the hardware holding the upper cabinets in, so my husband ripped them down with his bare hands. (This demonstration of raw strength was strangely exciting to me — haha!)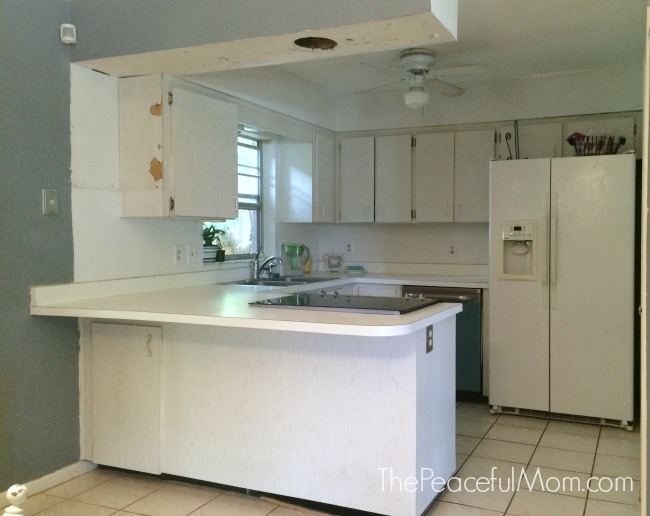 Without the "wall" formed by the upper cabinets and the back splash behind the stove our space was completely transformed!
Yes, we caused some damage to the side of the cabinet and we had a hole where the exhaust pipe for the hood vent was, but I was finally FREE! I could see my family while I cooked rather than being quarantined to a separate space while I prepared dinner.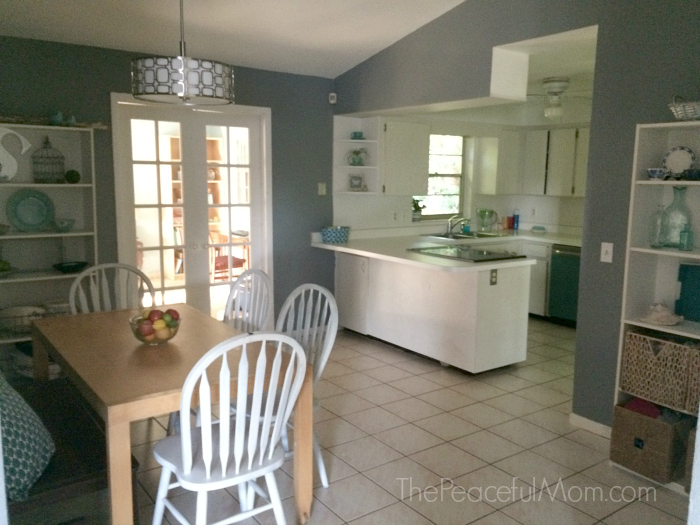 AFTER: Thanks to our friend David building a corner shelf and repairing the soffit, plus lots of work on our part, our kitchen and dining room are open, airy, and serene and I LOVE this space! Every time I look at I just have to smile.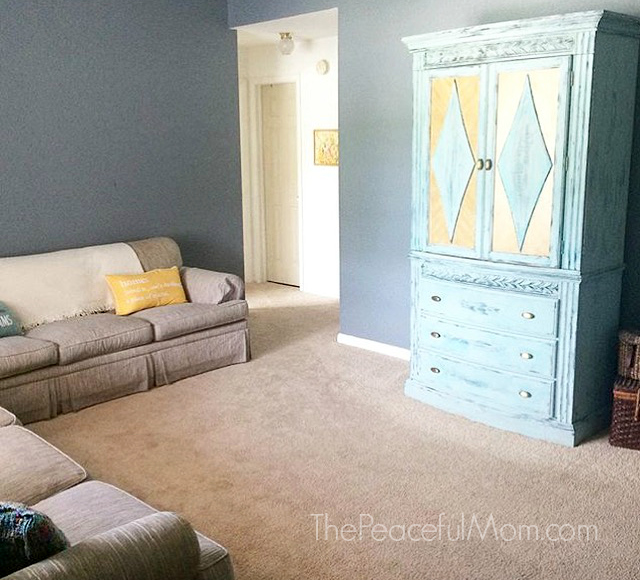 Today the living room is a calm, peaceful space where we love to hang out. I love the soothing cool colors with the yellow accents. And just like the kitchen, this room makes me happy every time I sit in it.
The past twelve months have involved lots of work and about $7500 (some of which was given to us by a family member). 
We've had some surprises along the way like having to replace all of the carpet before we moved in (around $1800), discovering tree roots growing in our master bath plumbing which required tearing out the concrete flooring to fix (around $400 including the new toilet), and having to repipe the entire house after our bedroom flooded and we ended up with our bed in the living room for Thanksgiving ($2500). We still have more work to do, but I  am thankful every day for our frugal fixer upper.
Would it have been nice to purchase a new home? Sure, but doing the work ourselves has made me fall in love with our little home. Home is where the heart is, and this home definitely has my heart.
Thanks for visiting!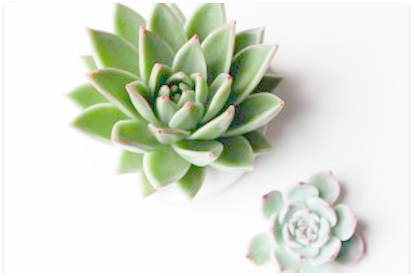 Join The Peaceful Mom Community for weekly tips to help you maximize your time, money, space and relationships plus periodic fixer upper updates.
You May Also Enjoy: