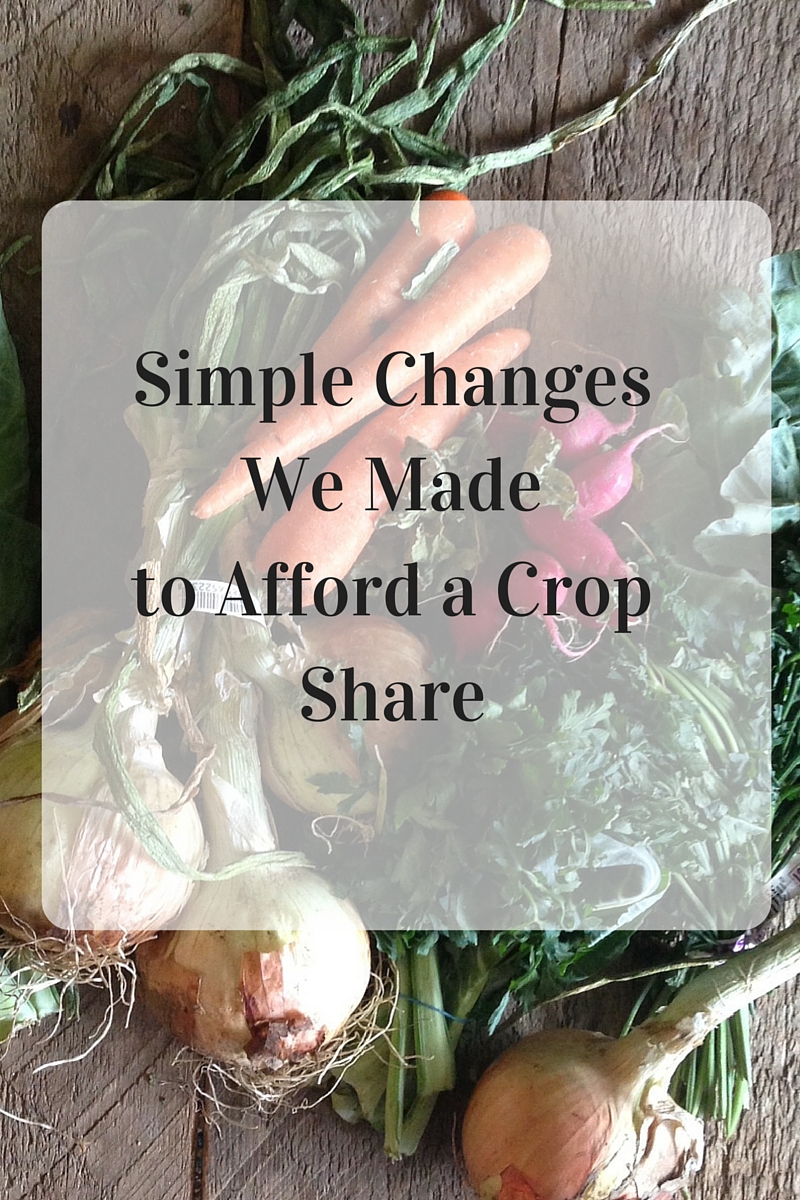 6 Simple Changes We Made to Afford a Crop Share is a GUEST POST by Leah Martin.
When my husband suggested that we join a CSA (Crop Share Association), I was a little surprised. He isn't convinced that eating organic foods is necessary, and he always wants to cut down the grocery budget as much as possible. But he grew up on a farm, so supporting local farmers was important to him. Of course, I jumped at the chance to receive fresh, organic vegetables each week, so we joined a CSA.
Our CSA costs about $33 a week for a medium sized tote of vegetables and a half-dozen eggs. However, the payment has to be made in full in the spring, months before the vegetables start coming. Fortunately, we signed up right around the time that our tax return came, so we were able to make the payment without dipping into savings.  Still, I wanted this to be a money saving opportunity, so I cut our weekly grocery budget by $30 a week and cut $15 a month off of our Costco stock-up trip. This saved us $135 a month, and the CSA costs us $132 a month.
Here are the simple changes we made to make the crop share worth it:

New Recipes
I asked my Facebook friends for their favorite recipes using some vegetables that were foreign to me. It was great for us to try new things! I used vegetables in place of meat in some dishes to save grocery money, and made more vegetable-based dishes for my toddler's lunches.
Freezing
When we can't use everything in a week, I freeze things. I caramelize onions and turnips, make chimichurri sauce with cilantro, and dice raw vegetables that freeze well. When we use these up in the future, we can buy fewer groceries.
Drying
I've dried several bunches of parsley in the oven, which has saved me about $5 so far.  
Using Up Leftovers
The night before we get our CSA load, I try to use all the remaining vegetables at dinner. Our most recent "use it up" menu included a frittata with spinach and chard, and a salad with roasted golden beets. I get creative, sneaking spinach into smoothies, radishes into pizza toppings, and root vegetables into baby food purees.
"No Buying Veggies" Rule
I try not to buy vegetables at the grocery store, unless I have a special request. If a recipe calls for a veggie that we haven't received from our CSA, I try to find a close substitute.
Sharing and Trading
When we get vegetables we don't like, we share them with friends or neighbors. Our pickup site also has a trade bin that we can trade others for veggies we enjoy more. Shares can be donated to charity if we can't pick them up.
If a CSA isn't in the budget for you, you might be able to volunteer to reduce the cost, or split a share with a friend. Check your local farms to see if they offer a Crop Share Association!
________________
Leah Martin is a former teacher who now stays at home with her two little ones. She writes about using the Charlotte Mason Method, a Christian educational philosophy, during the early childhood years at My Little Robins. Her days are powered by Jesus, the support of her husband, Nate, and lots of coffee.