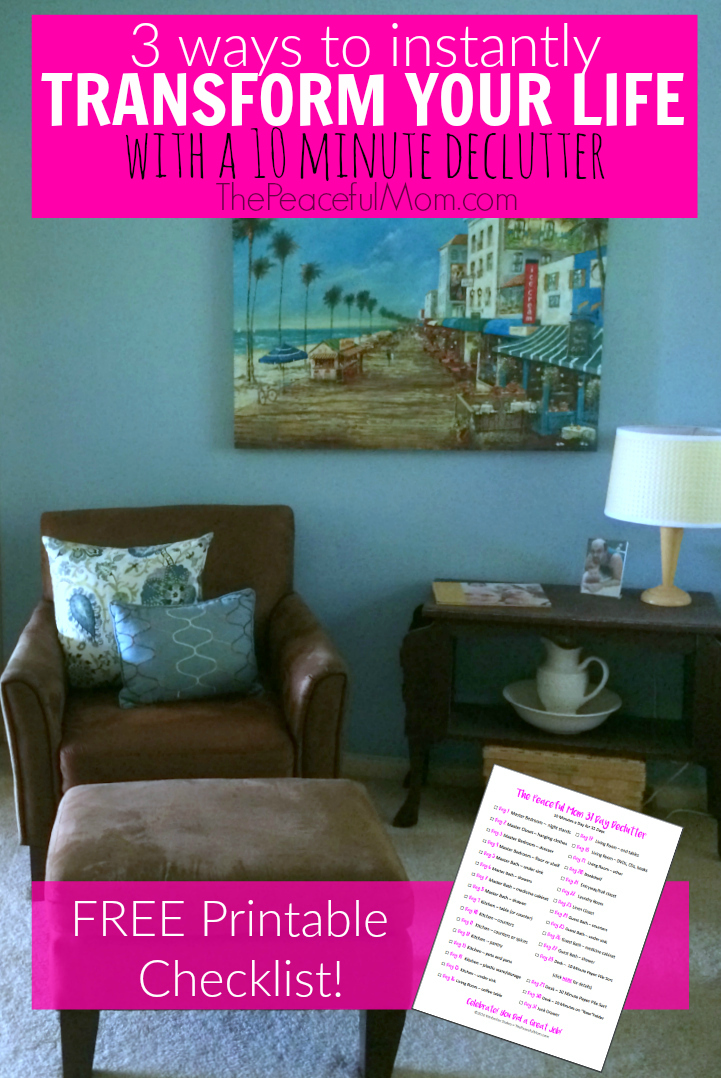 Grab your 31 Day Declutter Printable Checklist below!
Decluttering seems to be all the rage now, but it can become just another task on the to-do list if you don't have a vision for WHY you need to declutter.
Here are three simple, positive ways you can transform your life by decluttering.
Clear Spaces Increase Your Focus and Productivity
As reported in The Journal of Neuroscience, researchers at Princeton University's Neuroscience Center discovered that clutter drains you mentally by distracting you, restricting your ability to focus and inhibiting your brain's ability to process information. Cluttered surroundings can cause you to become frustrated because your mental resources are worn down. Decluttering reduces your frustration as well as increasing your ability to think and be productive.
Clear Spaces Decrease Your Stress Level
Researchers at UCLA's Center on Everyday Lives and Families (CELF) published the book "Life at Home in the Twenty-First Century" revealing the results of their study of 32 California families. They found a direct link between increased levels of cortisol (stress hormone) in female home owners and the high density of clutter in their homes. Decluttering brings calm and reduce your stress.
Clear Spaces Save You Time and Money
How many times have you spent 30 minutes or more looking for an item you know you have but can't find because of all the stuff in your home? Or what about those items you purchase only to discover later that you already have one or more stuck in a pile of junk in the back of a cluttered cabinet? Clear and organized spaces mean more time and money to do what you want to do.
If you're feeling stressed, drained and overwhelmed, decluttering is a fantastic place to start. Getting rid of all the excess stuff in your home can be challenging, but let me encourage you to keep at it by showing you some of my progress this week.
For this first week of the 31 Day Decluttering Challenge we focused on the Master Bedroom and Bath. In my bedroom my nightstand is ALWAYS a problem. I start reading a book then move to another one, but never put the first book away.
Here's a peek at my nightstand BEFORE: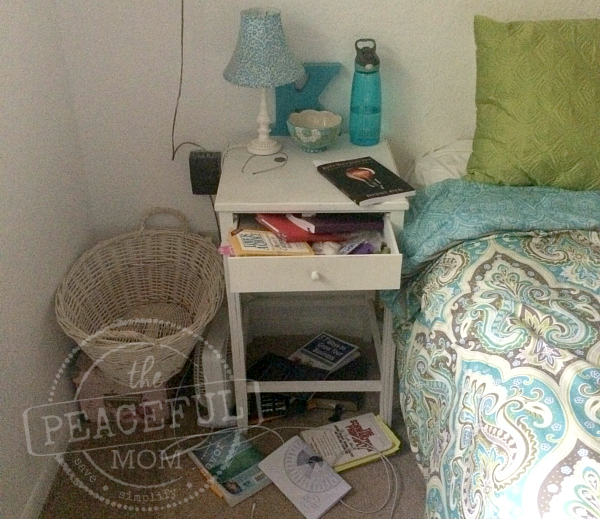 And here's what it looks like now: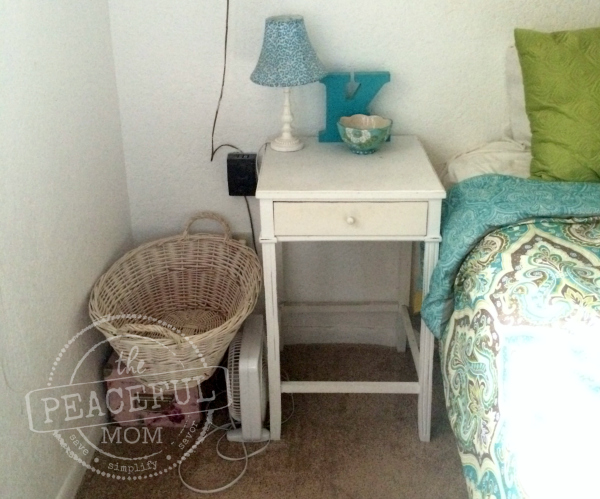 I feel so much more peaceful now when I go to bed!
The one book that I am currently reading is in the nightstand drawer and I put it away each night. The fan on the floor goes on the top of the nightstand and then I put it on the floor (most mornings!). The basket holds our decorative pillows at night.
(One of our upcoming fixer upper projects is re-wiring the house so we can have ceiling fans that don't require a box on the wall!)
I also "cheated" a little bit and worked in my office since it was the area that was bugging me the most.
This corner of my office had become a dumping ground for school books, papers and projects. I spent most of my 10 Minutes a Day this past week clearing up the mess.
Here's what it looks like now: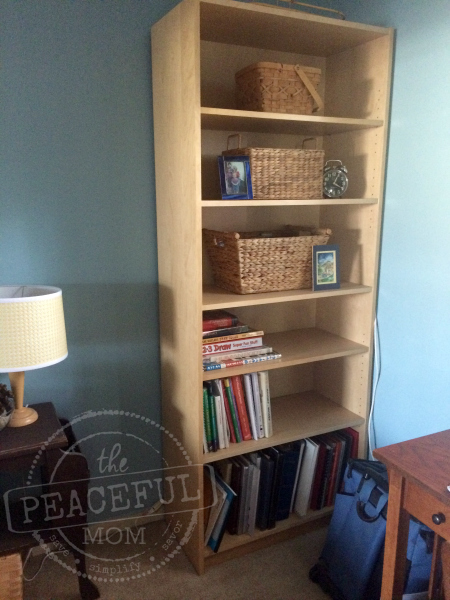 Ah! SO much better!
31 Day Declutter Printable Check List
It's not too late to jump in and join us for the 31 Day Decluttering Challenge!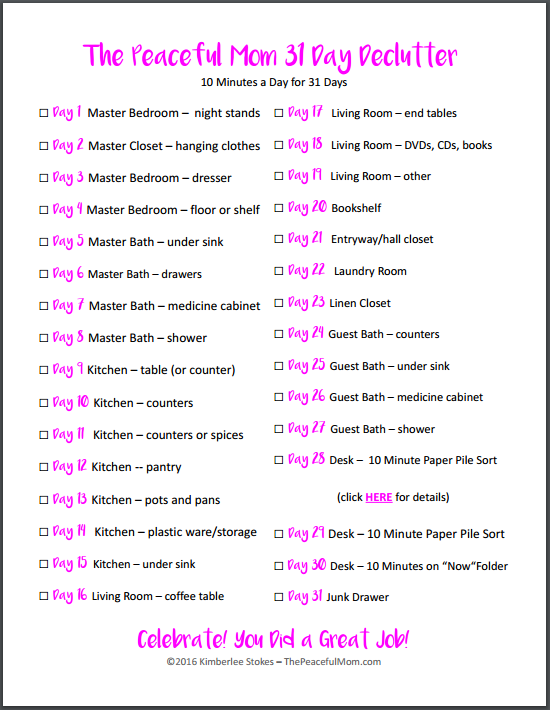 I have a FREE Printable 31 Day Declutter Printable Checklist for you if you'd like to join in.
Work just 10 minutes on the area of the day — it's that simple!
Simply join the 30 Days to Organized group HERE 
and grab your free 31 Day Declutter Checklist!
So how did you do this past week? Leave a comment or a link below. 🙂