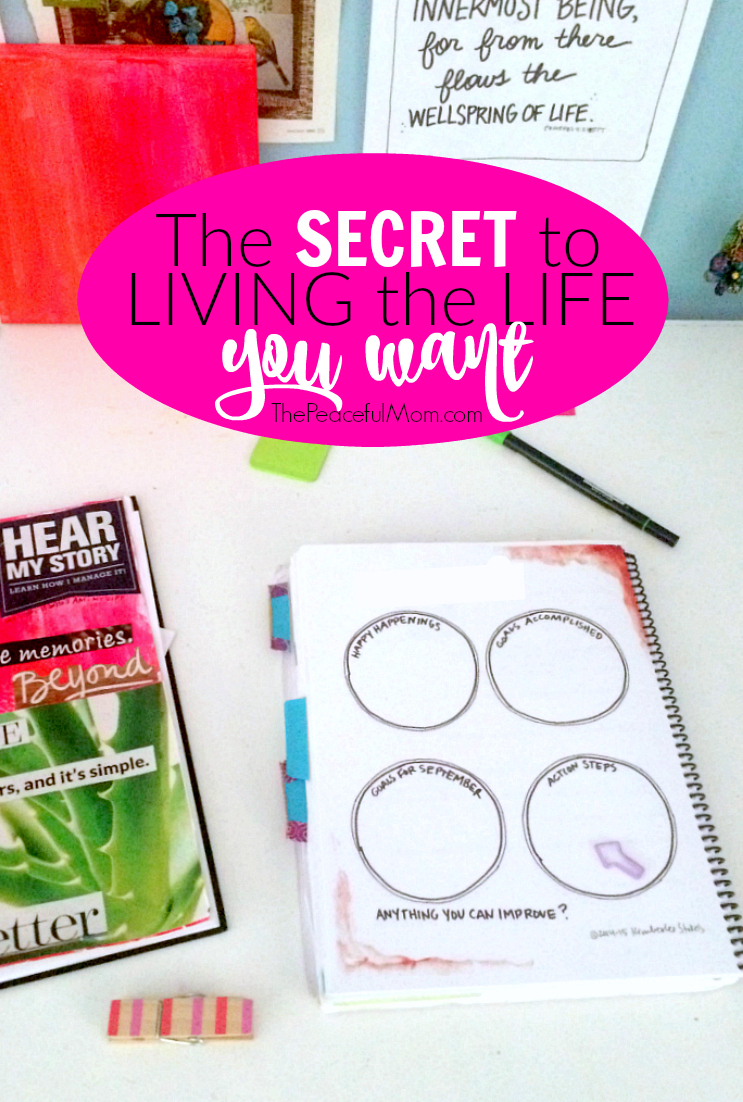 The Secret to Living the Life You Want
Do you often feel discouraged or discontent?
Do you wonder if your life is everything it could be?
Do you feel overwhelmed by all that needs to be done?
I can SO relate! For much of my life I felt overwhelmed, discontent, depressed and out of control. I felt like a victim of my circumstances and I believed that I could never live any differently. I just kept moving through my days, but I experienced very little joy.
Then a few years ago I began a journey toward living my very best life which has led me to where I am today – waking up every morning filled with joy and excitement about my life. Yes, there are challenges, but I am more content and at peace than I have ever been before.
The secret that I discovered is envisioning the life I want to lead and then taking tiny steps every day to move toward that vision, no matter how insignificant those steps seem to be.
And one of the best tools I have found to keep me motivated to make those tiny steps is a monthly review and planning session. I've been able to accomplish so many more of my REAL goals by writing them down, incorporating them into my weekly plan, and then reviewing my progress each month.
Here's a peek into my process: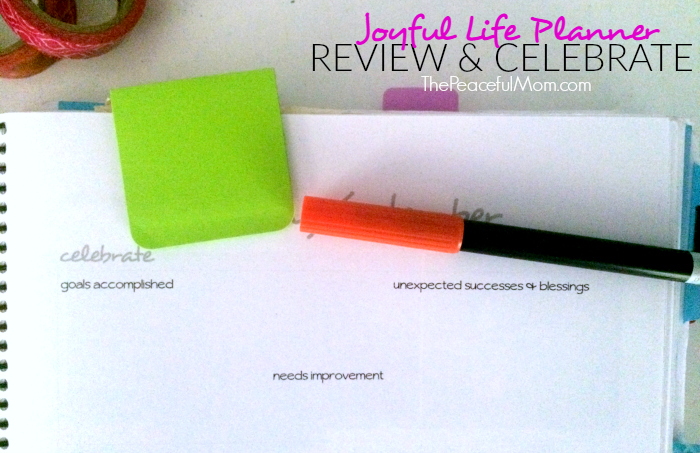 REVIEW
At the beginning of each month I write down the goals I accomplished the previous month and the happy surprises and blessings I experienced. I take a second to celebrate all of the goodness and thank God for it. This seemingly insignificant act is amazing motivation to continue moving toward my goals and it keeps my mindset positive.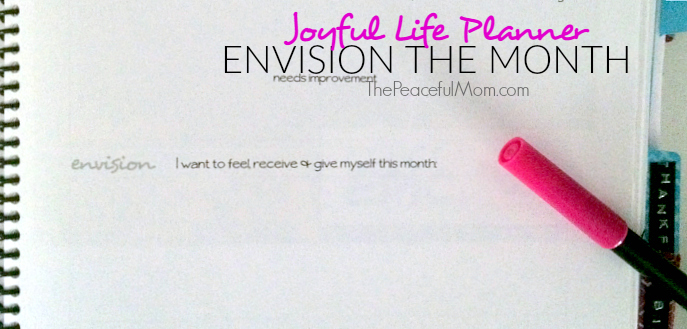 ENVISION
Once I've wrapped up the previous month, I begin to envision the upcoming month and all that I want to experience and accomplish. I review my Big Picture goals then pray and think about my priorities and where I want to be at the end of the month. Different seasons of life require different priorities and making the decision of what's most important at the beginning of the month ensures that I am doing what I need to do.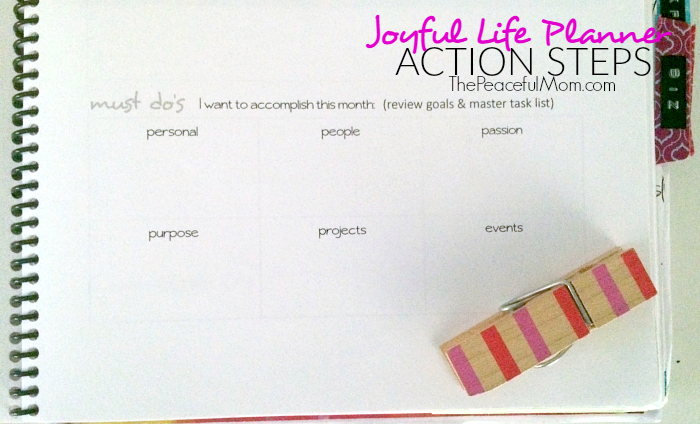 PLAN
Once I know my priorities for the month I write specific action steps in each of my 5 P's — Personal, People, Passion, Purpose and Projects. Using these categories helps me to focus on my truly most important priorities: taking care of myself so I can take care of those I love and live my life purpose.
As you are creating your goals and plan be aware of two pitfalls:
Setting goals based on what someone else tells you is important rather than deciding what you really want.
Setting huge goals and not breaking them down into tiny action steps.
You will be far happier and more successful if you choose goals that are meaningful to you and then break them down into very small, actionable tasks.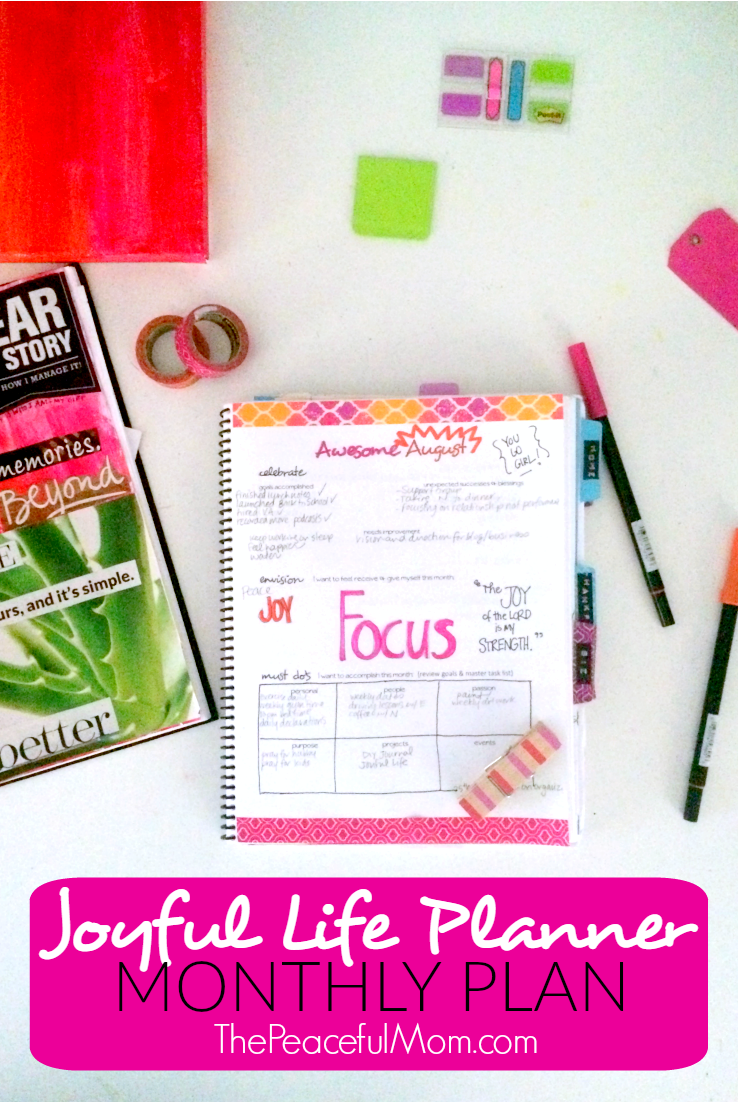 To give you an example, let's take a look at my action steps for this month:
Personal
Spend quiet time each morning praying and connecting spiritually.
Walk daily.
Drink 6 – 8 glasses of water daily.
Go to the gym at least once a week.
Go to bed by 10 p.m. at least 5 nights a week.
People
Weekly date with my husband on Friday night.
Driving lessons with my youngest child on Wednesdays.
Make doctor's appointment for child with health issues.
Schedule individual dates with my kids.
Coffee date with a friend.
Passion
Art journal once a day.
Spend 1 hour each week painting.
Purpose
Pray daily for my husband and kids.
Encourage my husband.
Write blog posts each week to encourage women.
Projects
Prep for speaking engagement at the end of August.
Complete 1st section of 2017 Joyful Life Planner.
Finish at least two pages in the DIY Art Journal volume 3.
31 Day Declutter (grab your FREE printable HERE)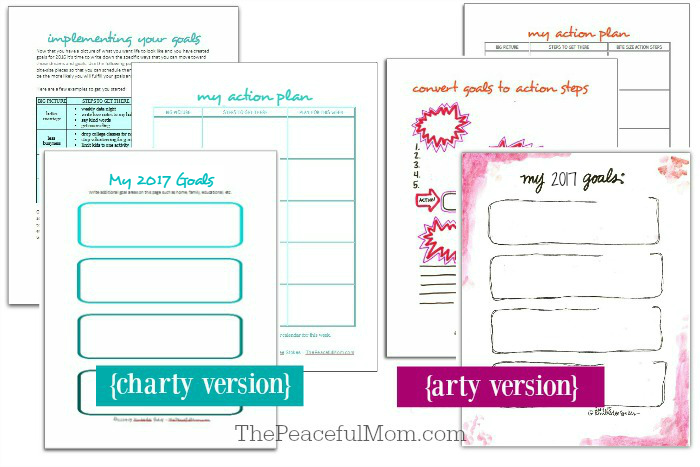 Of course you can create your own monthly plan and review process, but if you'd like a little jumpstart you can check out the Joyful Life Planner to with my exclusive monthly planning pages and LOTS more organizing help!
Click

HERE to see what's inside.

If you'd like to live more purposefully, leave a comment below with some of your action steps for this month.