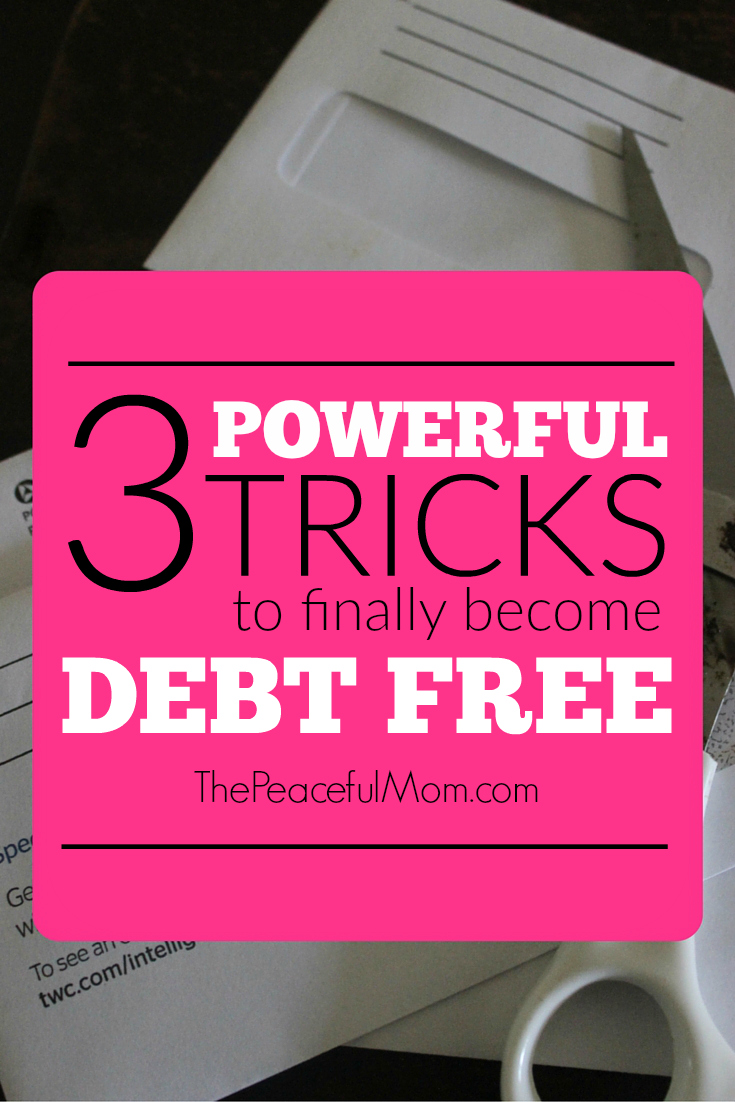 3 Powerful Rules to Get Free from Debt is a GUEST POST by Jamie Jeffers.
Our family has a BHAG (Big Hairy Audacious Goal) to pay off a big debt this year.  We've tried paying it off in the past, but time and again we quit.
This year, something happened.  We're finally on track to reach our goal.
What changed?
We discovered rules for getting free from debt.  When we stick to these rules, we make progress.  When we don't, we flounder.
Let's take a look at these three simple but powerful rules.
Rule 1: Find your focus.  
If you're going to reach your goal, you need to know what you want! What will you pay off? How fast? How much do you need monthly to reach that goal? By being specific, you'll learn if your goal is realistic.
Don't set yourself up for failure! It's great to stretch yourself a bit. If your goal requires you to pay more than you make each month, you'll need to break it into smaller chunks.  Small victories are important.
Once you have that goal in place, make it your main focus. When you have to decide whether to buy something or pay for a service, compare that to your goal. Is it worth staying in debt over?  If not, pass on the sale and put that money towards debt instead.
Rule 2:  Find motivation.  
Why do you want to get out of debt? Maybe it's something abstract like having financial freedom or less worrying. Maybe it's something more material like adding a second bathroom to your house. You'll have to decide what's most important to you, but be honest. This motivation will keep you going!
Next, you can create a family motto. Ours is #yearofno.
"Mom, can I have…?"
"Sorry, honey.  #yearofno."
"Should I buy this cool gadget?
Nope, #yearofno."
You might prefer a vision board with pretty pictures of things you could have without debt. Want to give more to charity? Post pictures of a need you'd like to fill. Want to take a vacation? Create a board with words and photos of a beautiful place you'd like to visit.
Rule 3:  Accept mistakes.  
If your goal spans a longer time (like a year), understand this: you're going to mess up. One week, everything will go wrong. The car will break down.  You'll decide to buy pizza for everyone at work. Whatever the mistake or accident is, it's coming.
Decide now how you'll deal with it. Will you let a mistake derail your entire goal? In the past, I've been guilty of doubling down on bad behavior.  "Well, I messed that up.  No point in even trying now."
This year, I consider my mistake, shake it off, and move on. No one is perfect. If you can give yourself some grace, you'll be able to rise above and push forward with your goal.
These 3 rules have made all the difference for our family.  In six months, we've reached 45% of our payoff goal.  Not perfect, but progress I'm proud of!
What rules have helped you reach your goals?
____
Jamie Jeffers blogs at Medium Sized Family.  There she gives practical tips for saving money and simplifying life. Follow her family as they dig out of debt in their #yearofno, and be sure to grab the free Identify and Destroy Your Budget Busters course!