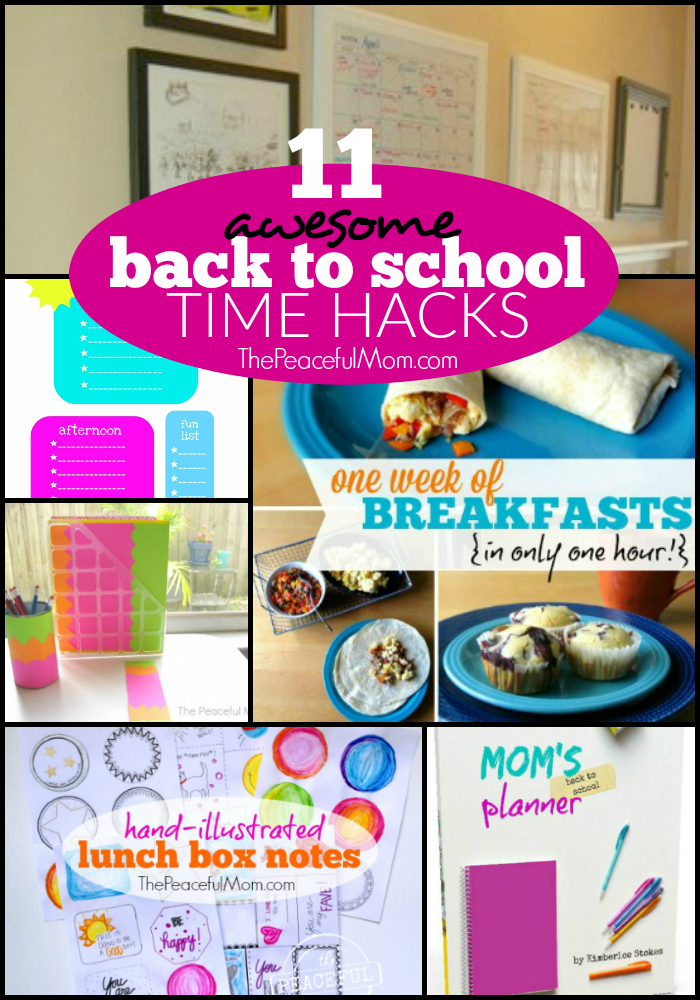 11 Ways to Save Time During the School Year
I know, I know.
You just started to get into your summer groove, but the back-to-school season is just around the corner. Whether you home school or send your kids off to class, your mornings can be super hectic during the school year. Today I've got eight awesome time saving hacks to simplify your back to school routine and save time during the school year.
Create a GoZone
Prepare for busy mornings by creating a place where you can collect everything that you and your family need for the next day. A GoZone can be a closet in your entryway or a table by the door. Make sure that you have space for keys, book bags, shoes and jackets, as well as equipment your child needs for after school activities like sports. Click here to read more.
Be Fashion "Forward"
In addition to placing book bags and shoes by the front door you can also have your children choose their outfits each evening for the next day. Hang the clothes on a hook on the door or place them on top of the dresser. Only one rule: whatever you choose the night before is what you where the next day. No exceptions.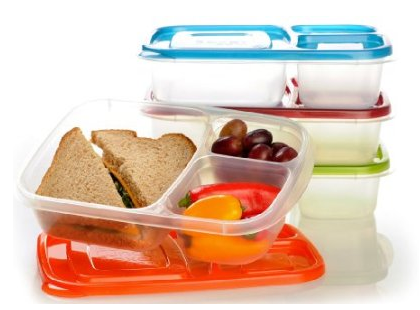 Prep Lunches at Night
Spend the time right after dinner preparing lunches for the next day. You can even designate a lunch shelf or basket with supplies you need in one place. Grab these lunch box essentials (affiliate links included below):
Check out my Lunch Box Love Pinterest Board HERE for clever and cute lunch ideas.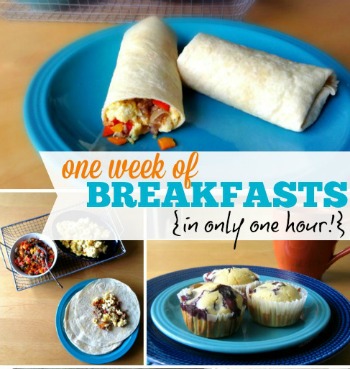 Make Breakfast Easy
To simplify mornings even more prepare easy breakfast items ahead of time such as muffins, breakfast bars, fruit and waffles. Use my 1 Week of Breakfasts in 1 Hour Plan to get healthy breakfast items in the freezer now.
Shift Your Schedule
If you have more than one child to get ready in the morning you might try shifting your wake up schedule. Get your oldest child up first, about 10 minutes before the next child, to give him or her a little more time to get ready and some much appreciated alone time in the bathroom. You'll enjoy a much more peaceful and argument-free morning. Yay!
Create a Morning Checklist
There are several steps that need to be completed before you head out the door. Rather than continuing to direct your children to the next step, create a checklist for your morning routine. Make a list for each child so they can check items off as completed. (Place your list in a plastic page protector and your child can use a dry erase marker to check off items.) Using a checklist frees you up from nagging and teaches your kids to be responsible for themselves.
Start Dinner in the Morning
Take a few extra minutes to prep dinner for that night. You can place meat in the slow cooker, prepare a salad, or measure the water and rice to cook later. Starting early will help you to get dinner on the table that evening rather than resorting to pizza delivery — again!
See my Morning Meal Prep post HERE for more ideas.
Feed Your Freezer
Speaking of dinner, take some time before school starts and/or on weekends during the school year to prepare multiple meals at once.
You can use my 8 Dinners in 1 Hour plan or see my Freezer Cooking Plans HERE.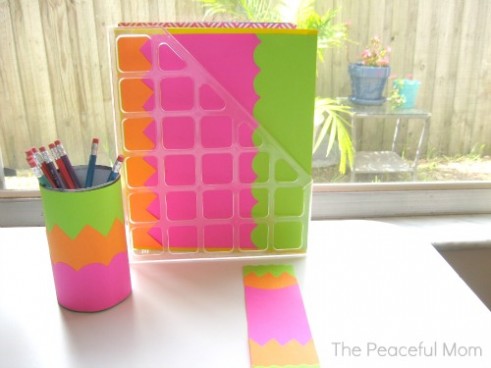 Create a Homework Center
Relieve some stress and help your kids study better by creating a designated work station for your kids to do their homework. You can use your kitchen or dining room table, or buy an inexpensive desk for your child's room.
Check out these bright and cheery DIY homework center crafts to make doing school work a little more fun!
Limit the Electronics
Help your children to wind down and get a better night's sleep by shutting off the devices (including t.v.) at least two hours before bed. They can use this time to read, do art work or play board games. You will not only encourage creativity and imagination, you will foster relationship within your family, something that spending time on individual electronics takes away.
Buy Ahead
To avoid those last-minute runs to the store, keep backups of items you need every day such as toiletries and bath tissue (check out my favorite Amazon household deals HERE). You can even create a gift box stocked with gift cards and small gifts you purchase on sale for those last minute party invitations or teacher gifts. Preparing before you need to not only saves time and money, but your sanity too!
Keep Snacks Stocked
If you're that mom who greets your kids every afternoon with homemade baked goodies, I don't want to know. For those of us who are "handicapped" in that area, buy large boxes and bags of snack foods ahead of time and separate them into smaller reusable containers or plastic bags to make after school snacks a snap.
You can even take them with you to feed starving kids when you pick them up.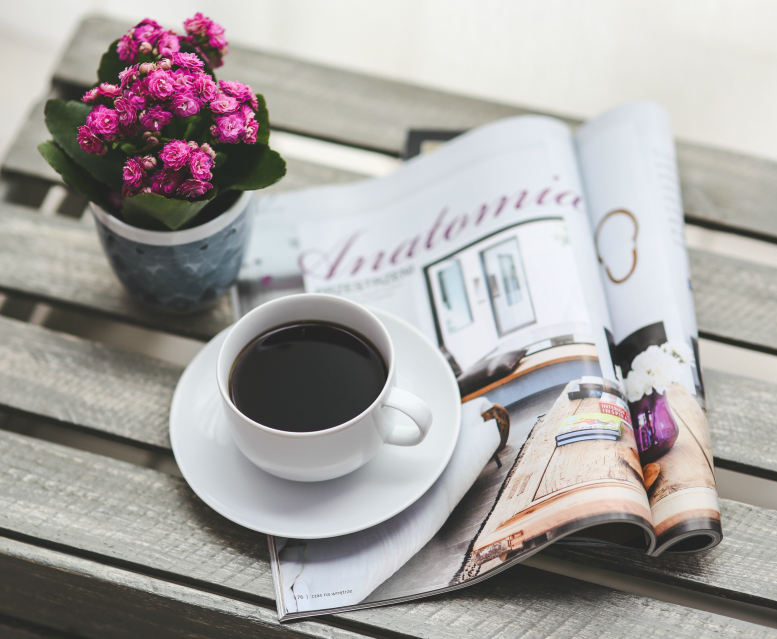 Want Back-to-School to feel like this?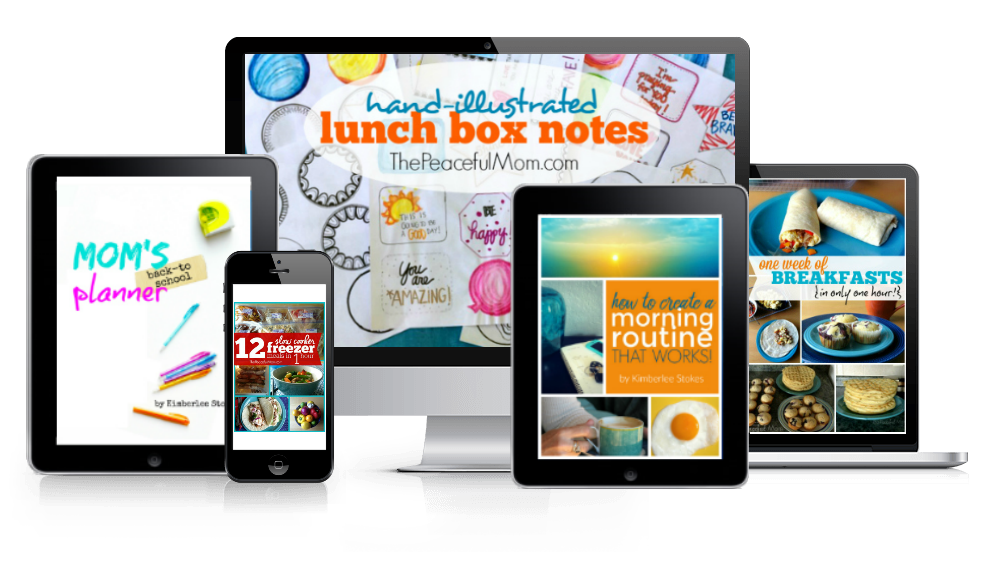 You need the Mom's Back to School Planner Bundle.
INCLUDING:
the scientifically researched technique to help your child maximize his study time
the one "trick" to get your kids to bed without a struggle (with testimonials that it works!)
the 3 organizational zones you need to create in your home now to stay organized all year long
my weekend prep plan to keep your school days stress free
28 theme meal ideas to make meal planning a snap
printable hand-illustrated lunch box notes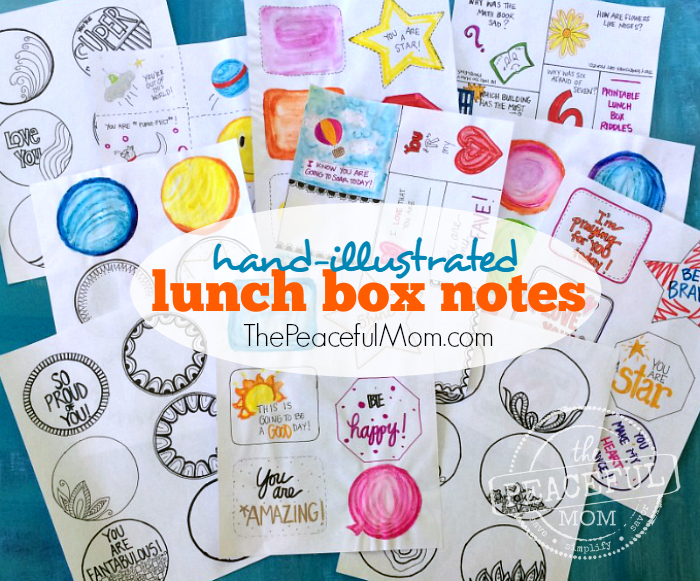 Click

HERE

 to see what's inside!