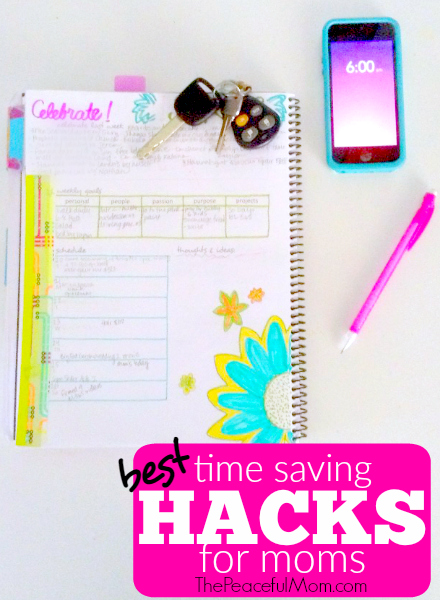 5 Best Time Saving Hacks for Moms
Life is busy and it seems that the to do list is never ending. Today I'm sharing the best time saving hacks for moms so you can get stuff done and move on to the stuff you really want to do.
Eliminate Non-Essentials
This is actually my top time saving tip. Decide your top priorities and don't worry about the rest. Some of the non-essentials that I have eliminated are:
washing and folding kids' laundry – When I had four kids ages five and under I had my toddlers "fold" their own clothes and place them in their dresser drawers. At age 12 each child becomes completely responsible for their own laundry with a little bit of instruction from me.
folding sheets — I also skip folding bed sheets. I keep one set of sheets for each bed, wash them once a week and place them back on the bed.
making breakfast — I keep easy to prepare foods like bagels, cheese toast, cereal and yogurt so breakfast is a DIY event.
volunteering — You may disagree with me but my top priority is taking care of my family and running my business so I don't have time for a lot of outside activities. In a different season I may do more but for now I severely limit my volunteer commitments.
cooking on Sundays — Cooking is one of my least favorite tasks so I take a break at least once a week and let my family eat leftovers or make sandwiches.
answering the phone – Most people text now rather than making a phone call but I learned long ago to turn off the phone for extended periods of time so that I can focus on what's most important. You can use the "Do Not Disturb" setting on your smart phone and answer calls and texts when you have time.
Just Say "No"
Part of eliminating non-essentials in your life is setting good boundaries. In order to live your most purposeful and joyful life you will have to choose to not participate in many activities and opportunities that fall outside your top values and priorities. Saying "no" is one of the most challenging aspects of living intentionally and it's never easy.
In the past month I have had to decline social engagements, job offers and other requests. None of these were negative opportunities, they were simply options that would have prevented me from accomplishing my top priorities this month. And turning down friends, family and work associates is never comfortable for me, but it is necessary if I want to live my best life.
For tips on saying "no" effectively, read How to Say 'No' and Be Nice About It HERE.
Batch Tasks
Now that we've talked about eliminating those tasks that you can't or shouldn't be doing, let's talk about how to be more efficient with what you DO need to accomplish. My favorite way to save time on household and work tasks is to group them together and do them at one time. Some examples of ways I use task batching are:
bulk cooking — I cook ground beef and chicken ahead of time to use in meals throughout the week and make multiple meals at one time to freeze for later. You can also double dinner and eat the leftovers a couple of days later. See my 8 Dinners in 1 Hour Chicken Plan, How to Freeze Ground Beef and Freezer Meal Plans HERE.
money appointment — Taking care of paperwork can be super time-consuming. I file bills and other papers I need to take care of and schedule one day a week to deal with bill paying, balancing the checkbook and taking care of other financial details.
errand day – I choose one day a week to complete all of my shopping and other errands. This not only saves time, but gas money as I can plan the most efficient route.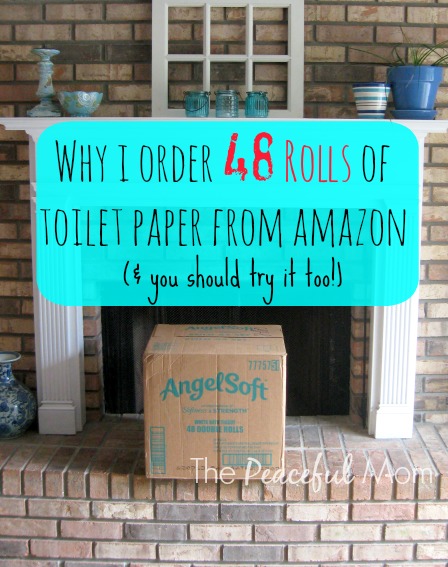 Use Online Services
If you've followed me for any length of time then you know that I order our toilet paper and a few other household items from Amazon. (See the deals I love HERE.) I love the convenience and the savings.
If you're ordering from Amazon on a regular basis it may be worth your time to check out Amazon Family. It's part of Amazon Prime and gives you 20% off on diaper subscriptions (an awesome way to automate your life when you're a new mom!), free shipping, exclusive baby registry and family discounts and more. You can also use the Subscribe and Save option to automate your ordering so you save even more time.
Get a 30 Day FREE Trial of Amazon Family HERE. 
Of course you should make sure that a service is a good fit for your family and your budget.
Create Routines
A fantastic way to save time and simplify your life is to create routines as much as possible. Designate specific days for specific tasks, create a morning and evening routine for your family, clean your house in the same order every week.
Creating routines puts your life on auto-pilot and ensures that you can take care of important tasks without expending much energy. Once you institute regular routines you will find that your children are much calmer as well because they know what to expect.
Here's to More Time for Fun!

What's your best time-saving hack? Share in the comments.
(eMail readers will need to click through the title of this post to comment.)