How to Get Ahead When You Don't Make Enough Money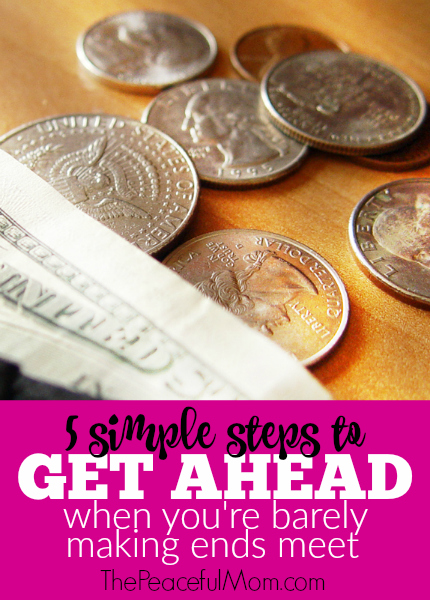 I received an email this week from Anne (name changed) who wanted to know how to get ahead when you don't make enough money.
She wrote:
"I am so frustrated with our financial situation! Every paycheck once we pay everything we owe, we are left with no money to live on so we end up using our credit cards for gas and groceries, which only digs the hole deeper. How are we supposed to get ahead when we are barely treading water now?"
First of all, I TOTALLY understand. In December of 2010 we sold pretty much everything we owned and moved to another state to train for an overseas job. During the training we realized that we had made a HUGE mistake and we essentially had to start over which meant finding jobs, a home and everything we needed to fill it.
Thankfully my husband found a job fairly quickly, but when bills came due we had to pay them with my husband's paycheck from that week and pray that we had enough money for gas and groceries to get us to the next week. It was very stressful and after almost a year of living this way we were desperate to change our situation.
We took a few basic steps that I'll share with you today and within just a couple of months our financial situation shifted dramatically.
How to Get Ahead When You Don't Make Enough Money
These steps helped us to start getting ahead when it seemed impossible.
Make a Decision
The first step in changing our finances was to dig deep and decide what we really wanted in life. Did we want to continue the stressful way we had been living, or did we want to make a serious change?
Even if our situation looked impossible we knew that we had to do the best that we could to start turning things around. My husband and I talked about our financial goals and agreed to work toward them together. Making the commitment to change was super helpful when we had to make difficult decisions.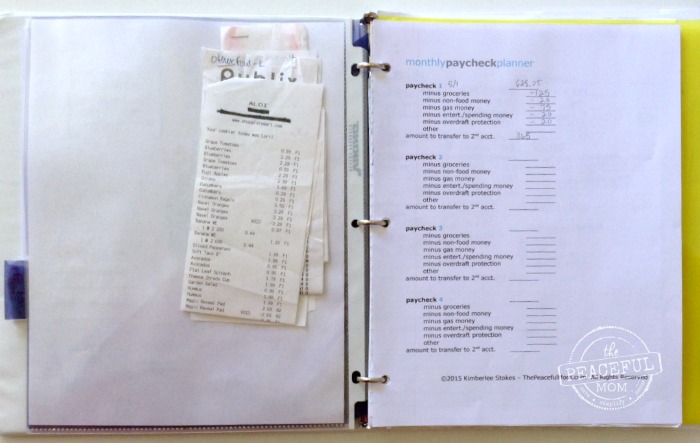 Plan EVERY Dollar, EVERY Paycheck
The key to making our finances work was to plan every single dollar of every single paycheck according to our top financial goals.
We realized that we had been making excuses for spending small amounts of money believing the lie that "it doesn't matter anyway since we don't have enough money." When we began to account for every dollar and choose ahead of time how to spend it, we began to see immediate improvement in our financial situation.
Practically that meant that I scheduled an appointment with myself every payday (and still do!) to look at our income, the bills that were due in the next week and our current financial goals. Once I had a plan I checked in with my husband to get his thoughts and then we worked our plan.
Dave Ramsey teaches that there's a "nerd" and a "free spirit" in every couple, so the "nerd" should do the planning and detail-oriented parts of the finances and then share the plan in a short 10 to 15 minute meeting to get feedback from the "free spirit". This works well for us.
Read How to Plan Your Paycheck HERE for details and to print a free Paycheck Planner.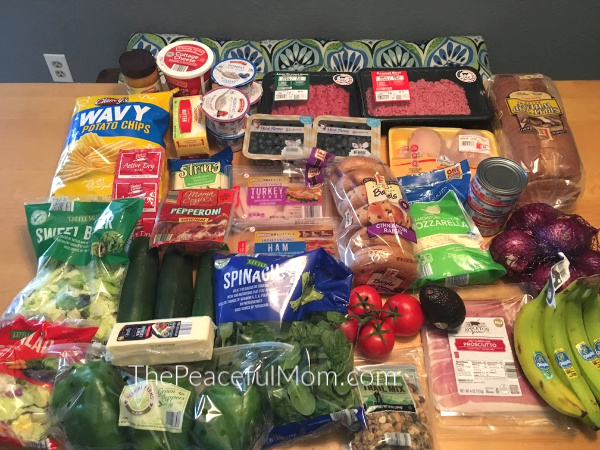 Pay Essentials First
When your financial situation is unstable you can easily lose control and allow outside circumstances to determine where your money goes. To regain control of your money you have to decide what your true priorities are and make decisions based on those priorities.
Taking care of your family's basic needs (rent or house payment, food, power, gas for your car) has to come before making any other kind of payments or spending other money. (To see practically what our budget and spending look like read THIS POST.) We have found that if we make our mortgage or rent payment first, it's easy to find sources of food (local churches, food pantries, etc.) if we run out of money that week.
Receiving calls from creditors can be unnerving, but you have to make your family's needs your top priority and pay off your debt AFTER you make those basic needs expenditures. (And I'm talking about basic food, not splurging on food delivery or eating out. Read more about food spending HERE.)
Your credit score may suffer, but that's the least of your worries in this circumstance. You need to stop using your credit cards for necessities and going further into debt.
Set Up A Second Account
Once we made the decision to work diligently to change our finances, I knew that I needed to have a plan for managing our money that would work for us. I'm very visual AND an impulse spender so seeing the money in our account led me to believe that I could spend the amount I saw.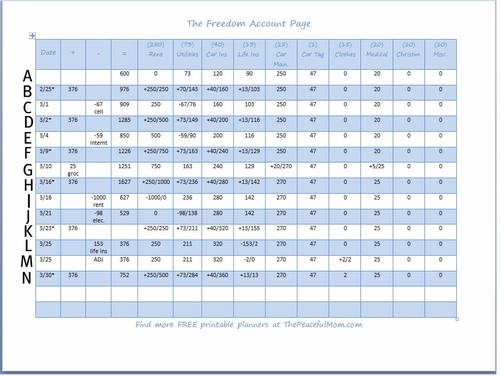 To solve this problem we decided to set up a second checking account to save money for upcoming expenses and "trick" ourselves by moving the money out of our primary account on payday. I created a spreadsheet with all of our monthly bills in order of priority (rent, utilities, etc.) and we started putting money into the second account from every single paycheck, no matter how small it seemed. (To see how to use a second checking account to get ahead, click HERE.)
This second checking account was key to changing our situation. Those small amounts of money quickly began to add up and we began to get ahead of the next month's bills and within a short time we even had savings.
Acknowledge the Truth
When you're struggling to make ends meet it's easy to become overwhelmed and make poor decisions because of the way you think. I know that when we were struggling the most I felt hopeless that our situation would ever change so I would make excuses like "We're not going to have enough money anyway, so who cares if we spend this $4.00 on drinks at the gas station?" Even though we were literally living paycheck to paycheck, we were spending money on non-essentials on a regular basis.
But those $4 and $5 expenditures added up to $50 a month or more that we could have been using to change our financial situation.
Sure, spending money impulsively met an emotional need in the short-term, but the consequences of that reckless spending created incredible stress in our lives — and we had to acknowledge the truth of what we were doing and decide that it just wasn't worth it.
I'm not saying that you should never have any fun, but pay attention to your mindset and the excuses you make about spending money unnecessarily.
By determining our family's actual NEEDS and paying those first, we could easily see extra money in our budget that we hadn't noticed before — and by simply being faithful to put the little bit of extra money into the second account a little at a time instead of spending it, we were able to pay each bill when it was due and still have money left in the account for future bills.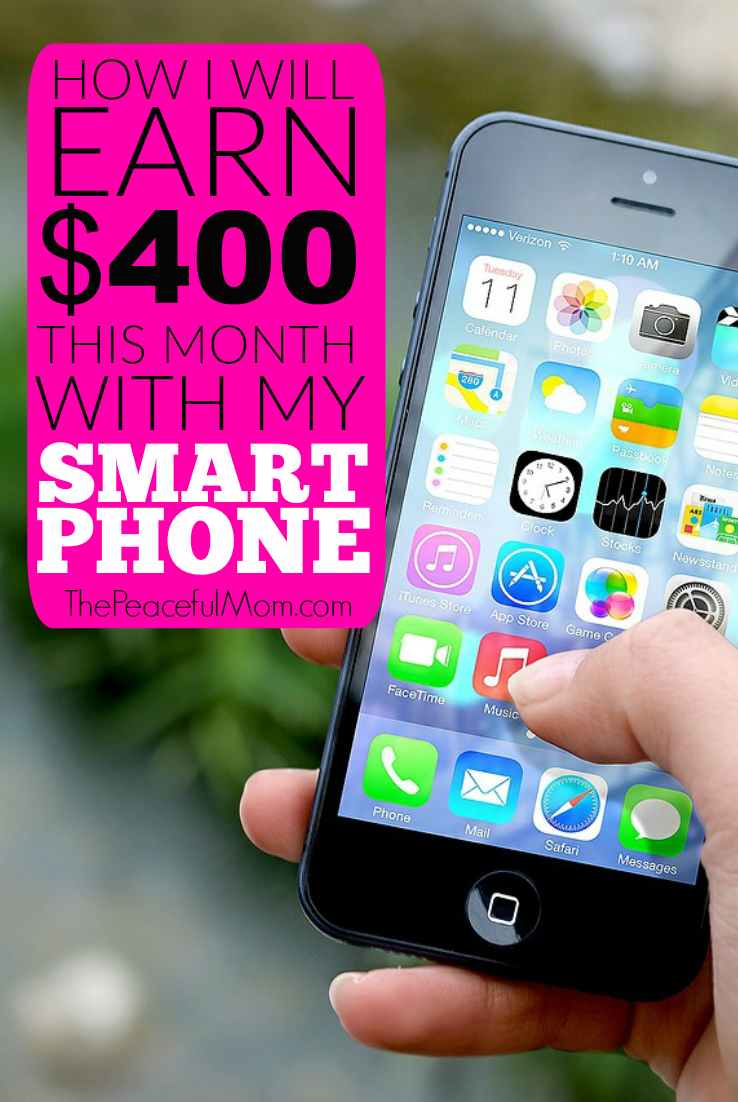 Increase Your Income
Sometimes even when we drastically cut our expenses and we're very disciplined with our spending, we simply need to bring more income into our household. I understand that dilemma as well, and it's one of the reasons that I started researching how to make money with my blog. It's taken time, but now my blog is a significant source of income for us.
If you need extra money, try my suggestions for How to Make an Extra $400 a Month HERE to get a little ahead.
As a result of making the choice to establish these new money habits, we were able to start consistently paying our bills AND saving money. The little bit extra we added to our second account quickly added up which enabled us to get ahead on bills and start adding money to an emergency fund.
That's not to say that everything has worked out perfectly.
As I mentioned recently, we currently owe thousands of dollars in medical debt, but we are applying these same principles to pay down the debt as fast as we can. (UPDATE: Everything is paid off now and we are debt free except for our house.)
My advice to you is to never give up hope and to take tiny, baby steps to reach your goals. If we can do it, you can do it!
I would love to hear your advice so please leave a comment. 🙂
Cheering You On!

Want a simpler life?
Join our simplifying, organizing, life-changing community!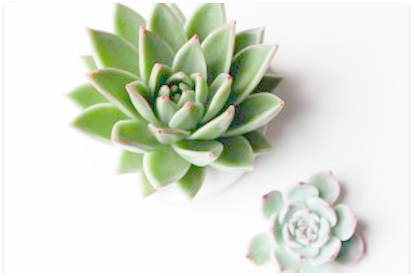 Click here to join The Peaceful Mom Community!
Get weekly encouragement & 10 Minute Organizing Tips
PLUS access to our Organizing and Printable Library including:
10 Minutes a Day Declutter Calendar — focus on one small area each day of the month
Organizing Printables – to organize your life one baby step at a time
Monthly Gifts – because who doesn't love a surprise?

You May Also Enjoy: