How to Get Everything Done
Do you ever feel like there is always something else to do and you can never "finish"? Does it seem like once you accomplish a task you realize there are three more that need to be done?
Well, you're normal.
So how to get everything done?
The truth is we will never, ever finish everything that we would like to do, or maybe we should do, but we can accomplish what is most important to us by writing everything down and prioritizing.
Now you don't have to go old-school and write on paper like I do (although there are scientifically proven benefits to this method), but you do need a way to track everything that needs to be done so that you can look at all the moving pieces and manage them.
When I had four children ages five and under I used a chart with basic routines for the day which helped me to stay on track (see the Preschool Mom's Helper HERE.) Scheduling doesn't always work when you have lots of little people, so the structure of your day needs to be flexible. Using routines rather than a time-based schedule works much better in this stage.
Now that I work from home and my teens are involved in many more activities, there is much more to keep track of.
My secret to staying organized is focusing on one week at a time and creating a prioritized plan of what needs to be accomplished in my Joyful Life Planner. No matter what happens I simply have to re-focus on the week's most important tasks and get back on track. I choose one day for each bigger project and fit the smaller ones into the in-between times.
If you choose to create a plan for this week remember to keep everything simple and choose 3-5 tasks maximum for each day. You can also create a "best-case scenario" list with extra items if you have the time, but by focusing on your most important priorities first you will be much more likely to accomplish them.
My plan for this week:
PERSONAL –  (daily habits to keep me healthy and happy)
PEOPLE –  (activities that develop relationship with those I love)
date with hubby (dinner with gift certificate)
shopping with my 17 year old
write note to a friend
PASSION –  (creative and soulful habits that bring me joy and help me connect spiritually)
PURPOSE –  (tasks and activities that enable me to fulfill my life purpose)
(wife) encourage my husband daily
(mom) pray for my kids every morning
(encourager) call a friend to pray together
PROJECTS  –  (tasks to take care of our household and move me toward my dream) 
prep house for daughter's graduation party
prep for speaking engagement
work on summer project for the blog
Read more details about how I create my weekly plan here.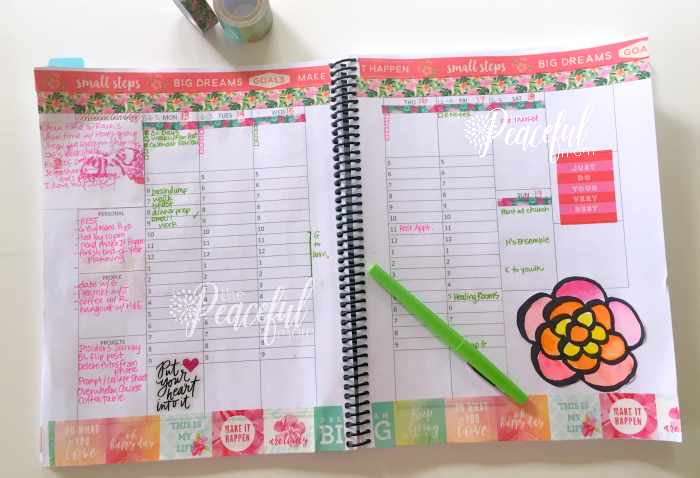 If you would like to prioritize your week using my system, check out the Joyful Life Planner
Click here to see more of what's inside.
What's YOUR plan for this week? Leave a link or a comment below.
(eMail readers will need to click through the title of this post to comment.)
You May Also Enjoy: