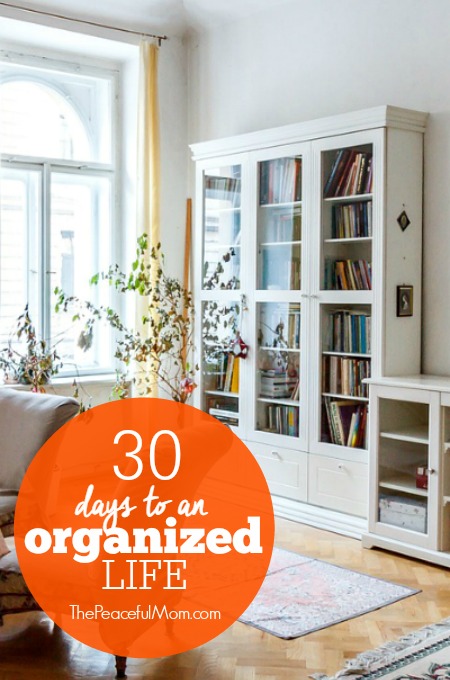 30 Days to an Organized Life Day 29
We're almost to the end of the 30 Days to Organized Challenge and today I want to help those of you who feel "behind" or overwhelmed. As a mom, it's easy to reach the overwhelmed state but it can be difficult to know how to overcome it.
I've got 5 practical ways you can overcome overwhelm and have a happier day.
Breathe
When everything is spinning our first instinct may be to accomplish as much as possible in a short amount of time, but actually the first thing we need to do is to stop for a minute and get some perspective. Breathe in deeply and calm yourself down so that you can think clearly.
When I had four children ages five and under I would put the baby in the crib, put a movie on for the preschoolers and go into our master bathroom where I would lock the door and stand in the shower with the water off just to have a minute of quiet. Once I calmed myself down I could return to the busyness with a better frame of mind.
Brain Dump
A "brain dump" is a journaling exercise during which you write everything that is currently on your mind. You can write individual words, make lists or write out your feelings. Getting everything out of your mind and on paper is an immediate relief and can help you gain perspective.
Once you have "dumped" everything you can spend a few minutes highlighting those items that are most important and choosing one item to take action on now. You will be amazed and how much better you feel and how the overwhelm starts to clear.
Focus
Once you have everything out of your brain, choose one task that will make the biggest difference in your life right now.
A few ideas to get you started:
Wash the dishes that are in the sink.
Clear a table covered with papers and other stuff.
Clean up the pile of clutter in your living room.
Start on the mountain of laundry.
Create a meal plan.
Ask a friend to watch the kids at her house so you can take a nap.
Clear a kitchen counter.
Say no to a few upcoming obligations.
Make a freezer meal.
Call a friend to chat.
Relax
Sometimes the best way to deal with a too long to do list is to forget the list and go do something fun. You will return to the list with more energy, motivation and creative ideas.
I just did this a couple of days ago when I was feeling overwhelmed. I took several hours off to a walk, spent time with my kids, eat some chocolate and watch way too many home improvement shows on Netflix. The next day I was full of energy and accomplished everything that needed to be done in record time.
Prioritize
Once you're feeling better take a few minutes to create a quick list of what is most important in your life. Look at those items on your brain dump and circle the tasks that have to do with your most important list. The other stuff can wait for now.
Today's 10 Minute Task: Take a few minutes to create your MOST IMPORTANT LIST. Write down your top values and priorities. Keep this list handy for those moments when you are feeling overwhelmed.

Want to get organized so you can do the stuff you want to do?
Join our 30 Days to Organized Community

HERE

.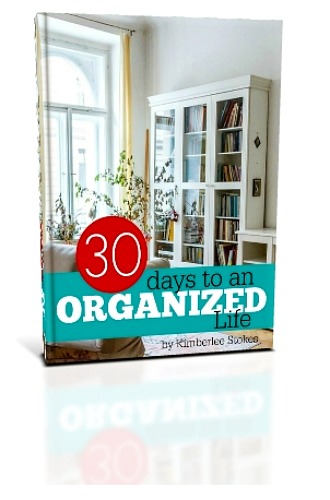 Want the entire 30 Day Challenge at once so you can work at your own pace?
Grab the 30 Days to an Organized Life ebook.