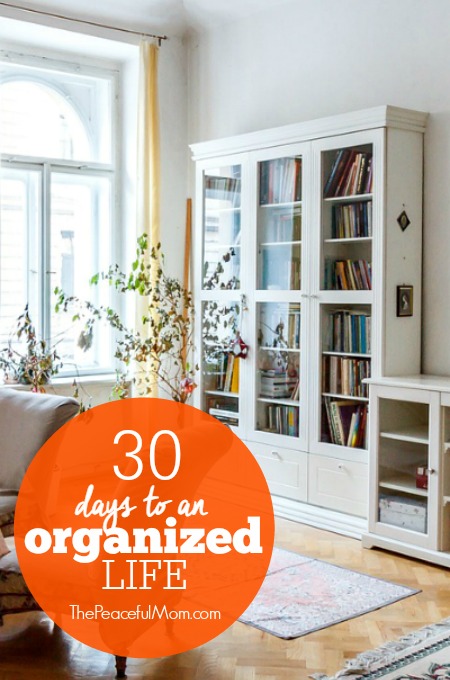 30 Days to an Organized Life Day 24 
So far we've covered a lot of areas that need organization and decluttering, and this week we're diving into some of the hidden clutter in our lives.
One of the main sources of clutter for me, and the one area I am constantly trying to get a grip on is my email inbox.
People, all I can say is #FAIL!
If you're super organized and accomplish inbox zero everyday please move to the back of the line. This post is for those of us who struggle to deal with all of the electronic communication flowing into our lives.
I admit it, I am a full-fledged, card-carrying member of Email Procrastinators Anonymous. Before I instituted a system of dealing with email I had — count 'em — 6474 emails in my inbox.
I know. Ridiculous.
And to be honest, at this very moment I still have 2247 sitting in my inbox, but I am at least current with the most important emails. I am a work in progress.
Even though I still have old emails to go through I am at least able to stay current with the most important emails.
So how do I tame the flood of incoming mail and make sure that important stuff doesn't get lost?
Read on dear Friend!
Create Folders
You know how having piles of paper lying around is mentally and emotionally draining? Keeping piles of emails in a disorganized mess has the same effect. A filing system is an absolute must in order to manage it all.
Think about the different kinds of email you receive and create folders for the emails you would like to keep. Some of my current folders include:
bills – online bill emails for bills that I need to pay this month;
homeschool – correspondence with our school system, field trip info, correspondence from tutors;
important info – emails I need to keep for current projects and events like the address for a party we're invited to, info I need for a current work project or an email I am waiting on a response to;
business newsletters – business related newsletters get filed here and I look at them once a week. I read other blog newsletters and delete them.
Don't worry about figuring out the perfect folder names right now. You can work on this over time and when you want to keep an email, but it doesn't belong in any of your current folders you can create a new one.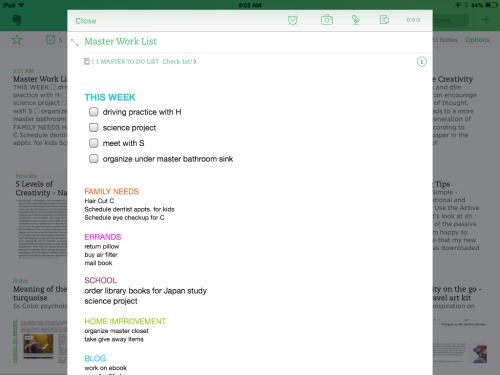 Transfer Information
Creating folders is the first step to organizing those emails, but I have a second secret weapon: Evernote. I previously stored email after email in folders because the information was "valuable" and I wanted to be able to access it later. Did I? Rarely. It actually reminds me of an episode of "Hoarders".
With Evernote I can clip the info from a website link or copy it from an email and create a note or tag it so that I can easily find it later. Some of the current folders (called "Notebooks" in Evernote) I have in Evernote are Organization Tips, Recipes to Try, Blog Post Topics, Party Plans, Art Journaling Ideas and Business Improvement. I also keep my Master To Do List there so I can easily refer to it.
You can create shortcuts to the folders or notes you use most often (like your Master To Do List) so they are easily accessible.
Click here to join Evernote for free.
Set Filters
Some email services allow you to set up filters so important emails go right into the folder(s) you designate rather than you having to deal with manually moving them into folders. This saves an amazing amount of time but you will probably want to set a time in your schedule (or an reminder on your phone) to go through the folder so these emails don't silently pile up in the folder.
Decide Quickly
To keep the inbox as empty as possible you need to make quick decisions about what to do with each email as it comes in:
delete (ads, information you don't need)
read and respond (quick correspondence)
read and file (newsletters, information you need to keep)
add to to-do list and file – (bills, work information, invitations — add the info to your calendar or to do list then file)
It may help you to write these ways of dealing with emails on a sticky note that you place at the bottom of your computer screen to help you more quickly decide which category an email falls into.
Today's 10 Minute Task: Spend 10 minutes setting up folders in your email inbox and processing as many emails as you can.

Today's Task 2: Schedule a weekly time on your calendar to spend 10 minutes cleaning up old emails.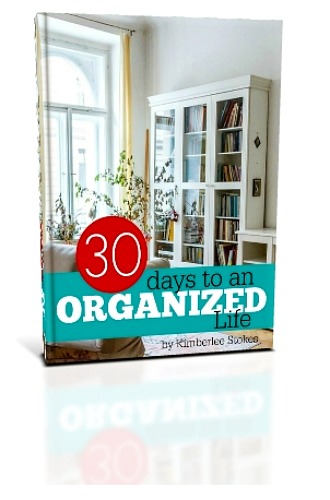 I have had several requests to create a printable form of the 30 Days posts so that you can more easily access them and refer to them later. You will be happy to know that I have created the 30 Days to an Organized Life ebook.
The book is based on the blog posts from the series but I have also:
updated and added additional information;
incorporated the ePlanner pages into the book so you know exactly where to use them and you can personalize the tasks;
added the 30 Day Task Calendar so you can see at a glance what you need to do each day;
created a Ten Minute Tasks List with over 50 quick tasks to help you when you get stuck.
This is the book for you if you feel overwhelmed or if you simply need a plan to get life back on track.

Join the 30 Days to Organized Community for:
weekly tips and inspiration plus a

10 Minute Decluttering Tool Kit

30 Days to Organized Planner
You May Also Enjoy: