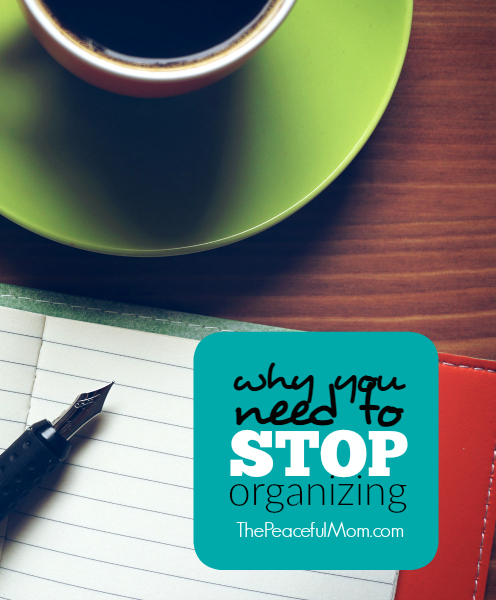 I received an email this week that stopped me in my tracks and I had to interrupt my regularly scheduled 30 Days post today to address a very important issue:
You need to STOP organizing.
You need to stop organizing if:
Organizing has become another task on the never-ending to do list.
You read organizing tips and beat yourself up because you're not doing them.
You're a single mom who is overwhelmed and "organizing" seems like a distant dream.
You have small children and you're doing great to just get out of bed.
The reader who emailed me said that she felt constantly overwhelmed by all that she had to do and while she enjoyed reading my posts, they just felt like something she could never achieve.
I was just heart broken to read this.
My goal in writing these 30 Day Challenge posts was to help you focus on organizing for a month and to give you lots of tips and ideas that you could use long term. I DID NOT want to give you 30 additional tasks to add to your to do list.
Please – if a tip is useful to you, take it and use it. If it makes you feel overwhelmed — FORGET it for now! Please, I am begging you. Overwhelm is not helpful for anyone.
And if it makes you feel better, I have been a little overwhelmed by writing blog posts
every.
single.
morning.
I even skipped a couple of the tasks myself (and used photos from last year's challenge) so that I could focus more on other priorities.
Whenever I am feeling overwhelmed I like to stop and ask "What do I need right now?"
Sometimes I need to make a brain dump of everything on my mind and prioritize the tasks that need to be done.
Sometimes I need to clean up a room so I'm not distracted by all of the stuff.
Sometimes I need to take a nap.
So please do not use my 30 Days Challenge as another excuse to beat yourself up. 
I'm so sad just thinking about that right now, so let's cheer ourselves up, eat some chocolate and forget about organizing for today.
P.S. – If you're good and you want to see the 10 Minute Task for today, please click HERE.

Join the 30 Days to Organized Community for:
weekly tips and inspiration plus a

10 Minute Decluttering Tool Kit

30 Days to Organized Planner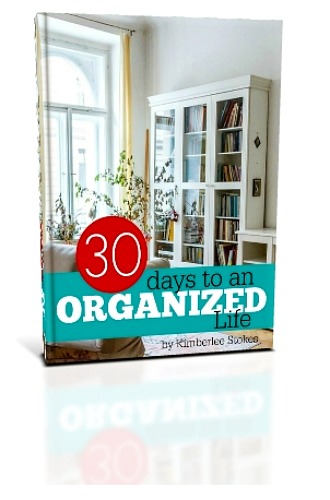 Want the entire 30 Day Challenge at once so you can work at your own pace?
Grab the 30 Days to an Organized Life ebook.