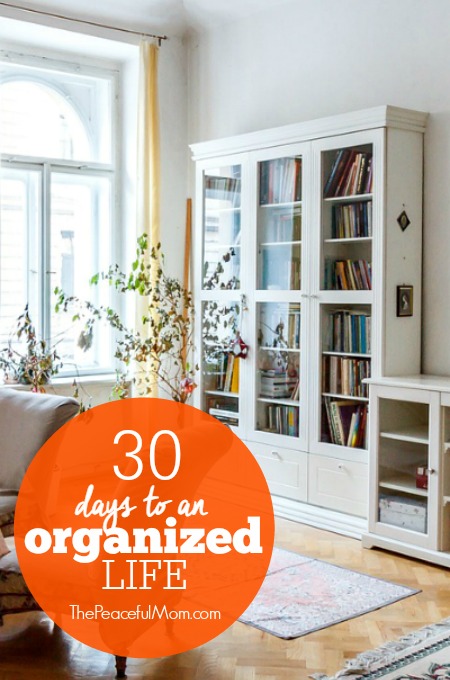 30 Days to an Organized Life Day 19
Yesterday we talked about the benefits of creating a weekly plan and in your 10 Minute Task you created a simple plan for yourself.
After looking at my weekly plans Reader M. wrote me to ask:
"Can I ask you about the goals/plans process please? How do these 5 areas in your weekly plan link back to the yearly goals you posted?

For example:

First step – big, yearly overall goals under big categories (My Children – maintain close relationships with my kids)

Second step – break down the above big goal into action steps to meet the goal (Daily chat time, etc.)
Third step – ?

I am not sure how the action steps then come under the 5 planning categories of personal/people/passion/purpose/project. Do these link back to the yearly goals/actions?
Are the yearly goals/actions broken down and fit into the 5 planning categories? Is that how we keep track of goals/actions?"
Great question! Let's take a look at my process:

Create annual vision and goals.
Every December I use my Joyful Life Planner to review the previous year and create a vision of where I want to be at the end of the upcoming year. I use descriptive language to paint a kind of picture in my mind so that I can visualize the end results that I want to achieve. I then create goals for each area of my life from this vision.
My vision and goals for this year are:
SPIRIT – maintain a close spiritual connection with God on a daily basis
BODY – lose 30 pounds, tone arms, feel more energetic
MARRIAGE – enjoy a vibrant, intimate relationship with my husband
CHILDREN – maintain a close relationship with each of my children
MONEY – continue building emergency fund; pay off medical debt; save additional $3000 this year.
HOME- enjoy a peaceful and comfortable home
BUSINESS- enjoy what I do and make money doing it
Translate yearly goals into action steps.
My vision and goals tell me where I want to go, but I also need a plan to get there. Once I have determined my goals for the year I think about the specific action steps will enable me to reach my bigger goals.
For example, for the goal to lose 30 pounds one of my action steps is to walk briskly at least 5 times a week. A business action step is to create at least one e-course this year. A financial action step is to spend $125 a week on groceries so we can save more money.
You can see all of this year's Annual Goals and Action Steps HERE,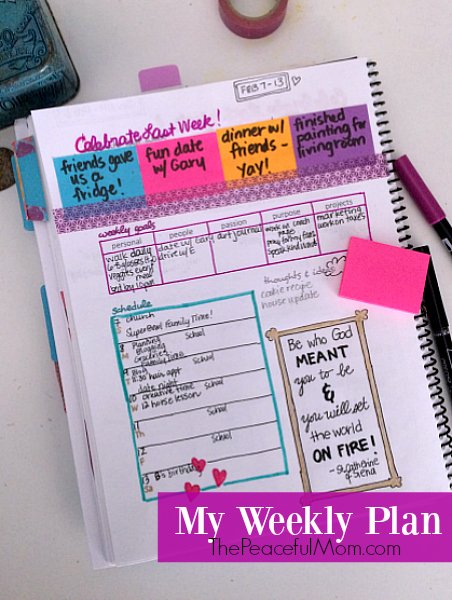 Incorporate action steps into a weekly plan.
Each Saturday morning as I create my plan for the week I look at my Annual Goals and Action Steps and choose some of the action steps to add to my plan.
I prefer to write my weekly goals in my 5 P's format because it reminds me of my true priorities (personal care and relationships first).
PERSONAL – habits that keep me healthy and happy so that I can function at my best
PEOPLE – activities that promote relationship with the people I love
PASSION – activities and experiences which refresh me and enable me to enjoy life
PURPOSE – tasks that enable me to fulfill my purpose in life (wife, mom, encourager, etc.)
PROJECTS – priority tasks that need to be finished this week
Here's how I breakdown the yearly goals into the 5 P's according to my priorities:
#1 Self Care (so that I can meet all of my responsibilities) – The My Spirit and My Body sections of my yearly goals go in the Personal and Passion categories of my weekly plan.
#2 Marriage and #3 Children – My action steps for these relationships go into the People and Purpose categories.
#4 Money/Financial Goals, #5 Home, #6 Business – The action steps for financial, home and business goals go into my Project category.
Keeping the "Project" category at the bottom of the page helps me to remember that these tasks fall below my top priorities of self-care and relationships with my immediate family. When I am taking care of myself and my family first, life is in balance.
Schedule action steps.
Creating these action steps and plans means nothing if I don't follow the plan. Once I know what I want to accomplish each week I schedule my action steps on my calendar and set phone alerts and reminders for specific appointments and tasks.
Setting a specific time when I will take the action step means that I am 90% more likely to actually do it, and that means that by the end of the year I have either accomplished my goals or at least moved much closer to them.
Of course you should do what works best for you. You could simplify the weekly plan into "Personal, People and Projects" or use the same categories that you use in your yearly plan (spirit, body, marriage, children, etc.). Some seasons of life will require more focus on certain priorities such as taking care of a new baby or training toddlers, but you should always make self-care a priority so that you can do what you need to do for those around you.
The key to living a joyful and purposeful life is finding a way to plan and implement your goals that works for you and enables you to do what is truly most important in your life.
Today's 10 Minute Task: Print the annualGOALS sheet from your planner and write down your goals for this year. Add an action step for at least two of your annual goals to your plan each week.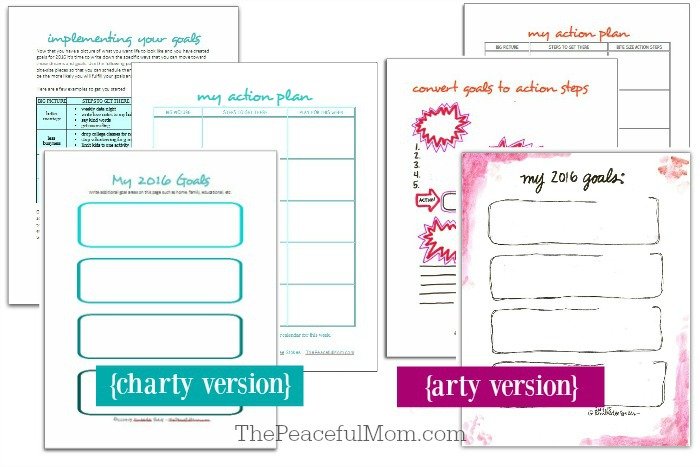 The Joyful Life Planner leads you step-by-step through this vision to weekly action steps process.
Right now you can grab the 2016 Joyful Life Planner for just $10!
Click HERE and use code JOY.
If you have questions about planning or setting goals and priorities leave a comment below or email me.

Join the 30 Days to Organized Community for:
weekly tips and inspiration plus a

10 Minute Decluttering Tool Kit

30 Days to Organized Planner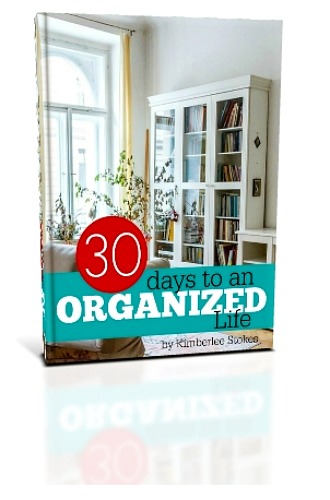 Want the entire 30 Day Challenge at once so you can work at your own pace?
Grab the 30 Days to an Organized Life ebook.