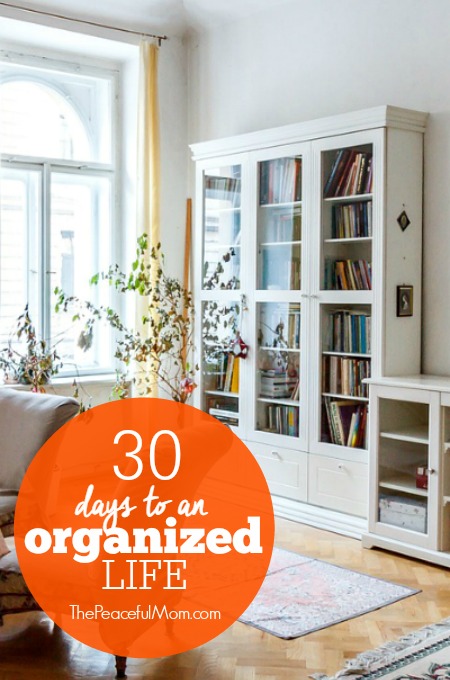 30 Days to an Organized Life Day 17
One of the main areas families use day-to day is the Family Room or Living Room. It's where we watch television, play games, read, relax and hang out. It's also a magnet for clutter.
Because we use the space every day the surfaces like coffee tables and end tables gather books, magazines, newspapers, dirty dishes and other miscellaneous clutter. The floor may be strewn with toys, coats and book bags on a regular basis.
Keeping this well-used space clean is a daily challenge, but a little trick I like to use is the 10 Minute Tidy. Every evening I ask family members to clear out and put away anything belonging to them. I then straighten the pillows and make the room as neat as possible so it's ready for the next day's fun.
Because we clean up our living room every evening I didn't need to do any decluttering for the 30 Day Challenge, so I thought I would show you how I've been updating the space over the past few months.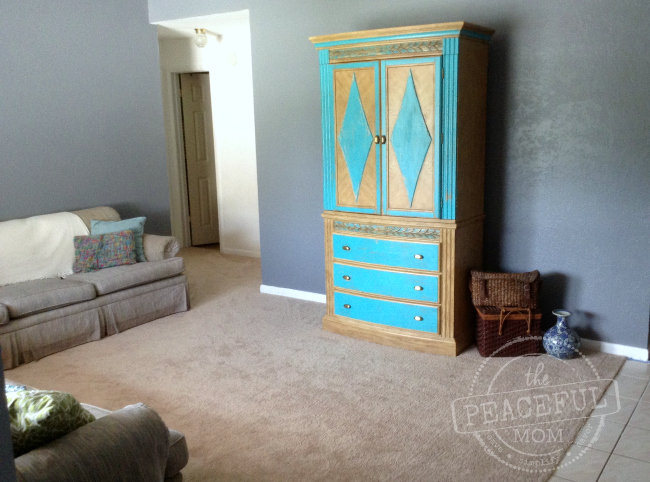 BEFORE
(photographed from the front entry)
I have never been happy with the way I started painting the entertainment center (see the first stage here) while we lived in our previous rental home,but I was stuck and couldn't figure out what I wanted to do. When we bought and moved into our fixer upper the entertainment center looked garish against the gray paint that I chose for the walls (Behr Dark Pewter), so I knew I had to do something.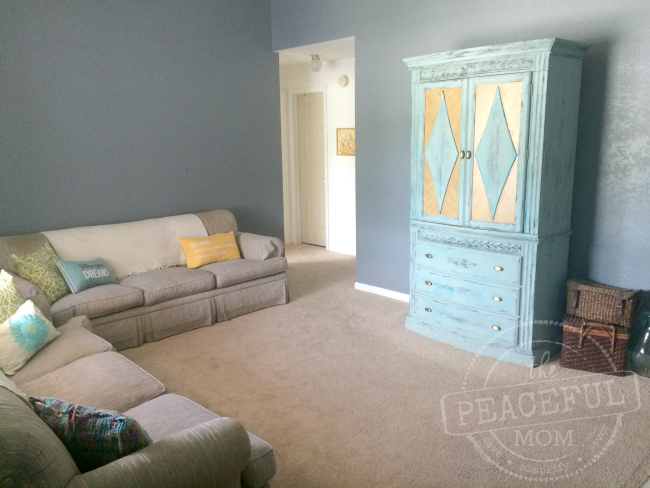 AFTER
I repainted the armoire in a softer tone (Annie Sloan Chalk Paint in Duck Egg Blue) that blends better with the gray walls. I first painted black around the outline of the doors, drawers and edges and then left some of the black and the turquoise peeking through to give it some depth.
One easy way to update the look of your room is to add some new throw pillows. I found a couple of pillows I like at Marshalls. Now the room feels so much more peaceful.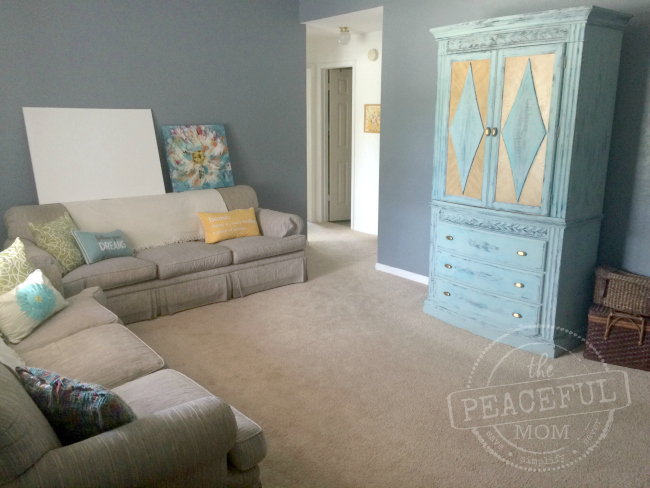 The wall behind the sofa is causing me a bit of a dilemma though. I love the painting on the right, but it's not big enough for the space so I am pondering if I have enough guts to paint a large canvas in similar colors.
I also updated the entry way table display: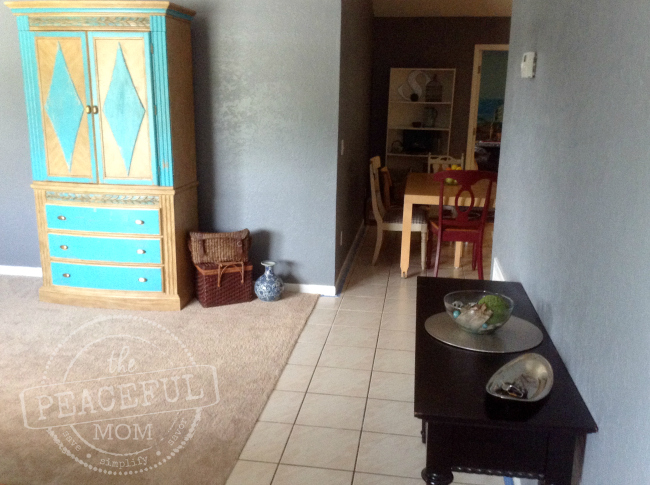 BEFORE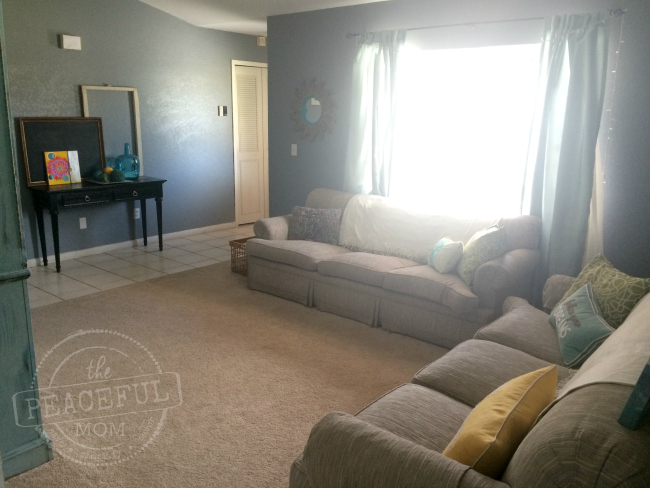 AFTER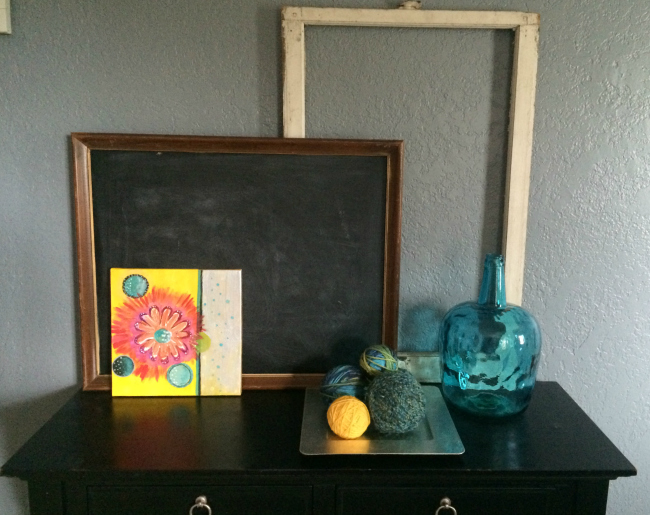 Here's a closeup.
I painted the painting on the left and covered styrofoam balls with yarn to add some texture to the display. The antique window frame came from a yard sale and I repainted a thrift store painting to create the chalkboard.
Today's 10 Minute Task 1: Spend 10 minutes decluttering and clearing surfaces in your Family Room or Living Room.

Today's Task 2: For extra credit set up a FOR SALE box and add cds, dvds and games that you want to sell. Click here for Tips on How to Sell Your Stuff.
I would love to hear what you plan to do or see photos of your before and after. Leave a comment or a link below.

Join the 30 Days to Organized Community for:
weekly tips and inspiration plus a

10 Minute Decluttering Tool Kit

30 Days to Organized Planner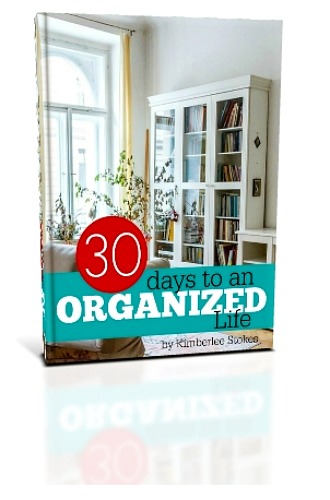 Want the entire 30 Day Challenge at once so you can work at your own pace?
Grab the 30 Days to an Organized Life ebook.