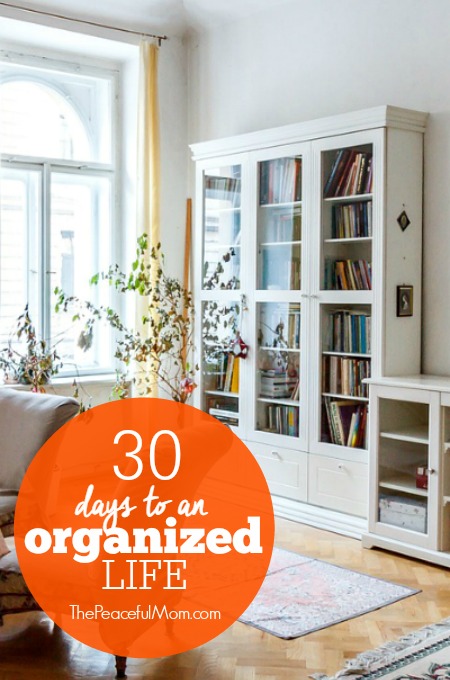 30 Days to an Organized Life Day 14
Today we're getting real about Laundry.
Do you have piles of clothes around your home? Do you constantly feel overwhelmed by the never-ending cycle of keeping clean clothes in the dresser drawers?
If you're like many moms, you know the family needs clean clothes but you also hate doing laundry so you procrastinate. And that procrastination makes doing laundry even more unpleasant so you continue an ugly cycle, and unfortunately it's not the spin cycle I'm talking about.
Try these 3 tips to conquer the laundry pile.
Create a Routine
Let's face it, between mealtime messes and playing outside, kids produce a lot of laundry. To stay on top of the clothing piles you need to make laundry a regular part of your schedule.
I personally prefer the Once-a-Day Method. I start a load first thing in the morning, move it to the dryer after breakfast and fold it in the afternoon while I'm watching a funny video or home improvement show. If you work outside the home you can start a load as soon as you arrive home, move it to the dryer after dinner and fold it while you watch a movie.
If you prefer the Once a Week Method choose one day a week when you always do the laundry. You may need to make an appointment with yourself and write it on your calendar so you don't miss it. Start the laundry first thing in the morning and set a timer so you don't forget to move each load to the next step.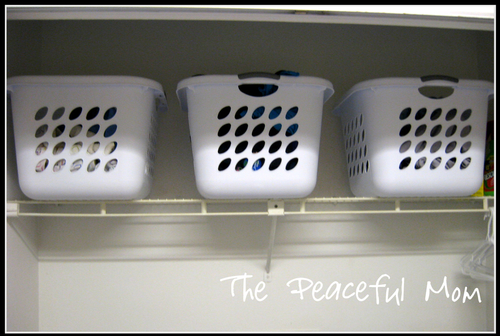 Organize the Baskets
Doing laundry is much more pleasant when you feel like you have some control over it. One way you can gain control is by designating baskets for each type of laundry load you do.
I use the 3 Basket Method: darks (colors that might bleed), lights (colors that will not bleed), towels (washcloths, rags and towels that need to be washed in hot water). If you have a lot of white clothing you may want to add an additional basket for those clothes. I don't use a basket for sheets because I remove them from the bed when I am ready to wash them and put them back on the bed immediately (no folding – woohoo!), but if you have small children you will be changing the sheets more frequently so you may want to add an additional basket to store them until you wash.
Another way to organize laundry is by giving each child his or her own basket and washing a complete load of only that child's clothing. The child can then take the basket of clean clothes to his room, fold it and put it away.
As a mom of teens I have everyone doing their own laundry but I still use the 3 Basket Method for my husband's clothes and my clothes.
Recruit Help
Of course teenagers can help but even Toddlers can help match socks and fold small items like washcloths and their own pants or shorts. They can then carry the clothing to their room and put it away in a drawer.
Children as young as 4 or 5 can fold towels and clothing. The clothing may not be folded according to your standards but the point is to get your children involved, teach them responsibility and eventually work yourself out of a job. No one is going to open your linen closet and judge you for a few sloppily folded towels (and if they do, don't invite them over again).
Children between the ages of 10 and 12 can start washing their own laundry. Post a written list of the steps and provide lots of supervision until they get the hang of it. ("No, we don't add bleach to the load with jeans.") You will have a couple of weeks of more intense work but then you can enjoy years without hearing "But I needed that for the game tonight." It's no longer your problem.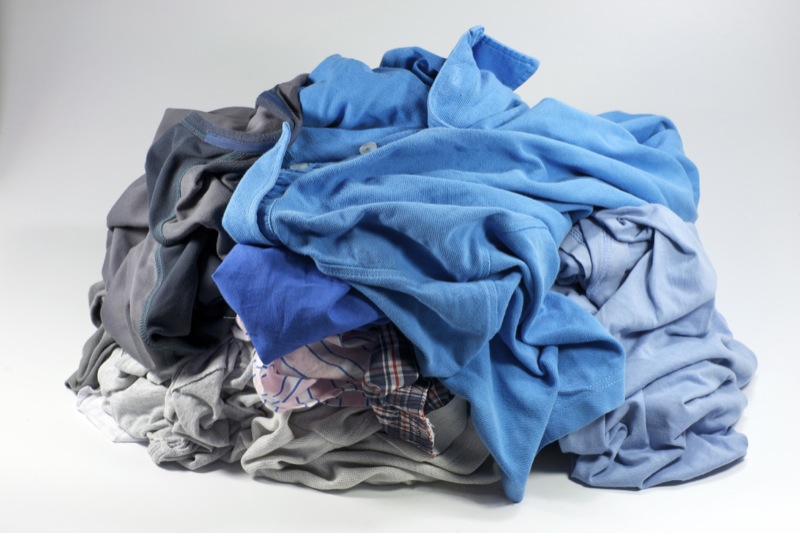 Today's 10 Minute Task 1: Spend 10 minutes decluttering your Laundry Room to make doing laundry more pleasant.

Today's Task 2: Choose a laundry system. Forming a new habit takes time so write a note to remind yourself or set an alarm on your phone.
D0 you prefer once a day or once a week laundry. Leave a comment or a link below.

Join the 30 Days to Organized Community for:
weekly tips and inspiration plus a

10 Minute Decluttering Tool Kit

30 Days to Organized Planner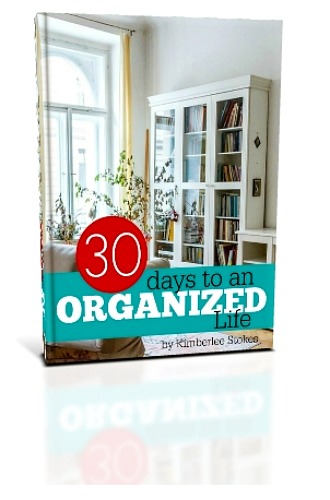 Want the entire 30 Day Challenge at once so you can work at your own pace?
Grab the 30 Days to an Organized Life ebook.