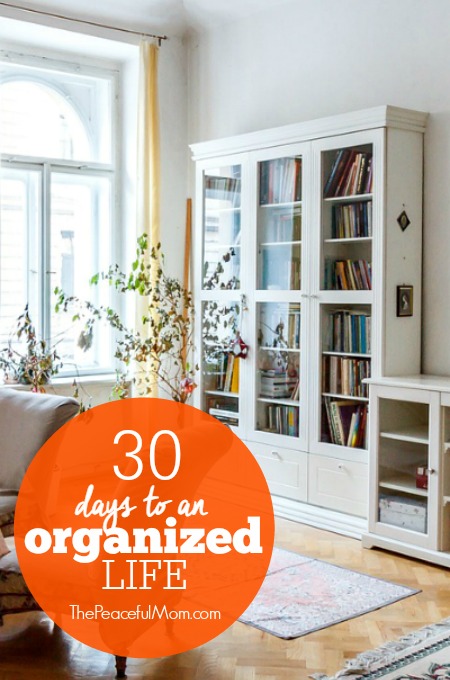 30 Days to an Organized Life Day 12
It's five o'clock, you're exhausted from a long day and your kids are whining. Then you realize you have no idea what you're going to make for dinner. Looks like cereal again, kids.
A weekly meal plan is an integral part of staying organized. Your people have to eat, and creating a plan for exactly WHAT you will eat will save time, reduce your spending at the grocery store and help you avoid the stress of the dinnertime crunch.
These three tips will make meal planning easier (plus you can check out all of The Peaceful Mom Meal Planning Tips, Tricks and Plans below):
Make It Simple
Do you feel like every meal has to be amazing? Take some pressure off of yourself by planning one or two special meals each week and filling in the rest of your dinners with basics like pasta, grilled cheese and breakfast for dinner. I have a list of simple favorites like Easy Chicken Enchiladas, Turkey Pepper Jack Grilled Cheese and Chocolate Chip Pancakes with Scrambled eggs that I can pop into the list when I am feeling uninspired.
Make It Routine
Choose a day and time each week when you can consistently plan your meals and grocery list. Schedule this appointment in your calendar and treat it like a doctor's appointment. If you don't show up for a medical appointment you have to pay a fee. If you don't show up for your planning appointment your fee is a week of stress and craziness as you try to get dinner on the table without a plan.
Make It Visible
There's no point in creating a meal plan if you don't follow it. Post your meal plan where you can see it and refer to it. I like to keep my meal plan on the fridge so I see it every time I open the door to grab some food, which makes it difficult to forget what's for dinner!
Once you have a meal plan you can reduce your stress level even further by implementing Morning Meal Prep. You can read more details here but doing a little bit of work in the morning will allow you to get a jump start on rush hour when everyone is hungry and you are tired.
Today's 10 Minute Task: Print the manageYOURmeals page from your ePlanner or The Peaceful Mom Menu Planner here. Spend 10 minutes making a list of at least 3-5 dinners you can make for this week using ingredients you already have in the fridge, freezer and pantry.

Today's Task 2: For extra credit, create a complete week of meals and write the ingredients you will need on your grocery list.
RESOURCES
12 Simple Short Cuts for Easy Meal Planning
100 Easy Meal Plan Tips, Tricks and Recipes
How to Use Theme Nights to Make Meal Planning Easier

Join the 30 Days to Organized Community for:
weekly tips and inspiration plus a

10 Minute Decluttering Tool Kit

30 Days to Organized Planner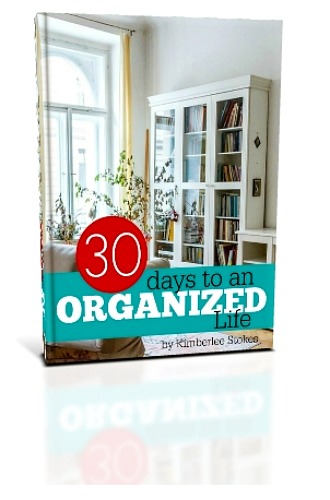 Want the entire 30 Day Challenge at once so you can work at your own pace?
Grab the 30 Days to an Organized Life ebook.