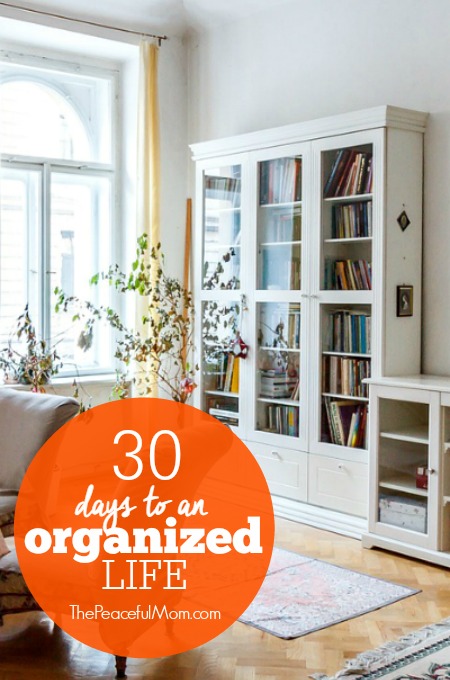 30 Days to an Organized Life Day 10
One of the downsides of doing a 30 Day Challenge is the daily-ness of the tasks. It's so easy to become overwhelmed and end up not doing anything at all. I have heard from several of you that you are "behind" on completing all the days.
I just want to encourage you to please remember that our motto is:
Progress Not Perfection.
If you only complete one task EACH WEEK to make your life a little more organized, then you are a success. Did you hear that? A SUCCESS!
If you want to take more time on each project you can always grab the 30 Days to an Organized Life ebook HERE.
Today we are working in the Kitchen.
One of the quickest ways to make your kitchen feel calm and peaceful (after clearing the dirty dishes from the sink) is to clear the counters. Cluttered spaces drain us emotionally and mentally even if we don't realize it consciously. Simply clearing a space can energize you and even make you a little happier.
To keep your kitchen clean and clutter free it helps to keep non-food related items out of the kitchen. Move items like mail, school' papers and items you don't use very often to another area of your home or contain them in a bin or basket. As much as possible devote your kitchen to food preparation and eating.

In our previous home our kitchen semi- regularly became a disaster area because I did not make a habit of clearing the counters every evening.

During last year's 30 Days to Organized Challenge it took me about 35 minutes to clean everything up, but the difference was dramatic and I started to make clearing the counters a priority.
In our new fixer upper, the kitchen is small and I want to update it but I can at least keep the counters clear to make it look better. The family still tends to leave items out on the counter so I did need to do a 10 Minute Declutter this week. (And please ignore the dishes in the sink that my teenage daughter did not take care of before I took the photo!)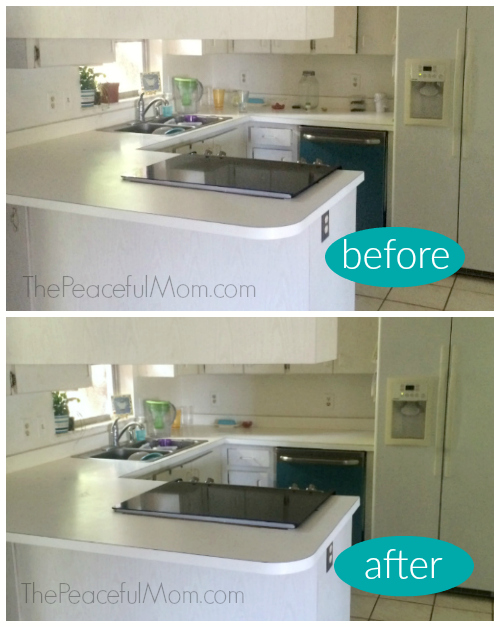 One way that I'm able to keep the kitchen looking cleaner is by keeping small appliances off the counter.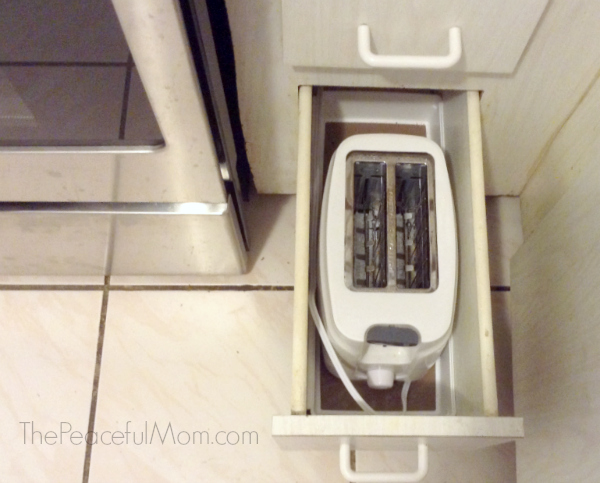 In our new house we have a handy-dandy drawer that the toaster fits in perfectly. Underneath the toaster you can see the plastic drawer lining box that I can remove to clean the drawer more easily.
Today's 10 Minute Task: Spend 10 minutes in your Kitchen clearing a counter.

Today's Task 2: If you have a couple of extra minutes find a home for one or two items that you have have on the counter but which are just taking up space or which belong in another room.

Join the 30 Days to Organized Community for:
weekly tips and inspiration plus a

10 Minute Decluttering Tool Kit

30 Days to Organized Planner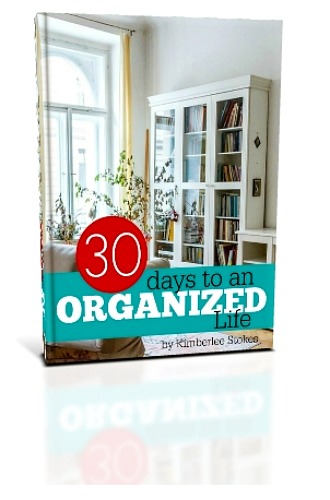 Want the entire 30 Day Challenge at once so you can work at your own pace?
Grab the 30 Days to an Organized Life ebook.