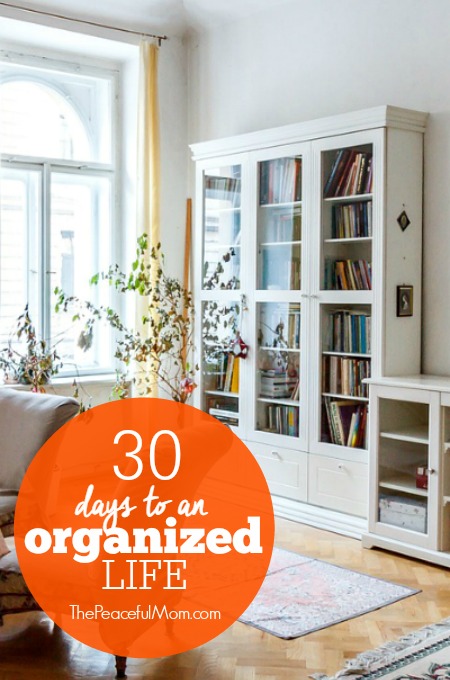 30 Days to an Organized Life Day 6
How did your Master Bedroom 10 minute declutter go? Does your bedroom feel a little more peaceful now?
Now that you have cleaned up your bedroom a bit let's talk about sleep. You may not realize it, but one of the primary components of an organized life is making sure that you get enough sleep.
A 2014 survey of more than 7,000 U.S. adults conducted by Gallup and Healthways, revealed that people who reported getting more sleep had a higher overall well-being score than those who reported that they slept less. The scores were calculated based on participants' responses to questions about their sense of purpose, relationships, finances, community involvement and physical health.
The average well-being score for those who reported getting 8 hours of sleep a night was 65.7 out of 100, as compared with 64.2 for participants who slept only 7 hours a night, and only 59.4 for those who got 6 hours of sleep a night.
Other studies have shown that women who get sufficient sleep each night are happier, healthier, calmer and better able to handle stress.
The minimum amount of recommended sleep is 7.5 hours for adults, which can be challenging to achieve, but moving toward that goal will provide so many benefits. Sleep deprivation has been linked to overeating, brain "fog", poor decision-making, and lack of impulse control — and recent studies have linked the lack of sleep to the development of Alzheimer's disease and dementia. You can "cheat" this need for sleep by consuming a lot of caffeine to give you energy, but eventually over time you will develop negative health consequences from a lack of sleep.
The quickest way to improve your quality of life is to get more sleep.
Knowing that you need more sleep and actually getting the sleep you need are two entirely different matters. As I mentioned earlier new habits are formed when we keep things simple so we are going to write down some tiny steps you can take to encourage your new "get to bed on time" goal.
Determine Your Bedtime
Aside from moms with babies, almost all of us can consistently choose the time we go to bed. In order to determine your optimum bedtime, write down the time that you need to get up every morning (be honest about how much time you need to get ready), then count backwards eight hours.
For example, if you need to be up by 6 a.m., your optimum bedtime is 10 p.m. You may not make it to bed by 10 every night, but by making this a goal for most nights of the week, you will be able to get more sleep.
List Your Responsibilities
Now that you know your optimum bedtime, make a list of all that needs to be done before you can go to sleep: clean the kitchen, bathe the kids, read stories, tuck the kids into bed, time with your spouse, etc. Estimate how long these activities take, and you'll have an idea of what time you need to start your before-bed routine.
You can also find ways to make your before-bed routine more efficient. For example, use paper plates on busy week nights so you don't have to do dishes or read stories during bath time rather than after.
Think About "You" Time
Make a list of activities that you can do to calm yourself before bed. For example: turn off your electronics, read a book, take a shower or a bubble bath, journal. If you're in the habit of watching television or movies late into the night, consider waiting to watch your favorite shows on the weekend when you have a more relaxed schedule.
Now that you know your optimum bedtime, it's time to move toward a better bedtime by creating some new bedtime habits.
To effectively start a new habit you need to:
keep the new habit super simple;
attach the new habit to something you already do every day (after I get up, after I drop the kids off at school, etc.);
practice the new habit;
celebrate when you accomplish it.
Here are a few examples of habits that you can create to help yourself get to bed on time:
*After I get up from dinner I will place my pajamas on my bed.

*After I brush my teeth I will put on my pajamas.

*After I put on my pajamas I will write 3 things I am grateful for in my journal.

*After I get the kids in bed I will turn off my electronics and read 1 page in a book.
Make your habit super simple, directly related to getting in the bed on time and attach it to something you already do every day.
Today's 10 Minute Task: Once you've determined your optimum bedtime, print the Happy Habits page from your ePlanner and write down five habits which will help you to get to bed on time so you can get enough sleep. Write your habits in this format: "After I ____ I will ____". Now choose one habit that you will start today. You can write your habit on a piece of paper and post it in a prominent place to remind yourself to do it tonight.
Let me know what your bedtime habit will be in the comments below!

Join the 30 Days to Organized Community for:
weekly tips and inspiration plus a

10 Minute Decluttering Tool Kit

30 Days to Organized Planner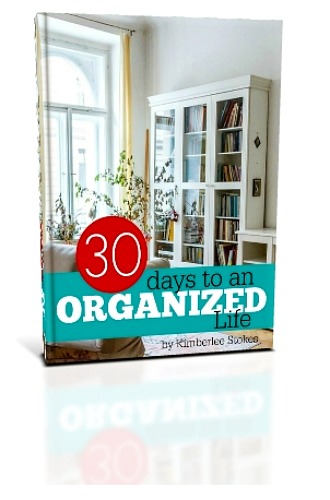 Want the entire 30 Day Challenge at once so you can work at your own pace?
Grab the 30 Days to an Organized Life ebook.