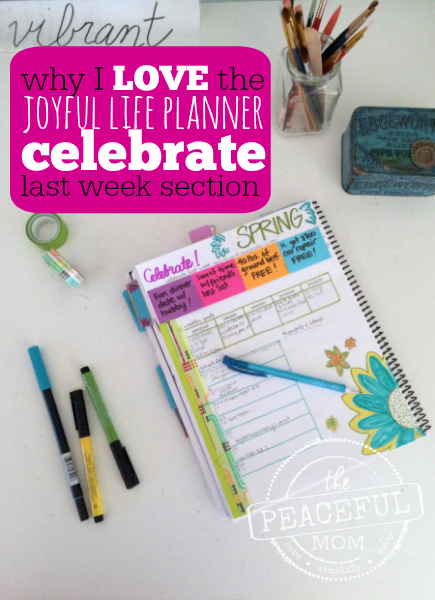 Why I LOVE the Joyful Life Planner Weekly Celebrate Section
You know I love to plan my week in my Joyful Life Planner, and one of my favorite parts of the weekly plan is the "Celebrate Last Week" section.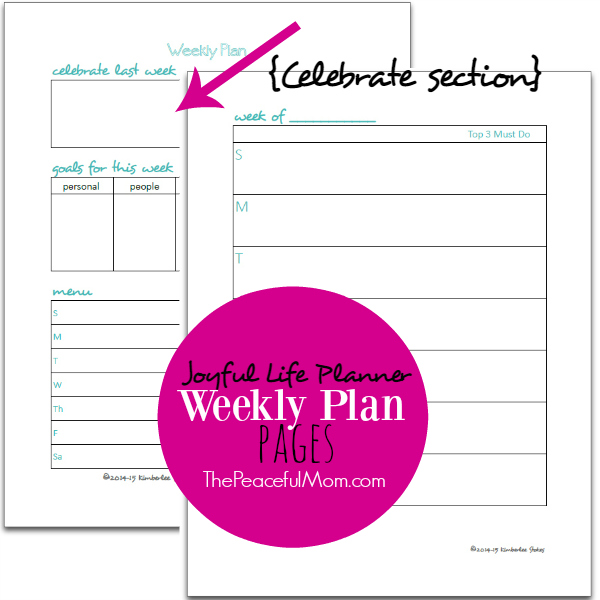 No matter how hectic or challenging life becomes there is always something for which I can be grateful and keeping track of those tiny blessings increases my gratitude, my spiritual connection and my happiness.
Focusing on what is positive in my life enables me to cope better with those few negative aspects that creep in. When I'm feeling discouraged I can go back to previous weeks and see all the good that has happened.
I'm telling you, it's one of the best improvements I have ever made!
My plan for this week:
Read more details about how I create my weekly plan here.
PERSONAL –  (daily habits to keep me healthy and happy)
morning "Brain Dump" (read more here)

20 – 30 minute brisk walk daily

drink 6-8 glasses of water

eat salad daily
go to bed by 10:00 p.m.
PEOPLE –  (activities that develop relationship with those I love)
date with hubby (dollar movie)
coffee date with my oldest daughter
driving practice with my 15 year old
horse back riding lesson with my 15 year old
PASSION –  (creative and soulful habits that bring me joy and help me connect spiritually)
PURPOSE –  (tasks and activities that enable me to fulfill my life purpose)
(wife) pray for my husband; thank him daily for the little things he does
(mom) hug my kids every day
(encourager) call a friend to pray with her
PROJECTS  –  (tasks to take care of our household and move me toward my dream)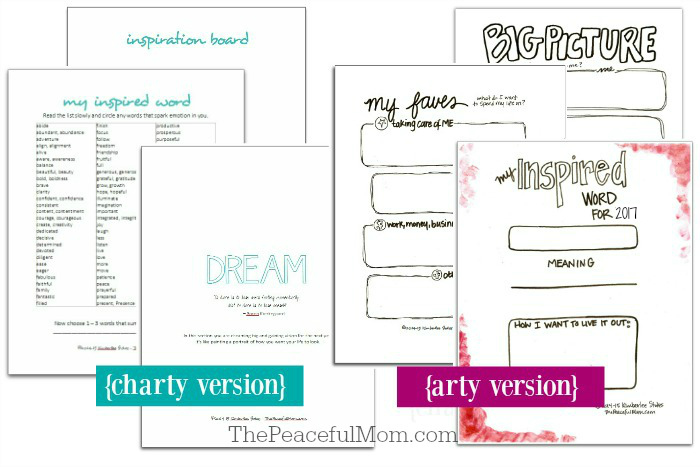 Want to have your best year ever? Grab my Joyful Life Planner and start reflecting, dreaming and planning now!
Click here to see more of what's inside.
What's YOUR plan for this week? Leave a link or a comment below.
(Email readers will need to click through the title of the post to leave a comment.)
You May Also Enjoy: