$45 Budget Menu for the Week
We are determined to rebuild our emergency fund so we can start paying down medical debt and start updating some things around our house so we are eating cheaply for a couple of weeks. Today I am sharing my $45 Budget Menu for the Week with you.
I don't suggest eating super cheap food long-term (unless it is all natural), but for one or two weeks it won't hurt us.
This is what I bought for $45: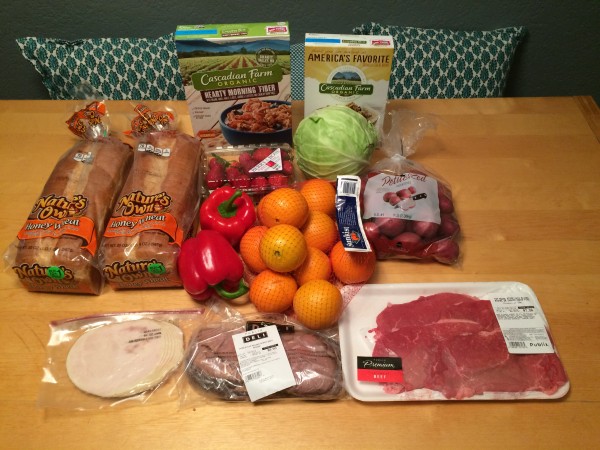 The cereal was BOGO plus I had a coupon so it ended up being $1.00 a box. I splurged on the deli roast beef and steak so the kids don't feel deprived this week. These groceries plus the food we currently have on hand (including some Gluten Free items from Vitacost) will feed us for the week. See our menu at the bottom of this post.
Weekly Total: $45.23
March Monthly Total: $231.40
If you'd like to save money and make meal planning super easy I'm offering a sale on my best meal plans.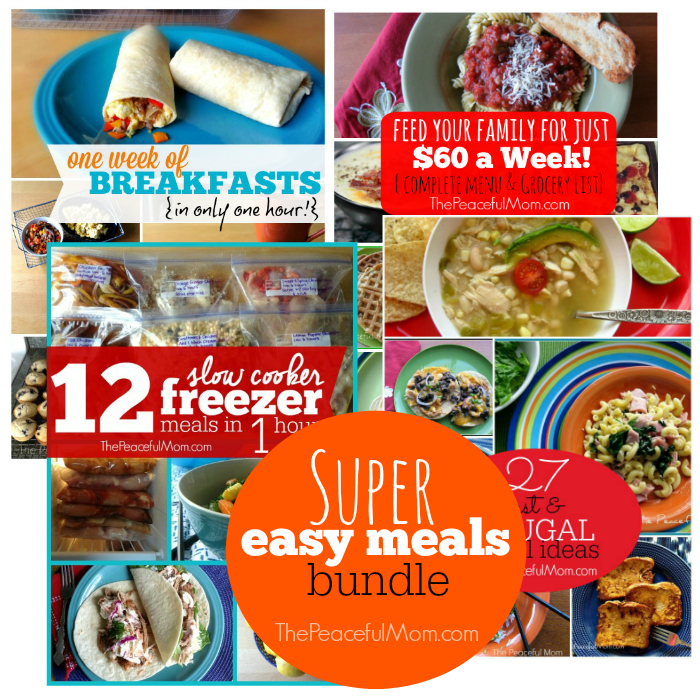 Click here to see what's in the bundle!
$45 Budget Weekly Menu
See what we're eating this week!
*Items marked with an asterisk were purchased in previous weeks in the $125 Budget and are in the pantry, fridge or freezer. Click colored links to go to recipes!
BREAKFAST
Organic Yogurt* with Crockpot Granola*, strawberry slices
Oatmeal* with cinnamon* and raisins*
Oatmeal Pancakes* (from leftover oatmeal)
Cereal with milk* x2
Cheese* Toast x2
LUNCH
Rice Cakes* with peanut butter* x2
Turkey Sandwich, pretzels* x2
Cheese Quesadillas, orange slices
Tuna Salad*, pretzels*
Leftovers from Dinner
DINNER
Delicious Steak Fajitas, rice, corn kernels
Spicy Black Beans, rice
Roast Beef sandwiches, salad*
Cabbage sautéed in coconut oil, roasted potatoes
Breakfast for Dinner: scrambled eggs*, pancakes*
Grilled Cheese Sandwich, orange slices (cheese previously purchased)
Read what we do about snacks here.
What are you eating this week? Leave a comment or link. 🙂
Please Note: You may not be able to replicate this exact menu for $45 because sales vary by region and you will have different items on hand but you can save money just by using a meal plan. 🙂) 
You May Also Enjoy: