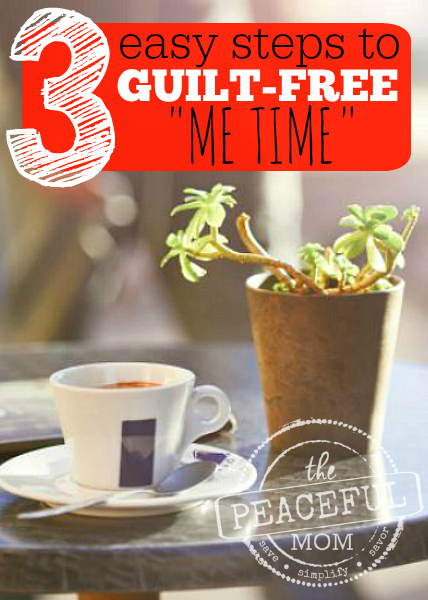 3 Steps to Guilt-Free "Me Time"
I hear you Mom! Motherhood is joyous, motherhood is amazing — and motherhood is exhausting.
Whether you work inside the home or outside, there just doesn't seem to be enough time. The days are filled with work responsibilities, helping kids with school work, extra curricular activities, social obligations, time with your spouse — never mind meals, laundry and cleaning the bathrooms!
Something has to give and it's usually time for Mom to relax.
But placing yourself last on the priority list only leads to exhaustion, frustration and can even result in depression.
To be the best wife, mom, friend and employee you can be you MUST find a way to refuel yourself on a regular basis. You need guilt-free "me time".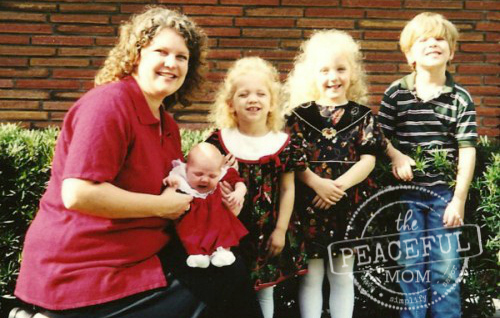 When my four children were all under the age of 6, my days were FULL. There was always something that needed to be done or someone who needed me and I was not always great about taking care of myself.
On the one hand I sought out short spurts of "me time" by locking myself in the bathroom about once a day, the kids sticking their fingers under the door, calling out "Mommy, mommy." I would stand in the shower stall and close the door for a little more separation, breathe deeply and tell myself it was going to be okay. I would then sit on the closed toilet seat and read a verse in my Bible lying open on the counter.
These momentary respites enabled me to stay sane but they weren't deeply refreshing.
I soon learned that I needed regular, weekly time without my kids. Throughout the years I found varying ways to accomplish that time: a moms morning out program at a local church, trading childcare with friends and bartering tutoring in exchange for babysitting.
You can have guilt-free "me time" too by taking these steps.
Realize that "me time" is NOT selfish.
I read a couple of blog posts recently that said "me time" is selfish, and that as Christians we should not try to seek time away from our families or our "duties" because we then see them as burdens.
Excuse my "French", but I think that's a load of religious bull crap! There, I said it.
Jesus got away on a regular basis and had quiet time with His Father. He also spent time with his closest friends. I'm pretty sure that he is not expecting you to drag yourself through life without caring for your emotional, physical and spiritual needs.
As a mom, especially if you are a working a part-time or full-time job, the last thing you need is more guilt. You already feel like you are never doing any of your jobs well and life seems like a constant struggle to just get through the next obligation. Of course you should not neglect your responsibilities and you should not see your kids as a burden, but please stop feeling guilty and recognize that you NEED alone time. View your alone time not as an escape but as recharging so you can engage to the fullest with your family and other obligations.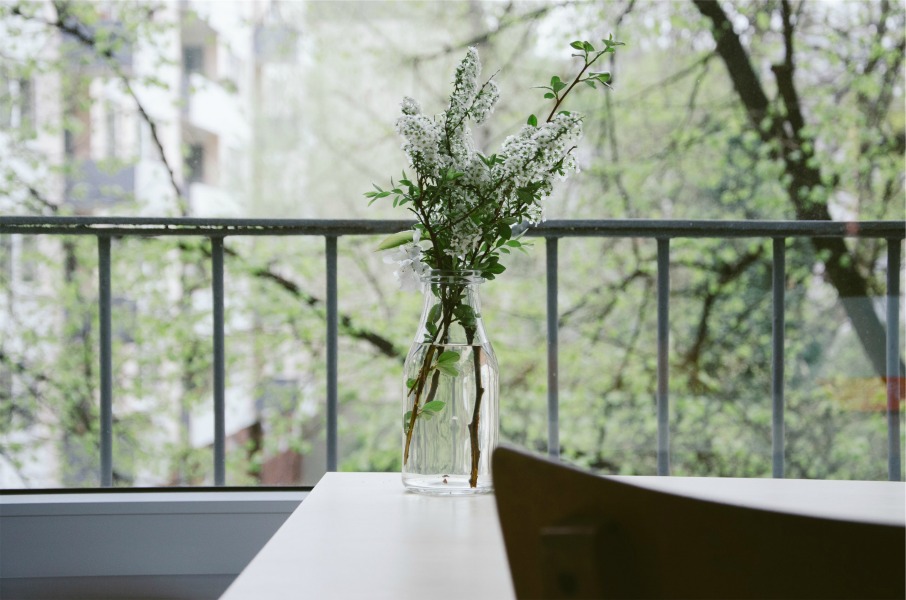 Choose a refreshing outlet.
Time alone is good but to receive the biggest benefit from that time you need to choose activities that refresh you rather than drain you. Spending an hour on Pinterest is fun but rarely fills you spiritually and emotionally. Some of my fave "me time" activities are:
Sleep – As a mom of small children, sleep is the one resource you need to fight for. Don't feel bad about finding childcare so you can take a nap when you have been sleep-deprived by sick children or a teething baby.
Spouse Time – While time with your hubby isn't technically "alone time" it can definitely fill your need for adult conversation and wearing an outfit sans baby drool.
Hobbies – Recreational activities like tennis, artwork or scrapbooking give your mind a break from the stress of everyday life and enable you to unwind in a healthy way.
Friends – We all need someone to talk to so arrange play dates, phone calls and coffee chats often.
Make an appointment.
Just like regular medical and dental checkups, you need to make regular appointments for self care. If you don't make time in your calendar you will never take time for yourself.
Make it a priority to schedule time at least once a month, but preferably weekly, when you can do something that refreshes you.
Taking time for yourself may seem like one more item to add to your to do list, but it is actually an essential part of living your best life and being an even better wife and mom. There are many times when you need to be self-sacrificing but taking the time to refill yourself and take care of your needs means that you can do what needs to be done cheerfully rather than grudgingly.
RESOURCES
Try these resources for additional help to make self-care a priority:
How do you care for yourself so that you don't suffer from mommy burnout? Leave a comment. 🙂
You May Also Enjoy: