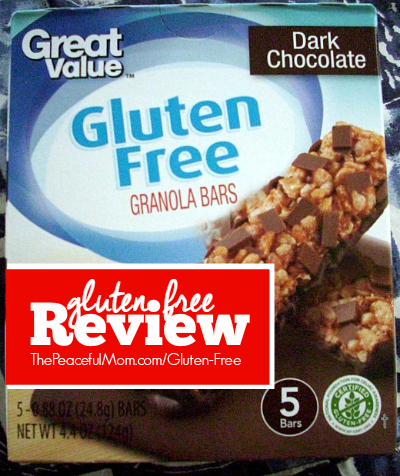 Gluten Free Review: Great Value Dark Chocolate Granola Bars

Hi Guys!
It's Caleigh, the GF Princess here with another Gluten Free Product Review.
Each week I'll be bringing you an honest review of gluten free products currently on the market. I'll taste them so you know if you want to spend the money or not.
Today I am reviewing Walmart's Great Value Dark Chocolate Granola Bars.
What I Think: 
These bars are overly sweet. Instead of a granola bar I would consider them a candy bar.
The dark chocolate doesn't shine through and because it's overpowered by the sugar, it tastes like milk chocolate instead. The granola part is made of crisp rice pieces which does add a nice crunch.
I would buy them again but, not as a healthy snack. This is more of a dessert.
Rating: 3 out of 5 🙂 🙂 🙂 🙂 🙂
You May Also Enjoy: