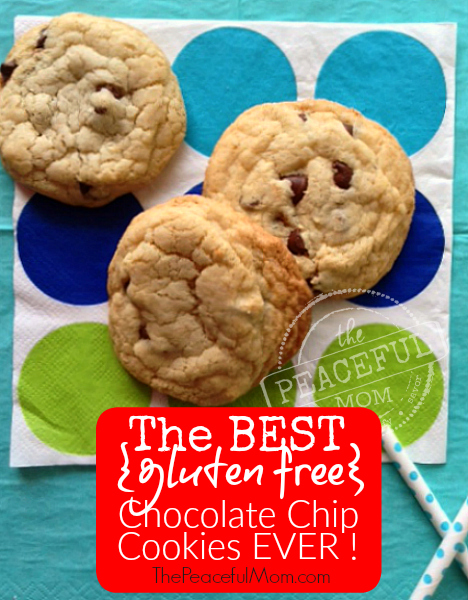 Best Gluten Free Chocolate Chip Cookies
Yes, you can buy pre-made gluten free cookies. Yes, you can use a pre – made gluten free cookie mix, but if you want the taste of Grandma's warm and gooey chocolate chip cookies, you need to make the effort to bake these. These are the best gluten free chocolate chip cookies ever and I promise the effort is worth it!
By the way, you can purchase the gluten free flours from Amazon or Vitacost. Click here to see our favorite gluten free products and get a FREE $10 Credit on your next Vitacost order.
Kathryn from theverdanthome.com reminded me that if you chill the dough for 24 to 48 hours it gives the rice flour time to absorb the moisture and results in texture that is more similar to cookies made with regular white flour, although we haven't really had a problem with the texture of these cookies and we are never patient enough to wait 24 hours to bake them — haha!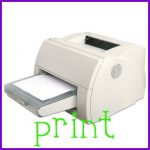 INGREDIENTS
2 sticks unsalted butter
2 cups white rice flour
1/4 cup corn starch
2 tablespoons tapioca starch/flour
1 teaspoon salt
1 teaspoon xanthan gum
1 teaspoon baking soda
1/2 cup brown sugar
1 cup white sugar
1 large egg
1 egg yold
3 tablespoons whole milk
1 1/2 teaspoons vanilla extract
1 1/2 cups semi-sweet chocolate chips
INSTRUCTIONS
Melt butter in a small sauce pan over low heat. Pour melted butter into a large bowl at room temperature.
In a separate medium sized bowl, sift together rice flour, cornstarch, tapioca starch, xanthan gum, salt and baking soda. Set flour mixture aside.
Add brown and white sugar to the bowl with the melted butter and cream the sugar and butter together for one minute with a mixer. Add egg, egg yolk, milk and vanilla to sugar and butter mixture and mix until combined. Slowly incorporate flour mixture. Fold in chocolate chips. Chill dough for one hour.
Preheat oven to 350 degrees Fahrenheit. Shape dough into rounded tablespoonfuls and place two inches apart on a parchment lined baking sheet. Bake for five minutes then rotate pan and bake another five minutes. Cool cookies for two minutes on the pan then move them to a wire rack. Store uneaten cookies in an airtight container for 1 to 2 days.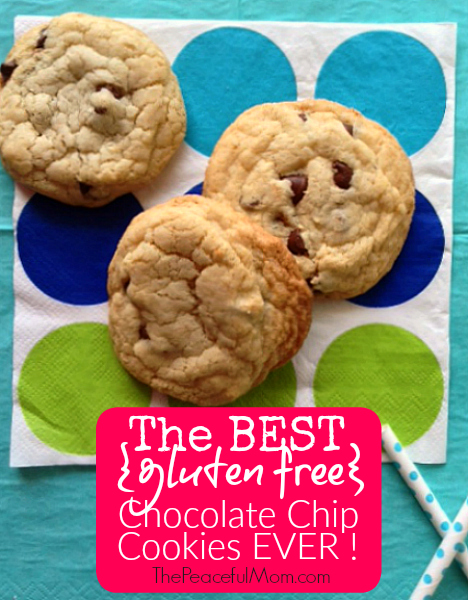 {CLICK HERE to PIN this to your Gluten Free Baking Board!}

You May Also Enjoy: